Exclusive: Amendment Adds Imaginary Testing Standard to Democratic Education Platform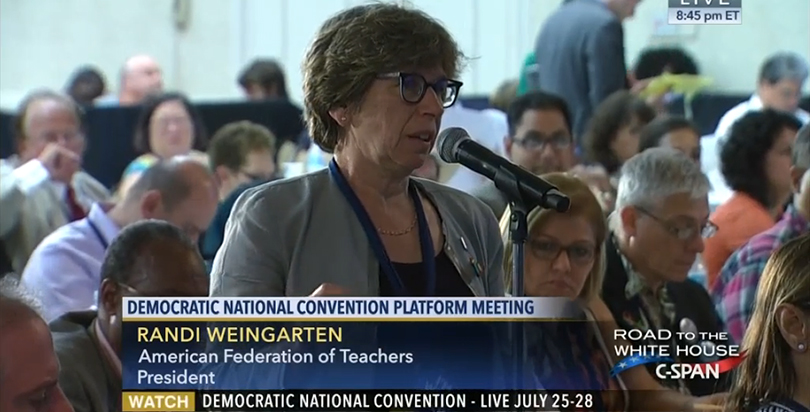 Democrats added a misleading reference to standardized tests to the party platform over the weekend, requiring they meet a reliability standard that doesn't actually exist.
"[W]e believe that standardized tests must meet American Statistical Association standards for reliability and validity," the amendment reads, saying this would "strike a better balance on testing, so that it informs, but does not drive, instruction."
To most people this would seem like common sense; of course tests should follow statistical best practices and who could sound more authoritative on the controversial subject than the American Statistical Association.
But there's a problem: The American Statistical Association (ASA) has never published guidelines pertaining to the reliability and validity of standardized tests.
"There are no such standards," Jill Talley, a spokesperson for the ASA, told The 74.
The language referring to the imaginary ASA standards was adopted Saturday as an amendment by the Democratic platform committee
meeting in Orlando, Fla. according to a C-SPAN
video
(
transcribed
by Democrats for Education Reform) and an American Federation of Teachers
press release
. AFT President Randi Weingarten advocated for the amendment, saying it would help make testing "more fulsome" and schools "places of joy for children again." An AFT spokesperson did not immediately respond to a request for comment.
It was one of several
changes to the platform pertaining to standardized tests and charter schools that have created a flurry of recent discussion:
sharp criticism
by some and
cheers
of support by others.
The
draft platform
on the Democratic National Convention (DNC) website and scheduled to be voted on during the July 25-28 convention in Philadelphia doesn't yet reflect such amendments. DNC spokeswoman Dana Vickers Shelley would not comment on the apparently mistaken reference to ASA testing standards.
"At this point we're not speaking on specific language because the document is being updated to reflect the amendments and changes approved by the platform committee," she said
While the ASA "standards for reliability and validity" pertaining to standardized testing are not real, the amendment may have been referring to a 2014
statement
from the ASA regarding
value-added measures
, a method for evaluating teachers based on their impact on student test scores. Teachers unions have generally fought tying student test scores to teacher performance.
The ASA urged caution in using value-added measures when evaluating teachers but did not specify validity or reliability standards for assessments.
In fact, Talley said, "The statement does not at all address the reliability or validity of standardized tests."
It's also possible that the amendment meant to refer to
assessment standards
jointly developed by the American Educational Research Association, American Psychological Association, and National Council on Measurement in Education.
The Democratic platform amendment also states, "We oppose … the use of student test scores in teacher and principal evaluations, a practice which has been repeatedly rejected by researchers." This would mark a sharp departure from the Obama administration which
incentivized states
to use test scores to evaluate teachers through its Race to the Top program and federal waivers from No Child Left Behind.
Catherine Brown of the Center For American Progress, a progressive think tank, said the amendments reflected growing concerns about over-testing. "This platform is one more piece of evidence that we need to move to
better, fairer, and fewer tests,
" she said.
But, she said, "The platform has no force of law or policy."
Amendment #76 was offered by Chuck Pascal, a platform committee member from Pennsylvania, who, according to the C-SPAN
video
, said, "We should only be using standardized tests that are statistically valid. The current standardized testing for the most part only indicates that a student is in poverty."
Neither Pascal nor Weingarten discussed what was meant by the "American Statistical Association standards for reliability and validity" and no one asked.
The amendment passed unanimously.
Support The 74's year-end campaign. Make a tax-exempt donation now.