Exclusive — 39 States Can't Say How Well High Schools Are Preparing Teens for College; New GreatSchools Report IDs Best Schools in 9 States at Getting Grads Into Higher Ed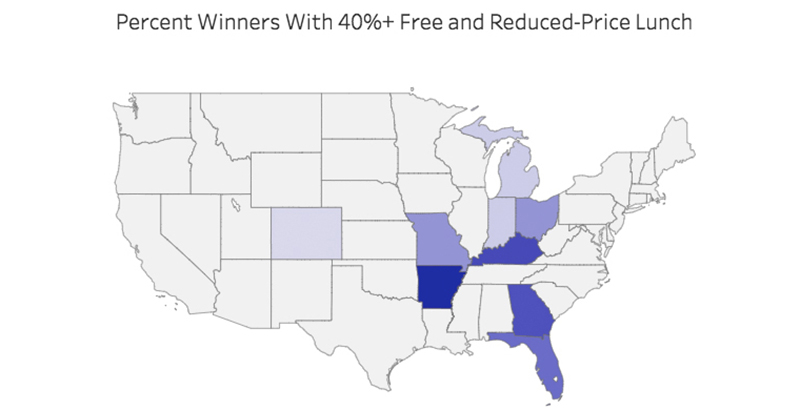 Just two states publish full information on whether students from specific high schools go on to graduate from postsecondary institutions, and just 12 states gather and report data on how well those students do after they get to college.
"A clear reason is that [states are] not federally mandated to publish this data," said Samantha Brown Olivieri, chief strategy officer for GreatSchools, a nonprofit that uses research and data to inform parents about school quality and educational opportunity. "But more and more states are seeing their role as the data steward — not just one of compliance, but one of transparency, and they're using data to inform improvement rather than as just a form of reporting for accountability."
In a new report that studies how well America's high schools are preparing students for success in college, GreatSchools' "College Success Awards" recognizes the institutions that yield the strongest results in ensuring student enrollment in college, academic readiness, and performance once matriculated. A new provision in the Every Student Succeeds Act requires states to report how many graduates from individual high schools enroll in postsecondary education, but it doesn't mandate states to follow those students through college and see how they perform once they're there, and whether they ultimately earn a degree.
"Many efforts to improve college access have focused on increasing the percent of high school graduates that enter a two-year or four-year college after graduation. However, college enrollment rates don't tell the whole story," the report reads. "Of students who do enroll, 68 percent of community college students and 40 percent of students in four-year colleges take remedial courses. … It is critical to look not just at how many students are enrolling in college, but if they are set up to succeed in that setting."
In gathering data to identify the strongest high schools, the nonprofit discovered that just nine states had sufficient data to determine how well individual schools prepared their teens not only to enroll in college but persist beyond the first year, perform well academically, and require little if any remediation for college-level coursework. (Three additional states — Connecticut, Minnesota, and Oklahoma — ultimately provided the data, but not in time for their analysis.)
From those states — Arkansas, Colorado, Florida, Georgia, Indiana, Kentucky, Michigan, Missouri, and Ohio — GreatSchools calculated metrics of college preparation (SAT/ACT scores), enrollment rates, and performance (percentage of students taking remedial courses, as well as percentage of those returning to college for a second year).
Since only two states, Georgia and Michigan, had some form of school-level college dropout and completion data, postsecondary graduation rates were not factored into the analysis. And although data are lacking that attach college graduates to their individual high schools, organizations like the National Student Clearinghouse Research Center offer umbrella figures of how well states graduate students from postsecondary institutions. GreatSchools will consider adding college completion rates into the analysis as the data become more widely available in coming years.
"Historically, the data systems between K-12 and higher ed have not been linked and operated independently of each other," Olivieri said. "Doing the work of linking data sets is difficult, but it can be done. States are working often with limited resources and competing priorities. They often will report what is required of them by law and don't have the capacity to go above and beyond that. We think these nine states are leading the way in showing their values by publishing this deeper data on student outcomes. But there's more to go."
GreatSchools researchers were able to identify 3,879 public high schools with sufficient data across the nine states. Of those, 21 percent were identified as winners — schools that score in the top 30th percentile in their state across college preparation, enrollment, and performance metrics and do not fall below the 50th percentile in any single metric. Of the 814 winning schools, 165 serve a student body composed of at least 40 percent low-income students.
Award winners also had higher state standardized test scores than non-winners, but not all schools with high test scores also yielded strong postsecondary outcomes. Charter and traditional district high schools were similarly likely to be award winners across the board. Charter schools performed well in Arkansas, Colorado, Florida, and Georgia, but traditional district schools showed stronger performance in Indiana, Michigan, Missouri, and Ohio.
The report also details three key findings. Award winners are more likely to: provide rigorous academic offerings — both in school and as extracurriculars; have systematic approaches to identifying and supporting at-risk students throughout all four years of high school; and have more robust staffing of academic and college guidance counselors.
Researchers offered six recommendations for states to hold all high schools accountable for the postsecondary success of their students:
● Go beyond minimum reporting requirements to provide the public with data on student remediation and persistence rates.
● Measure and publicly report on college completion, in addition to second-year persistence.
● Report data on success in vocational or technical schools and programs along with other postsecondary measures.
● Connect data systems to provide greater transparency into student workforce outcomes.
● Disaggregate postsecondary outcome data by student subgroups, including race, income, and gender.
● Adopt consistent reporting standards across states on college remediation and persistence.
Read the full report:
Disclosure: Walton Family Foundation, Bloomberg Philanthropies, Carnegie Corporation of New York, and the Bill & Melinda Gates Foundation provide financial support to GreatSchools and The 74.
Support The 74's year-end campaign. Make a tax-exempt donation now.