Everything Is Up for Grabs in North Carolina This Election Day. The Consequences for Public Schools Could Be Huge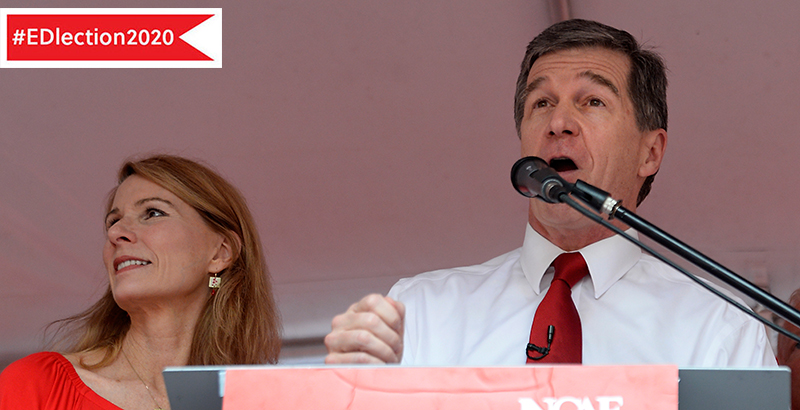 This year, Election Day in North Carolina would be more aptly referred to as "Elections Day."
Apart from the razor-thin contest between President Donald Trump and Joe Biden, a staggering number of local and statewide offices are up for grabs on Nov. 3 — not just competitive races for governor and senator, but also for lower-level positions like lieutenant governor, state treasurer and superintendent of public instruction. The possibility exists for one or both chambers of the Republican-led General Assembly, a persistent thorn in the side of incumbent Democratic Gov. Roy Cooper, to change hands as well.
The tangle of campaigns could decide the conduct of education policy for years to come in the nation's ninth-largest state. Cooper, favored for re-election after a well-received response to the COVID-19 pandemic, won the governorship in 2016 while pledging to make big, progressive changes to schools in North Carolina, which has recently emerged as one of the nation's most competitive swing states. Four years later, though, most of that agenda has been hamstrung by the GOP's iron grip on the legislature, and the repeated shocks of 2020 have redirected attention primarily to questions of race and public health.
The outcome of the elections will "almost surely have a profound impact" on school choice, funding and teacher pay, even if it is not entirely reflected in campaign ads or debate soundbites, said Ferrel Guillory, vice chairman of the education news nonprofit EducationNC and a longtime observer of education in the state.
"We've had a great education debate in this state that's been particularly drawn starkly since the Republicans took the majority in the state legislature in 2010," he said. "It has been overshadowed recently, but it's still there, and the election will determine it by the way it arrays the forces in state government."
The inescapable partisanship in Raleigh over the past two years has led to the state careening through a year of crisis without an official budget, a unique fiscal challenge that has hinged at times on protracted disagreements over how much to raise teacher pay and how to safely reopen schools. To complicate matters further, 2020 has seen significant movement on a decades-old lawsuit over the state's approach to funding schools, which may force lawmakers' hands no matter who wins this fall.
A move toward unified control over government, either by Democrats seizing the statehouse or Republicans dislodging Cooper, could simplify the picture, said Terry Stoops, director of education studies at the conservative John Locke Foundation. But the chances of either happening are remote, he added.
Anything less than a clean sweep "would do little to decrease the amount of partisanship and disagreement between the two parties in the direction of education policy," Stoops said. "I don't see any end to the rancor that we have seen over the last 10 years. There's very little likelihood that any outcome of this election will reduce the temperature of North Carolina education politics."
A political identity shift
The struggle over K-12 schools has unfolded as North Carolina has evolved into a far more competitive electoral environment. For decades, voters reliably favored Republican presidential candidates while empowering moderate Democrats to handle things at the local level.
But the state's political identity has undergone a shift in the past two decades, driven largely by the swift influx of non-white and college-educated professionals, especially to the growing cities of Charlotte and Raleigh. For many, that phenomenon was typified by Barack Obama's surprise victory in the state during his 2008 campaign, the Democrats' first win at the federal level since 1976.
Those national currents were reversed just two years later, when a Tea Party wave helped Republicans capture both the state Senate and House of Representatives for the first time in over a century. The new majority acted quickly to expand school choice in North Carolina, lifting a cap on charter schools in a move that has already doubled the state's charter enrollment less than a decade later. Soon after, the General Assembly leadership worked with Republican Gov. Pat McCrory to create the Opportunity Scholarship program, which offers $4,200 annual vouchers for low- and moderate-income students to attend private schools.
The party didn't temper its ambitions even after McCrory was unseated by Cooper in 2016, instead voting to strip Cooper of many of his executive powers as part of what national reporters dubbed a "legislative coup." That led to a working relationship between executive and legislature that was "contentious from Day One," said Stoops.
With supermajorities in both chambers, Republicans were able to both bottle up Cooper's own proposals for his first two years in office and pass their own items over his veto. Consequently, no progress has been made on most of the governor's education agenda, including initiatives to increase high-quality child care options, expand early-college programs, and direct more proceeds from the state lottery to public schools.
But the calculus changed somewhat after the 2018 midterms. After a good year for Democrats, Republicans now hold majorities of just eight seats in the state Senate and 10 seats in the House of Representatives. Those diminished margins allowed Cooper to go to war over the state's 2019-20 budget after Republicans offered a two-year teacher pay raise of 3.9 percent, far less than school employees had sought. Since then, the state has spent the year transitioning through a series of "mini-budgets," with no compromise visible on the horizon.
The pay-raise issue has stayed in the headlines since 2018, when teachers thronged to Raleigh as part of the Red for Ed summer of protests. Cooper has loudly advocated for their cause and cast blame at Republicans in the legislature after vetoing the proposed salary bump, which he called "paltry." Though he approved a statewide $350 bonus at the end of the 2020 school year, Cooper complained that the provision fell "outrageously short" of what was needed.
David McClennan, a political scientist and pollster at Meredith College, said that teachers "gave [Cooper] a pass even when it cost them money."
"[The 2018 protests] were totally targeted at the Republican leadership in the legislature," he argued. "Gov. Cooper even showed up, and he was well-received. So there's definitely a mood in the state, rightly or wrongly, that the legislature is anti-education and the governor is pro-education."
'Trifecta' in sight?
In his bid for a second term, Cooper is facing the Republican lieutenant governor, Dan Forest, a champion of school choice and a homeschool parent. The race was expected to be one of the few top-flight contests in a year when the great majority of governors are not up for re-election.
But instead, Cooper retains fairly convincing leads in pre-election polling. Many attribute the governor's strong position to his well-regarded efforts in combating the spread of COVID-19, which included strong social distancing orders that were issued earlier than in most Southern states. The mandates even survived a highly publicized legal fight after Forest unsuccessfully sued in state court to block them.
McClennan observed that Cooper has remained the most popular politician in North Carolina while stumping for "a very progressive agenda overall." In part, he said, that reflects the goodwill that voters feel toward a governor who has led the state through a series of catastrophes, including the perils of Hurricane Florence in 2018.
"They know that the General Assembly has been Republican-controlled during his entire tenure, so how much could he have gotten done? Also, and not just in the case of COVID, Cooper has gotten a pass because he's been a kind of emergency-powers governor."
Although Cooper isn't regarded as a shoo-in, his elevated chances of winning a second term have led political junkies to wonder whether the Democrats could achieve a governing "trifecta" — i.e., control over the governor's office and both chambers of the General Assembly. After making significant inroads in state legislative elections in 2018, the party is eyeing targets that might develop in the wake of an anti-Trump wave. Combined with a Cooper win, the shift of just a handful of seats — five in the Senate, six in the House — would deliver Democrats their happiest Election Night in years.
Guillory said that the state's legislative districts — which were redrawn in 2017 after a federal court found them unconstitutionally biased in favor of Republicans — provide an opportunity, but that much of the low-hanging fruit had been picked two years ago.
"[The new districts] still favor Republicans," he said. "There are more districts available for Democrats to win, but the fact is that Republicans have some protection. Democrats have to win everywhere they have a chance to win if they want to make a difference in the legislature."
Unless the party runs the table and recaptures the legislature, a potential second term for Cooper will rise and fall on the strength of whatever compromises can be brokered with Republicans. One such deal was reached in September, when a bill was passed to hold local school districts harmless from spending cuts due to declining enrollment. Democrats cheered the proposal, but it had to be purchased at the cost of modestly lifting the income threshold for participation in the Opportunity Scholarship program.
Lurking in the background is the outcome of the state's long-running Leandro v. State of North Carolina lawsuit. The case originated in 1994, when five high-poverty school districts sued to secure more school funding, alleging that the state government was not meeting constitutional obligations to provide its students with a high-quality education. Early this month, a superior court judge approved a provisional plan that would require the state to spend $427 million on teacher salary increases, early-childhood programs and supplemental funding for at-risk students. That money, however, depends on the state government raising new revenues — a tall order, given that it hasn't passed a budget in two years.
The Leandro case "undergirds a lot of the policy debates we've had in NC because it deals with so many fundamental education policy issues in the state, including teacher pay, programs for disadvantaged and at-risk students, and pre-K," Stoops said. "So we have the legislative angle, but we also have the courts playing an increasingly significant role in education policy."
Support The 74's year-end campaign. Make a tax-exempt donation now.