Evans: Middle School Teachers and Administrators Are Paving the Way for Innovation in the Classroom. 3 Case Studies Show How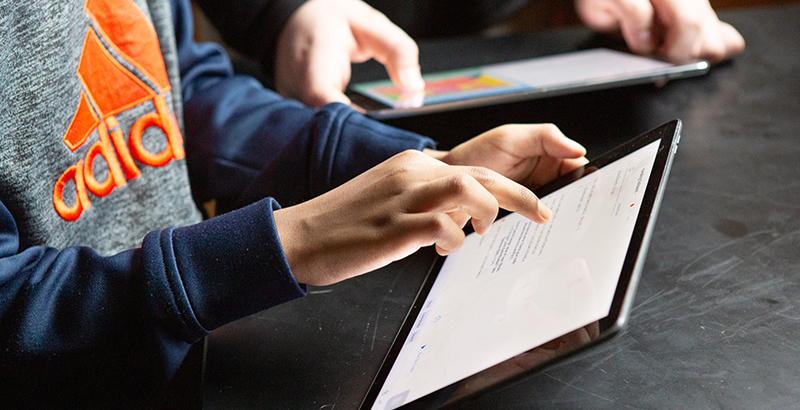 Technology is ubiquitous in the lives of today's students and has become as essential as reading, writing and arithmetic in preparing them for the future. For middle schoolers, many teachers and districts are turning to digital curriculum to help them master grade-level content and fill learning gaps.
Middle school teachers face the monumental task of getting students achieving at grade and keeping them on track toward the rigors of high school. In 2017, only 34 percent of eighth-graders performed at or above the proficient level in math on the National Assessment of Educational Progress (NAEP), and only 36 percent scored at or above proficient in reading. Each course failed in eighth grade increases the odds that a student will be left back in ninth grade by 16 percent; 45 percent of high school dropouts said they were not prepared when they entered ninth grade.
According to a recent Speak Up Research Project for Digital Learning, middle school teachers are exceedingly open to innovation in their classrooms and are placing an increasing importance on the effective use of technology to help students develop the skills they need for college and career. Forty-six percent of middle school teachers agree that the effective implementation of instructional technology is extremely important to student success.
Similarly, middle school administrators are seeking out new teachers who bring a depth of knowledge and experience in using technology to their classrooms. Ninety-five percent of middle school administrators say the effective use of technology is important for student success, and 59 percent say they have already implemented blended learning — a combination of computer-based and traditional teaching methods —at their school, an increase of 13 percent in just two years.
But seeking the right digital curriculum goes beyond implementing flashy technology or the latest fad. If students are not demonstrating learning and a district isn't achieving expected outcomes, the technology is not worthwhile. Many districts are partnering with providers that offer digital curriculum built specifically for middle school students: their attention spans, their interests and their needs. Here are some that have implemented digital curriculum programs specifically for middle school and seen increased achievement and outcomes.
● Seven years ago, Mineral Point School District, a small rural district in Wisconsin, was exceeding expectations on state assessments, but school leaders thought the district could do even better. They implemented the Apex Learning digital curriculum for eighth-grade remediation and shifted their middle school to a blended learning environment, allowing teachers to provide more one-on-one help when students need it. This strategy paid off, as student achievement has increased significantly since the implementation of digital curriculum, and 75 percent of Mineral Point Middle School students scored proficient or advanced in math on Wisconsin state assessments, an increase of 32.6 percentage points over the past five years.
● Dorchester School District Two in South Carolina takes a comprehensive approach to preparing middle schoolers for the academic rigor of high school. The district wanted to provide an option to keep students on track for grade-level success while filling in foundational skill or concept gaps. They determined that using digital curriculum would enable teachers to personalize learning for students within the classroom while tracking their progress and determining exactly where they might be struggling. Following the implementation, teachers reported benchmark score improvements and increased student engagement. With digital curriculum, teachers believe students are more prepared for the next grade level, fostering independent learning and helping students develop higher-order thinking skills necessary for success in high school.
● Dixon Public Schools, a small, rural district in Illinois, has a strict policy for students advancing from middle to high school: They must pass all subjects before moving on to ninth grade. Reagan Middle School educators sought to improve support for at-risk students, implementing remediation and credit recovery with the goal of filling in knowledge gaps and getting students back on track. As a result, more students who were at risk have now advanced and are prepared for ninth-grade coursework. According to the district, students are more engaged and more motivated to complete course requirements.
I applaud districts and teachers for leading the way to incorporate digital curriculum in the middle school classroom to increase student achievement and support student learning. I look forward to seeing the expanded and thoughtful use of evidence-based technology throughout secondary classrooms nationwide.
Dr. Julie Evans is CEO of Project Tomorrow and creator of the Speak Up Research Project, which annually reports on the views of 400,000 K-12 students.
Get stories like these delivered straight to your inbox. Sign up for The 74 Newsletter