Essay: Running for Change, South Dakota High Schooler Protests Pipeline, Meets the President (Twice)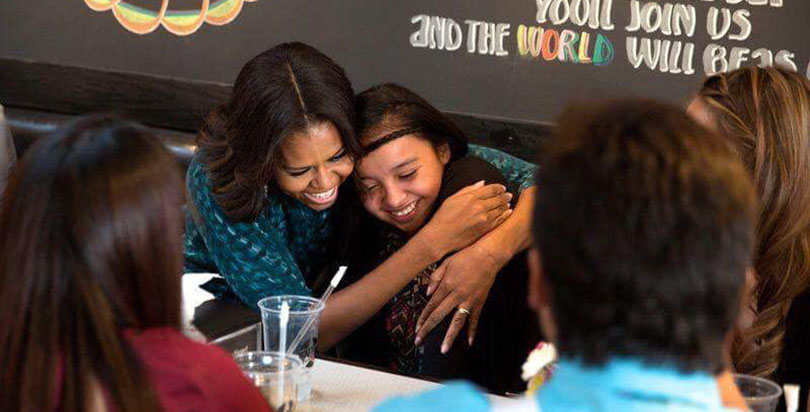 Tariq Brownotter, 17, is a McLaughlin (South Dakota) High School senior whose dream is to attend college this fall. You can support her efforts here. Her high school is home to some of the 100 Teach for America corps members and alumni helping educate the Rosebud, Pine Ridge, and Standing Rock tribal nations. In addition to South Dakota, Teach for America's Native Alliance Initiative serves students representing dozens of federally recognized tribes across New Mexico, Hawaii, Oklahoma, Minnesota, and Washington state.
I grew up in the small town of McLaughlin on the South Dakota side of Standing Rock Indian Reservation. At the age of 6, I moved to Bullhead, S.D. — a tiny town that is actually shaped like a fishbowl, where there is nothing to do. Or so I thought.
I didn't understand how special Bullhead was until I got the call about an oil pipeline and the dangers of it being built on the Standing Rock Reservation. Bobbi Jean Three Legs and Shayla Gayton, young Lakota women from the Standing Rock community, invited me on a Dakota Access Pipeline awareness run from Cannon Ball, North Dakota to Omaha, Nebraska.
Initially, I was only planning to run from Cannon Ball to McLaughlin, which is about 42 miles. I didn't know much about the run except that 42 miles was a long distance to run! What started out as a long run quickly transformed into a life-changing moment.
There were only a few other youth runners, and I did not want to leave them, so I then was committed to run to Omaha. As we ran, I started to learn more about the Dakota Access Pipeline issue and how the pipeline could harm Standing Rock's water supply. In every county, we stopped and had ceremonies, inviting community members to learn about our cause and why we were running. I talked to elders, and they told me about what they had faced in their lives and their goal to protect our sacred land. Their stories inspired me and made me realize that I wanted to run for my family, my friends, my people, and for everyone who couldn't run to help bring awareness about the dangers of the Dakota Access Pipeline.
As we ran to the different communities along the way, we gained runners who wanted to help build awareness about the pipeline. We drafted a petition calling for a halt to the construction of the Dakota Access Pipeline and gave it to the Army Corps of Engineers in Omaha. That day in May, I listened to Bobbi Jean read a letter aloud for all to hear. I will always remember this one sentence she said that reinforced the importance of our run: "It's not if the pipeline will break, but when."
Seeing and hearing Bobbi Jean speak gave me hope and confidence in myself that when I put my mind to it, I can do anything I want. So can other young people from my community and all around the world. This run gave me the confidence to know that whether big or small, I can achieve my goals.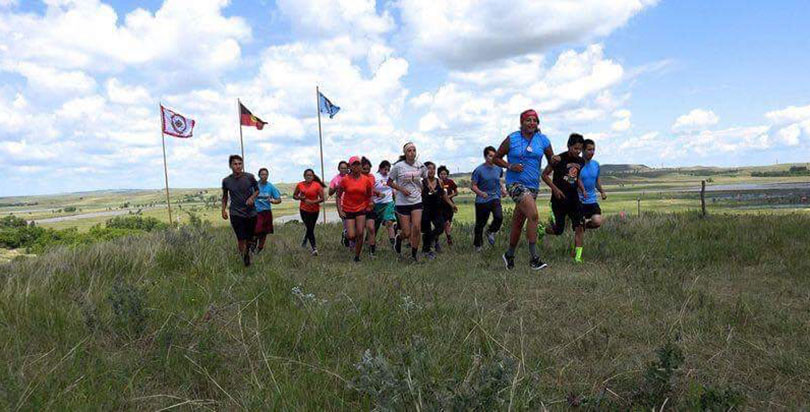 By the time we reached Omaha, our run had gotten a lot of attention. The Standing Rock camp was getting bigger, and the support for the #NODAPL movement was growing every single day. With this type of energy, Bobbi Jean wanted to act and take our cause to the White House. We were joking about going to Los Angeles or Washington, D.C., to increase awareness all over the country! But soon, this joke became a serious goal.
I had the opportunity to meet President Barack Obama and First Lady Michelle Obama when they came to Standing Rock, and then during a follow-up meeting at the White House. I told the president about the struggles of living on the reservation and how losing many family and friends to suicide has affected me. President Obama gave me hope that our voices will be heard and that there is light at the end of a dark tunnel. He inspired me to speak out more and keep raising awareness about Standing Rock and the pipeline.
Throughout this process, I learned some important lessons about my culture and myself. From our first run, I realized how much knowledge I had gained from our elders about our Lakota culture. I know more about my culture now than ever before. I learned three amazing songs and a lot about our ceremonies. There was a moment during the Omaha run when I got emotional and thought about giving up. But then I remembered why I was running, and who I was running for.
I gained inspiration from the ceremonies we had while running and the people who sang and spoke from their hearts about our community and reservation. Whenever I got scared or tired, I would sing or pray, and I became more focused on why I was running and what it meant to me, my family, our community, and everyone who would be affected by the pipeline.
During the next part of the journey on our way to Washington, D.C., we had a lot of people telling us that we shouldn't advocate for our land and our people. I heard so many times, "They are going to build the pipeline anyway." It was very demoralizing and confusing, but I learned that even if people don't seem to care, we could draw strength from one another. We picked each other up and kept going even though our critics' words were hurtful.
From those runs, I came back more mature and more energized because we had to be brave enough to show people what is happening in the home that we love. We have to prove to people how serious this pipeline is and how it's going to affect our home. We will continue to bring awareness and get support from all around the world because, although we won a minor victory when the Army Corps stopped construction on the pipeline, we know the fight is not over.
Recently, President Donald Trump signed executive orders clearing the way to restart construction on the Dakota Access Pipeline. So we must continue to stand up and stand strong to protect our sacred land. When I first began the run, I couldn't talk about our fight without crying. Today, my fellow runners and I are braver, stronger, and we are family that will continue to fight for what's right.
To all the students out there: Stand up for what you believe in. Be proud of who you are and where you come from and never give up fighting for what you believe in. Learn your ceremonies, your beliefs, your culture, and appreciate your home and everyone around you. People might not want to listen, but they need to, because your voice matters.
As great leaders have asked our nation at important turning points, "If not now, when? If not us, then who?"
Support The 74's year-end campaign. Make a tax-exempt donation now.