ESSA Analysis: How States Are Looking to Drive Stronger School Climate Through New Education Plans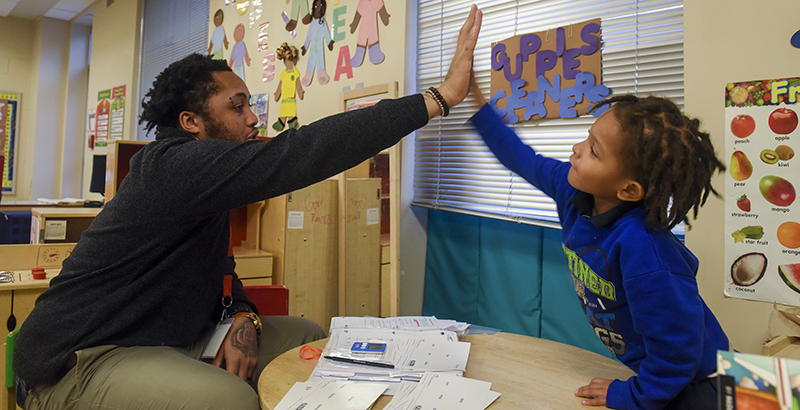 The federal Every Student Succeeds Act was an opportunity for states to rethink their education systems, including how they classify and improve school performance. But beyond accountability, ESSA plans encourage states to spotlight holistic support systems that can improve outcomes for students.
Indeed, states highlight a variety of policies and programs to improve conditions for student learning, particularly around school climate. Positive school climates correlate with a host of desirable student outcomes, including decreased absenteeism, suspension rates, and substance abuse. Schools with positive school climates have also been shown to narrow achievement gaps based on income and academic ability. There is no question, then, that states should devote resources to improving school environments.
In Texas, for instance, schools have seen success with restorative justice practices. Using this alternative to traditional discipline — think student conflict resolution approaches like circle discussions — schools in Dallas and San Antonio have experienced significant drops in in-school and out-of-school suspensions. In fact, Texas's ESSA plan features a statewide restorative discipline initiative, launched in 2015 in partnership with the University of Texas at Austin's School of Social Work, and by the 2016–17 school year, the state had trained 1,800 school and district administrators to take a relational approach to addressing student behavior.
Texas's initiative is but one example of state efforts to improve school environment, many of which prioritize tracking leading climate indicators. New York, for example, will use ESSA block grant funds to administer school climate surveys to students, parents, and school personnel. The surveys, along with chronic absenteeism rates and a measure of school violence, will be part of a new statewide school climate index. Kentucky's plan describes a newly launched tool that provides educators with early warning data in real time, predicting which students are most at risk of dropping out based on factors such as attendance and behavior. Connecticut, similarly, has committed to developing an early warning dashboard with statistics on bullying and suspensions.
Armed with student data, states are implementing a variety of programs, such as Positive Behavioral Interventions and Supports (PBIS) programs, to improve school environments. PBIS practices use three tiers of student support to foster appropriate behavior. Texas, which implements PBIS in addition to restorative justice practices, has seen positive effects ranging from increased attendance to decreased disciplinary referrals. Nebraska has a decade-long history of implementing PBIS and has secured funding for its work through 2021. And the Georgia Department of Education, which has a dedicated PBIS team to implement and scale up the program, is partnering with the Georgia Department of Early Care and Learning to support a PBIS model for pre-K through second grade.
States are also supporting programs to decrease bullying, improve mental health, and reduce the overuse of discipline practices. Hawaii's plan, for example, describes the state's support for student health and safety, including efforts such as peer mediation and campaigns to reduce harassment. The New Hampshire Department of Education is using a project grant from the Substance Abuse and Mental Health Services Administration to increase access to mental health services, improve school climate, and reduce school violence. And the Ohio Department of Education is partnering with the state's Department of Mental Health and Addiction Services to provide a preschool expulsion prevention program across the state.
These examples are merely a selection of school climate initiatives that states have highlighted in their ESSA plans, which are not the be-all and end-all of state policy — nor should they be. States began to implement many of these programs before ESSA, and they will they continue to develop new initiatives to improve school environments, student safety, and mental health regardless of federal law.
Nonetheless, given the national attention ESSA plans receive, it is promising to see states taking advantage of the spotlight to communicate their broader visions for improving student outcomes. And as states begin to turn their plans into action, it will be important to pay attention to what happens for students, classrooms, and school environments.
Samantha Batel is senior policy analyst for K-12 Education at the Center for American Progress.
Get stories like these delivered straight to your inbox. Sign up for The 74 Newsletter