English Learners in California Remain at the Bottom on New State Test Scores — & It's Even Worse for Students in L.A.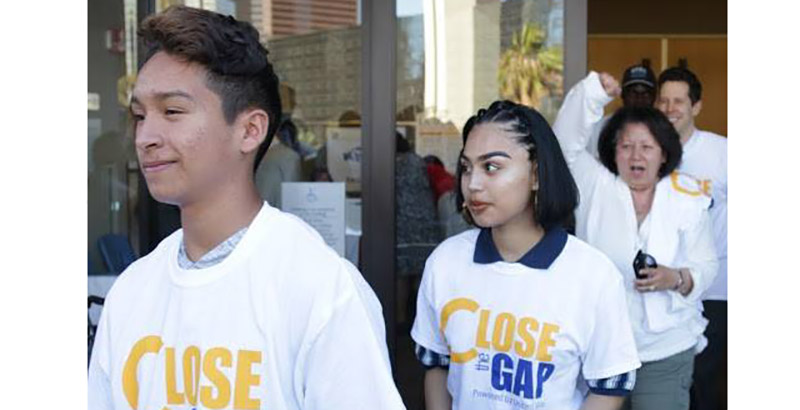 This article was produced in partnership with LA School Report.
For California parents watching how well their public schools are doing at educating their children, the fall release of state test scores has brought only slim encouragement. Elementary school students, particularly in third and fourth grade, moved ahead, while 11th-graders lost ground.
But the grimmest news was, once again, reserved for parents whose children are still learning English — particularly for those in the L.A. Unified School District.
English learners, who represent nearly a quarter of L.A. Unified's half a million students, showed no growth at all in reading over last year, and their math scores inched up by only a minuscule 0.04 percentage point, according to state results on the California Assessment of Student Performance and Progress released last week. Statewide, they gained less than 1 percentage point over last year.
English learners' test scores in California and L.A. have barely budged since the new tests were introduced four years ago, even though the state has funneled more funds to school districts with high numbers of English learners and other disadvantaged students. And English learners' performance remains at the bottom of all subgroups, lower than for all ethnic groups and for all students receiving special education and those in poverty.
In each of the past three years, less than 4 percent of L.A. Unified's English learners scored proficient in reading and less than 6 percent did so in math — significantly below their peers statewide.
L.A. Unified posted slightly more progress with its reclassified English learners, those who have completed a four-step process that includes passing the state's English proficiency test. But they still lag behind the statewide rate.
"This is not acceptable, but it is also a complex issue," said Magaly Lavadenz, professor of educational leadership and director of the Center for Equity for English Learners at Loyola Marymount University.
Lavadenz outlined a range of factors that contributed to the "depressing test scores," including the specific challenges these students face and how school districts are supporting both them and their teachers.
The students are clearly struggling with content as well as the language. "When English learners are tested at any test, any assessment that is in English is also a test of the language as well as of academic content proficiency," she said.
The language barrier affects students even in math, because those sections of the test are also heavily language-based, making them difficult for English learners, Lavadenz said.
And school districts do not consistently use accommodations available for English learners during testing.
"One of the things I think districts can do better is to take advantage of the language accommodations that are available for English learners within the test itself, such as bilingual dictionaries or simpler forms of language," she said. "We know these accommodations are not being used as much as they could, especially with students at the lower level of English proficiency."
Teachers also need more training and support to better prepare their English learning students for the test and to learn how they can understand students' progress in previous academic years, she said. "From when teachers are beginning to teach to when they reach expertise, having access to high-quality professional development is essential. Policy evolves, education reform, curriculum reform, they all continue to shift and evolve over time, so their continual learning is essential so they can address the needs of English learning students."
She said newer teachers also need to be coached and mentored, as research shows that the youngest and least prepared teachers tend to be placed in schools and communities with higher poverty rates and high concentrations of English learners. These teachers aren't getting the support they need and end up leaving.
"Other student subgroups are also underperforming. Latinos are underperforming statewide. Test scores are one indicator of a student's learning during a few days of testing. It's a complicated issue. The social, the emotional, the community conditions that are present have an effect," Lavadenz said. "But we must still continue to have the aspirations and the expectations that despite all of this, children can learn. They need to be held to high expectations."
Attempts to raise English learners' proficiency rates have yet to bear fruit. These include the new California English Learner Roadmap and millions of extra dollars that have been spent over the past five years through the Local Control Funding Formula.
"The implementation of the new English Learner Roadmap, which set a clear map toward English learners' achievement, it's been difficult in classrooms across the state," said Elisha Smith Arrillaga, co-interim executive director of The Education Trust–West. "We know that there are some school districts that are doing a good job. I think one of the things the state should be doing moving forward is using these as examples to put the road map into practice."
Over 20 percent of the students in California's public schools — 1.3 million children — are English learners, who speak any of about 65 other languages; for an overwhelming majority, 82 percent, Spanish is their first language at home.
Lavadenz said parents need to ask school administrators and teachers questions such as:
● Did you provide accommodations for my English learner child during the testing? What kind?
● What kind of preparation are the students getting for the test?
● How can I support you with my child at home to be better prepared for the test?
● Are there any resources available in my native language that I can use to help prepare my child?
● Are you providing tutoring for the test after school?
Test Results
Here are the percentages of students who met or exceeded state proficiency standards in the 2018 CAASPP, or Smarter Balanced, tests, which students took in May, compared with the previous two years:
Support The 74's year-end campaign. Make a tax-exempt donation now.