Elementary Educators Must Understand Science in Order to Teach It
Peske: Investments in equipment, curricula and activities are moot if education leaders don't attend to the science preparation of aspiring teachers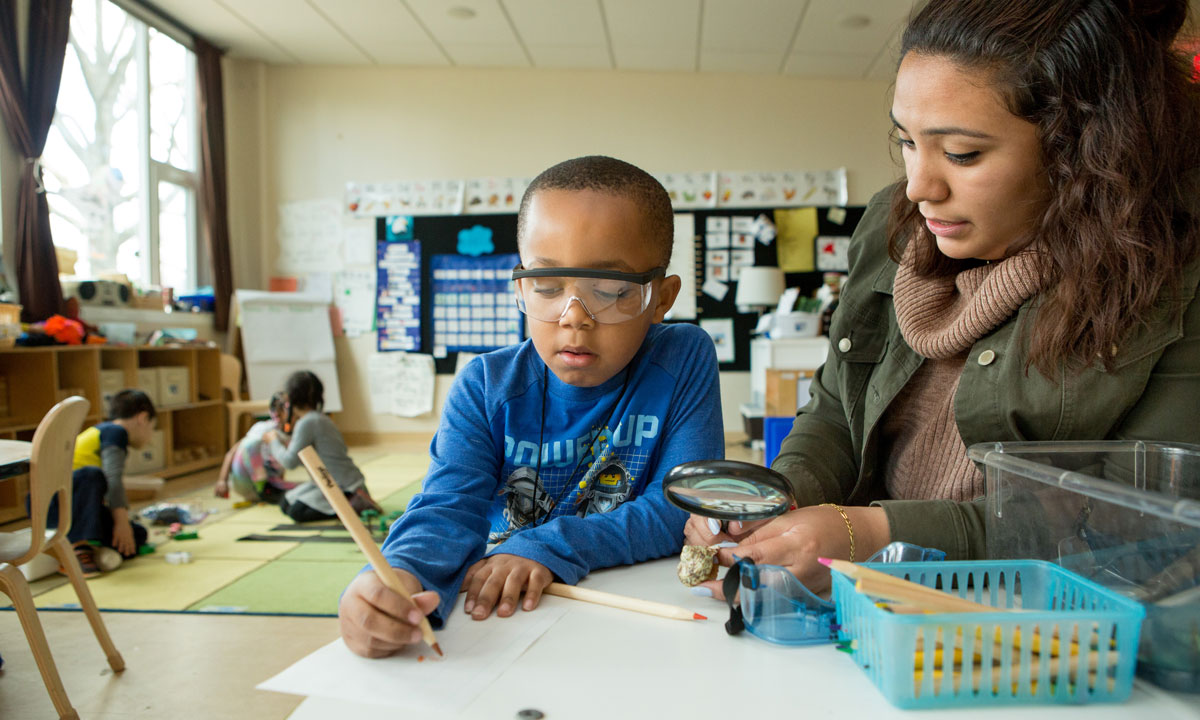 Get stories like these delivered straight to your inbox. Sign up for The 74 Newsletter
Imagine a classroom of curious elementary students grasping clipboards, eager to conduct an experiment to see if the small car they built can protect their egg "passenger" in a head-on collision. It's a lesson that not only reinforces their understanding of engineering design, but also offers practical examples of physics in action. And it's fun.
Teaching science to young students should spark creativity and joy; to do so requires a well-prepared teacher who can engage kids effectively as well as deliver essential content knowledge.
Science education in the elementary grades is fundamental to encouraging young children's interest in science-related careers, developing critical thinking and problem-solving skills and building reading comprehension. It is even more urgent for the nation's most vulnerable students — Black and Latino children, English learners, students with disabilities and those living in poverty — who have disproportionately low rates of reading proficiency and are most likely to be denied access to the broad curricular content that can help them establish the knowledge and skills they need for later grades and to succeed in the 21st century world.
But investments in new science equipment, curricula, textbooks and activities are moot if education leaders don't also attend to the science preparation of aspiring elementary teachers.
There's a lot of work to do. A National Science Foundation survey found that only 31% of elementary teachers reported feeling very well prepared to teach science. When the survey broke it down to look at specific topics, the picture was even worse: Fewer than a quarter reported feeling well-prepared to teach any specific science topic, such as life science, earth science and physical science, and only 3% reported feeling well-prepared to teach engineering — despite the inclusion of these topics in state elementary standards for students.
A key reason is that, too often, teacher preparation programs do not explicitly require future elementary educators to take courses that cover essential science topics, even when those courses are available. A new report by the National Council on Teacher Quality finds major gaps in required science topic coverage for future elementary teachers.
For example, every state and D.C. includes science topics in elementary student standards, such as "forces, waves and energy," "Earth's systems and processes" and "interdependent relationships in ecosystems." Yet NCTQ found only about half of teacher preparation programs require future elementary teachers to take courses covering these topics. The good news is that since nearly all programs offer courses covering these topics as options, most teacher preparation programs don't need to create new ones. They just need to direct future elementary teachers to the right science courses by making them mandatory.
NCTQ data show that aspiring elementary teachers are required to take an average of four science courses for graduation. However, teacher preparation and general education programs typically offer long lists of course options to choose from — with varying degrees of relevance to what the new educators will be expected to teach students. As interesting as "Calculus-Based Analytical Physics" or "Literature and Environmental Science" may be, surely a future elementary teacher should take "Physics: Forces, Sound, Momentum & Energy" and "Principles of Living Systems" instead. By guiding aspiring educators to courses that cover essential content, programs can make sure their graduates have a firm foundation in the science topics their future students need to learn.
The only key elementary science topic that NCTQ did not find available as an option in most teacher preparation programs is engineering design, although it is a critical subject in today's world and appears in the elementary science standards of more than 40 states. We found only 10% of programs require future teachers to take a course that covers engineering design, and only 19% even offer courses in the topic. Fortunately, some programs, such as those at Castleton University, Drexel University and the University of Central Missouri, are creating engineering courses specifically for future teachers. More need to follow suit.
It is vital to ensure all children have access to science content early in their education, and this can only happen if future elementary school teachers are trained to understand the science themselves. Individual results for the preparation programs included in the NCTQ analysis are available in the Building Content Knowledge: Content Coverage Tool, with detailed course analysis, topic coverage and recommendations to guide programs in making improvements. We hope the national findings here will illuminate an urgent need and clear solution: By bridging gaps in science content requirements, the schools that prepare future educators can ensure teachers go into elementary classrooms confident and ready to provide our children with the science instruction they need and deserve.
Get stories like these delivered straight to your inbox. Sign up for The 74 Newsletter