Effective, Efficient — and Limited: DeVos Lays Out Her Vision of Federal Role to State Schools Chiefs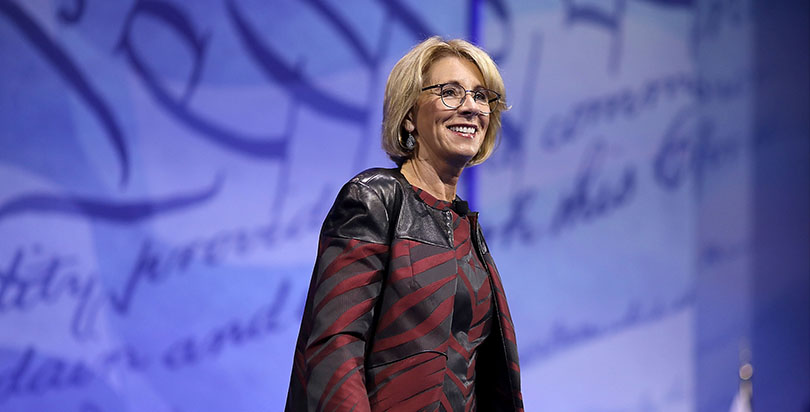 Washington, D.C.
Education Secretary Betsy DeVos on Monday defended the Trump administration's budget proposal, which called for new money for school choice while slashing long-standing programs, as returning control over education back to families.
"The budget stresses the need to place power in the hands of parents and families to choose schools that are best for their children," she told the Council of Chief State School Officers' annual legislative conference in Washington.
The budget proposes ending federal dollars for before- and after-school programs run through the 21st Century Learning Centers Program as well as major teacher training grant programs. The Trump administration targeted another 20 for reductions or total cuts as part of a $9 billion elimination to the department's budget.
"Taxpayers expect that their dollars will be spent efficiently and effectively. This budget reflects an intention to invest in education programs that work, while reducing duplicative programs and empowering the state and local levels to administer others that are best kept at those levels," she said.
New school choice programs will also "invest in underserved communities," in keeping with President Trump's pledge to do so, she added. Trump during his campaign promised to spend $20 billion on school choice initiatives.
During a question-and-answer session with CCSSO Executive Director Chris Minnich, DeVos declined to offer more details on the budget. She spoke before about 200 people in the Capitol Hilton ballroom; about two-thirds gave her a standing ovation at the end, a warmer reception than she has received at other appearances since her fractious confirmation hearing.
"Our focus is on helping to support students where it can be most effective and most impactful," she said, citing the new school choice programs, along with level funding for Title I grants for low-income students and grants to states through the Individuals with Disabilities Education Act.
"Those are two important areas where the federal government plays a strategic role in helping to ensure that what we collectively do on behalf of students is really with all students in mind," she said.
She also declined to give any specifics on a possible federal school choice plan, saying it's too early to talk details, but that state stakeholders would be consulted.
There has been quite a bit of tumult around ESSA implementation, as federal regulations are drafted, withdrawn, and
blocked
, but DeVos encouraged states that are ready to submit their final plans at the April 3 deadline to "definitely do so, even if you don't have every
t
crossed and
i
dotted."
The department will provide technical support if needed, but state leaders should "get out there and be creative" and consult with local stakeholders as they develop plans, she said.
"We are encouraging you to move ahead as promptly and swiftly as you can, because the sooner you're able to implement, the more kids who are going to be positively impacted, we hope," DeVos added.
The Dick & Betsy DeVos Family Foundation provided funding to The 74 from 2014 to 2016. Campbell Brown serves on the boards of both The 74 and the American Federation for Children, which was formerly chaired by Betsy DeVos.
Get stories like these delivered straight to your inbox. Sign up for The 74 Newsletter