Educators We're Thankful For: 9 Thanksgiving Tales of Gratitude for Teachers, Students, and School Friends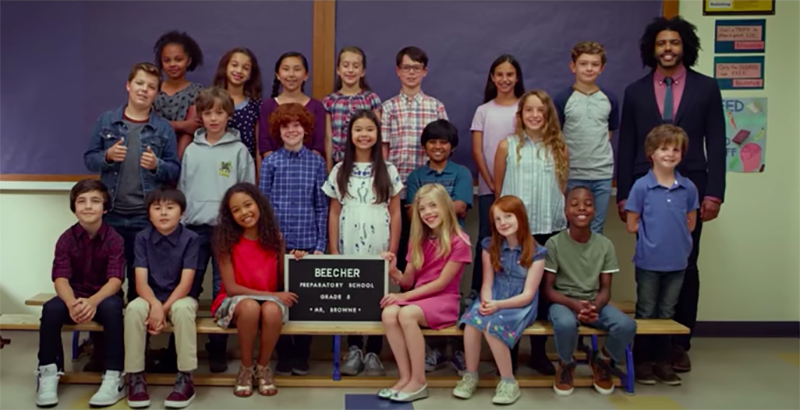 This article is one in a series at The 74 that profiles the heroes, victories, success stories, and random acts of kindness to be found at schools all across America. Read more of our recent inspiring profiles at The74million.org/series/inspiring.
Teachers give gifts — in so many different forms — every day. Sometimes those gifts come in the most creative of ways, and sometimes those gifts come back to teachers, from students, parents, and community members. As the education world expresses gratitude this holiday season, here is a sample of gifts of learning, sharing, and caring.
Happy Thanksgiving!
Young drummers on the march in Maryland
For Ray Washington Jr., being on Morgan State University's drumline was a life-changing experience. So when he got a job as a music teacher at Maple Elementary School in Cambridge, Maryland — the school he attended as a child — he knew just what the students needed. Washington went out and raised money to fund instruments and uniforms, and created a rarity in the music world: a marching band and drumline at an elementary school.
Now, the 45 fourth- and fifth-grade students in the drumline are a national must-see, performing on Good Morning America, at local events, and at Morgan State University's homecoming.
"It's given kids that wouldn't have a focus, a focus," Principal Patricia Prosser told the Baltimore Sun. "I don't think it would have been possible without the success of the drumline."
Tina Weber, a substitute teacher at the school and mother of fourth-grade clarinetist Savanna Weber, told the Sun that with Washington in charge, her daughter has become more interested in music and playing other instruments. In a school where 87 percent of children qualify for free or reduced-price lunch, "he's really making a difference," she said. "It's the only positive thing some of these kids have in their lives." Many of the kids, she added, are homeless or hungry; for them, there's dinner before practice. "They're becoming a tight-knit family," Weber said.
Serving up a surprising thank-you in North Carolina
Amy Hamilton went out to dinner and came home with a big helping of gratitude and confidence in her teaching. The high school science teacher was enjoying an evening out with her sister in Oak Ridge, North Carolina, when a restaurant server came over and handed her a note. It said:
"Thank you for being the best biology teacher. I majored in biology because of my experiences in your classes, honors biology and A.P. biology. Enjoy!' and it said 'Class of 2007,'" Hamilton told WTVR.
The note was from a former student who'd spotted the teacher in the restaurant and asked the server to deliver her message of thanks. And to top it all off, the former student paid for Hamilton's dinner. "Sometimes we don't know we are making a difference, and just this little note told me that I do make a difference," Hamilton said.
A birthday gift for the community in Montana
Linda Caricaburu is a tireless advocate for the local public schools in Great Falls, Montana. So when her 60th birthday rolled around, her husband, Brad Talcott, gave her the perfect gift: a school library.
Talcott donated $100,000 in his wife's name for all the furnishings, from desks to computers to shelves, for a library and media center at the new Giant Springs Elementary School. When Giant Springs is completed, students from Roosevelt Elementary School — which at least a dozen of Caricaburu's family members have attended — will be moved to the new school.
"We just feel that [Roosevelt] is the oldest school in the district, so the students there are inherently at a disadvantage in some ways," Talcott told the Great Falls Tribune. "It's their turn to have something special — the opportunity to learn at a different level."
Sometimes the best gifts are the ones everybody gets to enjoy.
Kindness on two wheels in Georgia
The teachers at Glynn Middle School in Brunswick, Georgia, didn't know Cortez Simmons that well. The middle schooler had transferred in for seventh grade, and making the adjustment even worse, early on his bicycle was stolen from the school. Walking to and from home was tough for the youngster, and the teachers noticed the change in him.
So they banded together and bought him a new bike.
"We have a really strong team that's become very close to our students, and we know their needs," teacher Beth Knittels told The Brunswick News. "We're going to make sure everybody has everything they need to succeed."
These teachers took it upon themselves to show a student — one they didn't know all that well — how important he is, a lesson he can carry with him for a long time to come.
A Wonder-ful gift in North Carolina
The book Wonder has proven popular nationwide, especially in schools where students have read the story of a boy with a facial deformity trying to make his way in school. And now that it's a major motion picture, the entire teaching staff at Bradley Creek Elementary School in Wilmington, North Carolina, will be seeing the movie — courtesy of an anonymous donor.
"Thank you so, so much. We love you, and we thank you even though we don't know you," school counselor April Elkins told the donor via WECT.
"I think that's so amazing that this person is willing to give this type of gift to our staff without being named. I think that's the ultimate gift," said Megan Johnson, a fifth-grade teacher who uses the book in her class to teach compassion and kindness.
Heart and sole in Oklahoma
When a boy's shoe ripped in front of first-year teaching assistant Bethany Martin at Tulsa's Sequoyah Elementary School, she realized what she wanted to do for her birthday: give every child in the school a present in the form of a new pair of shoes.
"There was a little boy in one of my classes whose shoe completely ripped apart, and I had to duct-tape it together, and I asked him if there was any other those that he had at home that he could wear," she told KJRH. "He said he did not have any that fit."
It was not the first time she had seen children having problems with their footwear.
"At the beginning of the school year, there was a little girl and her shoes … they were her only pair," Martin said. "I saw that she wore them every day, and eventually her toes just were sticking through them. … I asked the teacher and I asked the parents if it would be OK if I went out and bought her a pair of shoes. I did that over the weekend and I was able to give them to her on Monday."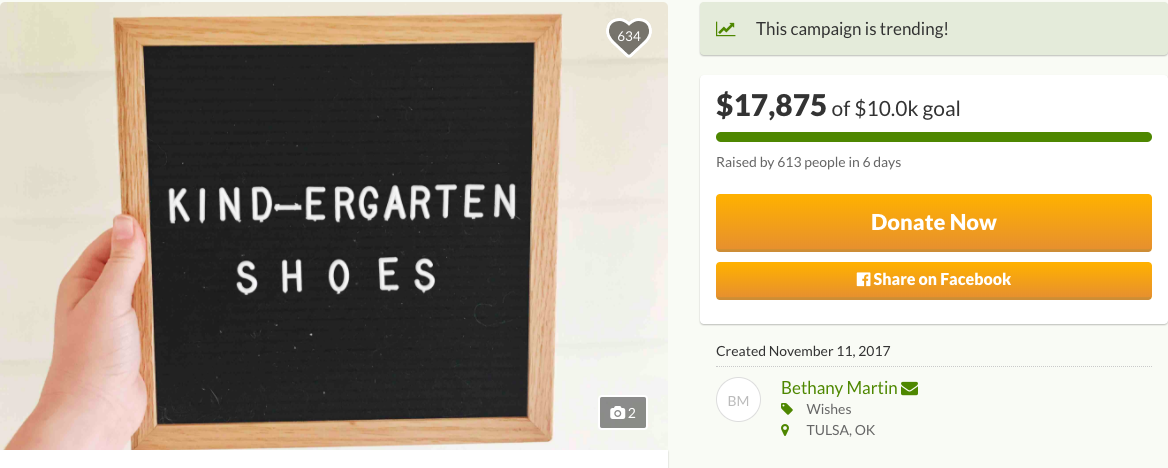 Martin has raised $15,000 in the effort so far and hopes to have shoes for the school's 600 students before Christmas.
Pomp and circumstances in Georgia
For high school special education teacher Kimberly Wimbish, student Jamias Howard posed particular difficulties.
"It was like he didn't trust anyone and he had up a wall. And before you got him, he was gonna get you," Wimbish, a teacher at Griffin High School in Georgia, told ABC News. "It was a challenge. It looked like he was never going to graduate, like he wasn't going to be able to pull it together. All I could see was things not going well for him."
But Wimbish was determined to turn all that around. She took it upon herself to help him overcome those challenges, spending her time off, outside school hours, to tutor the young man and get him eligible to graduate.
"Jamias has had his challenges. He had additional challenges that wouldn't afford him the opportunity to come to school to be educated," she said. "I saw need, and I was able to fulfill that need."
They met anywhere he could get to on foot — the park, the library, Burger King. And finally, he earned the credits he needed to graduate.
As one final gift, Wimbish drove to Jamias's home and hand-delivered his cap and gown. And that's when the gratefulness poured out, her for him and him for her.
A gathering of gratitude in New Jersey
North Main Street School in Pleasantville, New Jersey, has been the recipient of many gifts, from book bags to equipment for a mobility-impaired student to donations of valuable time from members of the community. And to make sure that generosity didn't go unnoticed, the school held a special assembly — complete with a continental breakfast, performances by the younger students, and a presentation on the importance of giving by the third-, fourth- and fifth-graders — to say thank you.
It was an opportunity for the children to not only see who supports them, but to recognize the thoughtfulness of community members who keep them in their hearts.
"We do not receive without showing gratitude," Principal Teresa McGaney-Guy said at the assembly. "Your willingness to help North Main Street School makes a difference in various ways. Each role you play is important."
Bringing the generation gap, with all the trimmings, in New York
For the 25th year in a row, the New Paltz Central School District in New York pulled out all the stops to provide full pre-Thanksgiving meals for community seniors at two local elementary schools. For free.
The annual dinners — with students serving the food, creating table centerpieces, providing decorative artwork and musical entertainment, and cleaning up — give teachers and staff an opportunity to honor seniors throughout the community. And a way for students to get involved.
Carol Kemlage, a senior who has attended for three years, told MidHudsonNews that she looks forward to the event. "The food is great. The company is great. The kids sing great. We just like to come, so it's great. Everything about it is wonderful. They do a great job. They ask us what we want. They're very polite. They do a wonderful job. We're very proud of them because some of them are young, really young, so they do a wonderful job."
Director of Food Service for New Paltz School District Michael Robinson said he is constantly getting positive feedback and sees seniors coming back again and again.
Get stories like these delivered straight to your inbox. Sign up for The 74 Newsletter