Educators' View: What Teachers Need to Succeed and Stay in the Classroom
McAnelly & Neira: Give teachers a say in the work they do — including writing curriculum — and a path toward learning and growing as professionals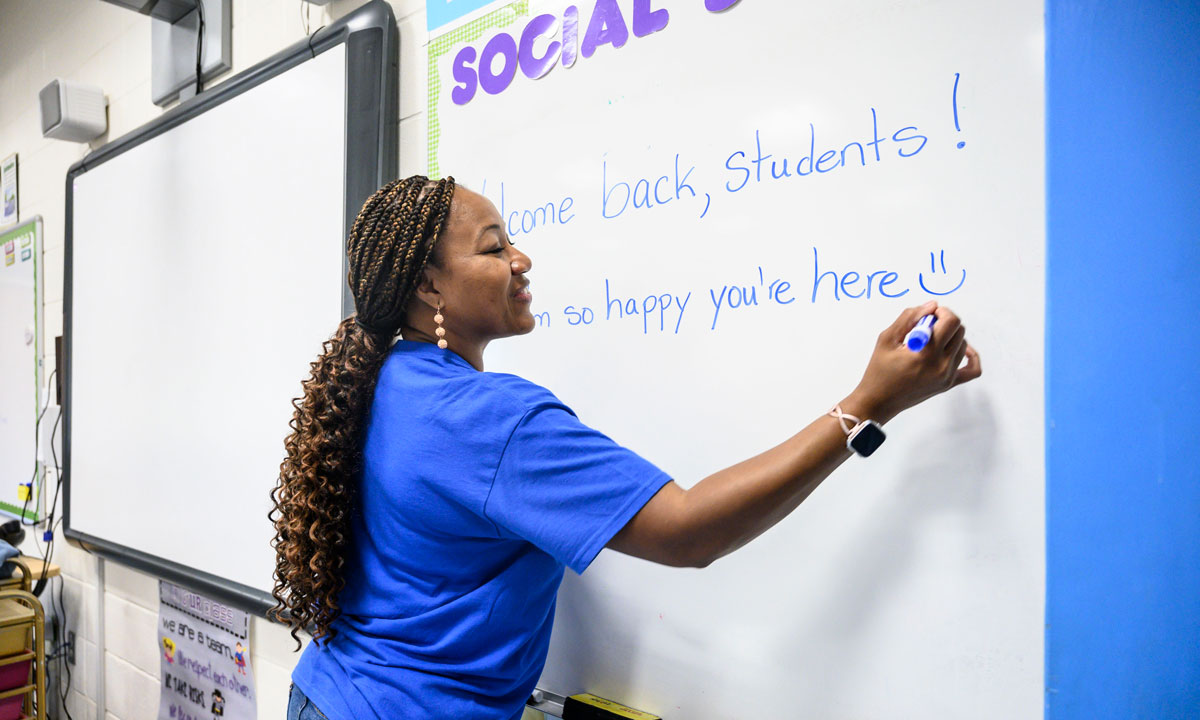 No paywall. No pop-up ads.
We've spent our entire careers in and around schools, and we know teaching has never been more difficult. Educators are having to address huge learning gaps associated with the pandemic, serious mental health and social and emotional needs, staffing shortages and even violence on the job.
It's no surprise teachers are considering leaving the profession and that a lack of enthusiasm for the field seems to be impacting the number of college students pursuing teaching degrees.
This needs urgent attention to ensure the next generation sees teaching as the rewarding and wonderful job we know it can be. School and district leaders and policymakers must provide systemwide support and take critical steps related to funding, professional learning, staffing and resources.
Between the two of us, we've taught, held academic roles, led a union, written K-12 curriculum and developed professional development resources for teachers across grades. Throughout these diverse educational experiences, we've seen what it looks like when teachers are fully supported and well positioned to help young people reach their potential.
For starters, teachers need a say in the work they do. That may seem obvious, but too often teachers are handed resources and told to use them, or given a schedule and told to accommodate it. That's shortsighted. Teaching is most effective when educators are brought into the conversation and work with school and system leaders to develop solutions to problems, set policies and establish best practices.
We saw the power of engaging teachers when we worked together in New York a decade ago to write a math curriculum aligned with new college and career standards. Teachers were at the table, along with mathematicians from higher education, to ensure the resulting curriculum would be rigorous, usable and engaging in the classroom. Their contribution was enormous. After all, teachers have firsthand knowledge about the pacing and structure of lessons, and how children learn.
There has been a lot of attention recently on how kids are taught to read. Widely used literacy programs that de-emphasize phonics — how letters and sounds relate to each other — have been shown to be ineffective and received poor reviews from independent evaluators. Maybe if teachers were included in curriculum adoption decisions from the start, as part of a team of experts, more than a third of fourth-graders nationally would not be working below even the basic level on the Nation's Report Card.
An interesting thing happened when we engaged teachers in that curriculum-writing exercise in New York a decade ago: Teachers learned a lot about math. It turned out to be a very deep kind of professional learning experience. That's important; the more educators know about the content they teach, the better off students are.
The teachers also felt empowered. Many said no one had ever asked them to write materials that would be widely used. That curriculum ultimately became a freely available online resource for teachers nationwide. Those who had helped write it were proud of their impact on the field. Additionally, teachers using the curriculum felt respect for their profession since materials had been created with input from fellow practitioners. Feeling empowered and appreciated impacts how people show up every day in their jobs — and whether they stay.
But handing teachers great resources, even if they had a role in writing them, is only part of the solution. Educators also need ongoing learning to grow and develop in their roles, and they need a say in those programs. Too often, surveys show, teachers don't have much of a say in what their professional development looks like. That makes no sense.
Teachers should help shape professional development and, when possible, help deliver it. There's so much power in teachers teaching teachers. At San Tan Heights K-8 school, a traditional public school in Florence, Arizona, which we work with through our roles at curriculum developer Great Minds PBC, teachers routinely observe each other and then reflect on those observations collectively. That's in addition to getting individual coaching led by content experts.
Finally, while some educators are happy to stay in their classrooms for a lifetime, others, like us, find meaning in moving in new and different directions over time. Educators need pathways that allow them to grow professionally in areas such as curriculum development, professional development and coaching. If we fail to do that, we could lose educators to other fields altogether.
Teaching will always come with challenges. Being thoughtful, however, about how we address common frustrations, strengthen the profession, and create new opportunities will encourage educators to stay where we need them most—in schools helping all children succeed.
Get stories like these delivered straight to your inbox. Sign up for The 74 Newsletter