Educator's View: What Good is Technology if Teachers Aren't Trained to Use It?
Weaver: Making sure teachers know how to use technology is as much an investment in student learning as providing the ed tech itself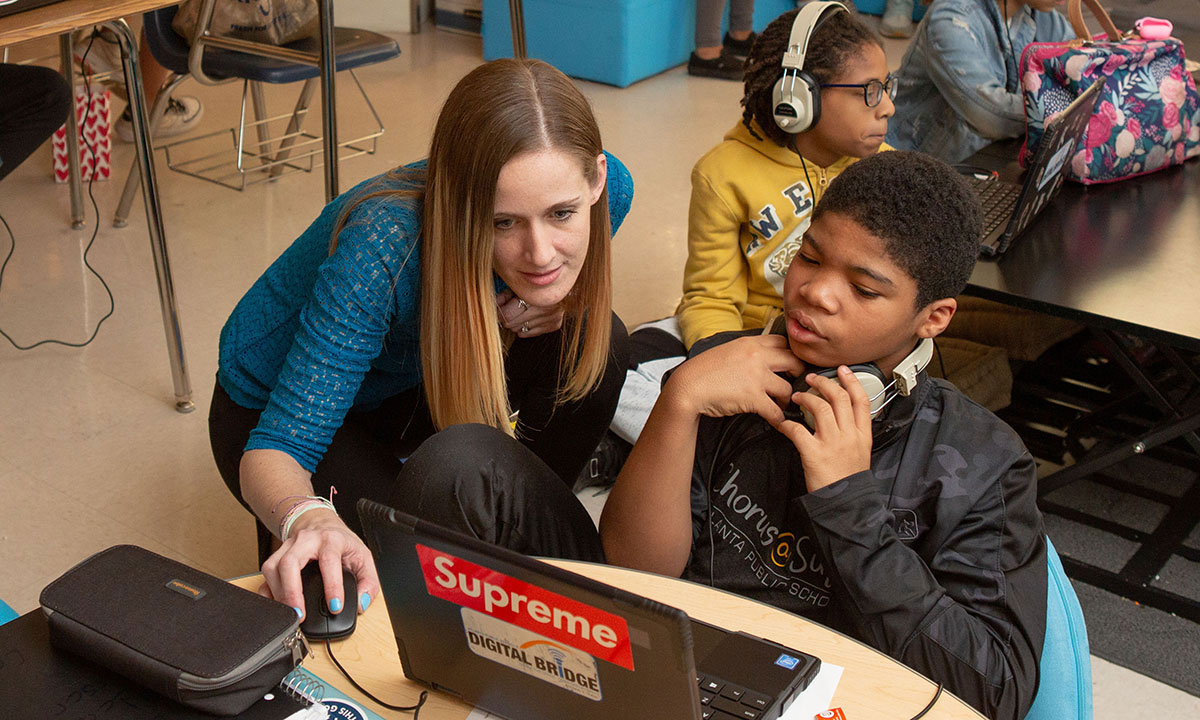 No paywall. No pop-up ads.
When I was the principal at Gwendolyn Brooks College Preparatory Academy in Chicago, I secured major upgrades to the school's technology infrastructure, including new devices, computer labs and faster internet to enhance students' learning. To my surprise, few teachers took advantage of these new tools. Some saw the enhanced technology as a slight on their teaching abilities, while others lacked the skill and confidence to make meaningful use of it. Still others were comfortable using the technology in powerful ways and willing to support their colleagues, but there was no expectation that they should. What my teachers were missing was a schoolwide vision for the use of technology and the support to use it meaningfully.
Digital equity has gained much attention over the last three years of the pandemic. But it's more than setting a device in front of a child or improving access to broadband. Though skilled educators are the key to unlocking the potential of technology in the classroom, 50% of schools say the steep learning curve for teachers regarding the use of technology is a moderate or large challenge, and half of teachers say a lack of training is a huge obstacle.
Truly delivering on the promise of digital equity means equipping teachers with the tools and training to confidently and effectively use technology. Here's a roadmap to achieving that, based on what we at Digital Promise have learned through our research and close work with school and district leaders.
School staff need support in using available technology effectively. Leaders set the vision for their school, and that includes how technology is used to enhance teaching and learning. Long before the pandemic, there was a need to better integrate technology into education, especially for students in underserved communities; the pandemic only accelerated that shift. Now, principals must be able to set a vision for their school's use of technology, identify gaps in digital skills among their faculty and work with teachers to close those gaps.
At Brooks College Prep, my team and I communicated the rationale behind the focus on technology and created a committee to give teachers an opportunity to learn from and with their peers. Once the vision and expectation around technology were set, and teachers successfully deployed technology in their classrooms, student outcomes soared. Not only did we see a 21% increase in students reaching all four ACT College Readiness Benchmarks, we were also recognized for having the highest year-to-year growth on the average ACT composite score (21.8 to 23.2) in the city of Chicago. In 2018, the school was given Blue Ribbon distinction by the U.S. Department of Education, the first high school on the South Side to earn such an award.
School and district leaders must provide high-quality professional development. Strategies for designing personalized professional development can include micro credentials — digital badges that teachers can earn to demonstrate their abilities in a particular digital skill, such as creating digitally inclusive and accessible learning experiences. Micro-credentialing allows educators to focus their professional development on the skills they need or want to improve and then validates their growth in that area.
Digital Promise worked with the Kettle Moraine School District in Wisconsin to reframe how professional learning happens in the district. Teachers assessed their own strengths and gaps in their technology proficiency, using the results to set goals and benchmarks for their learning. They then demonstrated their competencies through samples of their own work, student assignments and personal reflection, all evaluated by their peers. This kind of district-level commitment to high-quality professional development can help educators at any level of proficiency feel supported through personalized, meaningful learning.
School and district leaders can share with teacher preparation programs what they need from graduates. Here's an ideal scenario: A teacher enters the classroom on Day 1 having already experienced how technology can be used effectively for learning. The teacher has prepared a clear plan for implementing those practices with students and can hit the ground running. Educator prep programs can make that a reality for their graduates. This matters particularly for schools that struggle to attract and retain teachers, such as those with high numbers of children of color and students living in poverty, and schools in rural districts.
School and district leaders can advocate for educator prep programs to redesign their curriculum to meet the needs of students and districts in the digital age and to consider adopting teacher educator technology competencies. The University of Michigan, for example, now uses a competency-based curriculum that reflects the International Society for Technology in Education's standards for teachers. To receive the certification, teachers must demonstrate mastery of digital skills through projects such as planning and executing a 30-minute webinar for parents and students. The university's graduates have skills and practice in engaging students and school communities using technology even before they enter the classroom.
Prepare students to be the workforce of the future. When students are taught effectively using technology and their teachers model how to leverage it in meaningful and impactful ways, they are better prepared to deploy it themselves. This matters because there is a strong correlation between digital skills and earnings. The National Skills Coalition reports that only 10% of workers with limited to no digital skills are in the top 20% of earnings. Future job opportunities, economic mobility and, perhaps most importantly, personal fulfillment are on the line here when it comes to helping students become digitally proficient.Teachers are key to getting them there. As I learned when I was a principal, an investment in teachers' powerful use of technology is just as much of an investment in student learning as providing them with the latest technology. From prep programs to the classroom to the district office, there are opportunities at multiple points in teachers' careers where they can gain the training and professional development needed to equip them with the knowledge, ability, and confidence to create technology-supported, personalized learning for all their students.
Get stories like these delivered straight to your inbox. Sign up for The 74 Newsletter