Educators' View: Students Have Been Resilient and Creative During COVID-19. Schools Must Be, Too. Here's Some of What Our XQ Schools Have Learned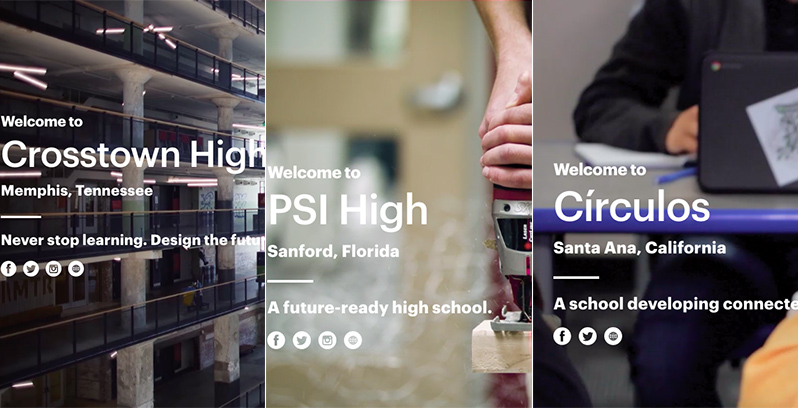 The impacts of the COVID-19 pandemic have created extraordinary challenges for high school learning. They've also created unprecedented opportunities. As three XQ school educators from places as disparate as California, Tennessee, and Florida, we've been united in our mission to reimagine and transform high school by deeply engaging students and community members around redesigning learning. XQ Schools use foundational resources like learner goals to redefine what students should know and be able to do following graduation. These include traditional expectations, such as developing basic academic knowledge, as well as a broader set of aims, such as becoming original thinkers for an uncertain world. While there is no one-size-fits-all approach to high school transformation, there are some key design principles that serve as building blocks to help schools and communities define and redesign the learning experience to be more vibrant, rigorous, equitable and engaging for every student.
This year has been a period of trial and error, and we've tried a lot of things. The ideas we're sharing here are the ones that rose to the top and worked across school models, from a large district in central Florida to a small district school in Santa Ana, California, and a charter school in Memphis. As we continue into a new year and a new normal, here are a few of the lessons we'd like to keep in mind.
We need to reconsider where learning takes place, and how
The pandemic has provided an opportunity for finding innovation in virtual learning. At schools like PSI High, we have been experimenting with blended learning models — mixed classroom environments that combine in-person teaching with online learning and resources. We have tried to be thoughtful about extending and personalizing online instruction to complement in-person learning by building in opportunities for students to interact among themselves and with teachers.
We are also noticing a lot more skill-sharing and collaboration between schools. In many cases, remote collaboration has made it easier to work on projects with community partners, sometimes even across the country. Crosstown High's statistics class is observing how principles they're learning in school show up in media series like NYT's "What's Going On in this Graph?" PSI's STEM team is working with a water management district on a project to raise awareness of the local ecosystem and biodiversity. Circulos students have made powerful connections with artistic communities like those involved in "Freestyle Love Supreme," Well Beings Studio and "Activate with Allie," encouraging their self-expression. We've focused on rekindling old partnerships and bringing in new ones, and this past year has taught us that collaboration and impact don't have to be local.
Redesign today is resiliency tomorrow
Over the last months, we've reconsidered how we are engaging students, parents and educators, a process that has pushed us to renew some old commitments. As an XQ school, Crosstown High was already in the habit of rethinking how schooling is designed — from how students demonstrate their learning to actual curricula. And homing in on XQ design principles like creative uses of time, space and tech helped Circulos adapt to virtual learning, from high-energy Zoom interactions to recognition of student achievement through musical shows and words of encouragement.
The need to foster caring, trusting relationships among students, parents and teachers has never been more important. Connecting through virtual updates with parents, one-on-one advisory sessions with students and opportunities for students to interact among themselves have been crucial ways to prioritize student needs and requirements. Our aim has been to create spaces that allow us as educators to provide openings for students to share their concerns and struggles, academically and in other dimensions of their lives. A lot of these efforts have been sustained and expanded since the start of the 2020-21 school year, and we expect to expand them even further as the transition back to in-person learning unfolds.
Think of school as a launching pad for students' dreams
We need to be doing better to engage students in learning that matters to them and best reflects their aspirations. While we are finding creative ways to work within state guidelines for instructional time and standardized testing to create more integrated and collaborative curricula, our efforts to create engaged learning opportunities are often stymied by rigid graduation credit requirements, inflexible attendance rules and bureaucracy in the public school system.
All through this pandemic, we have asked and encouraged our students to be resilient and marveled at their creativity. School leaders too, must be resilient in building more effective, meaningful and sustainable systems, subject to regular feedback and modifications, as needed. We have to get creative in order to offer the kinds of experiences we want for students — from reassessing assessment to sharpening the focus on equity in our mission and work.
There is a dire need to shift our thinking beyond the bureaucracy of school, to the possibility of school. This crisis provides real potential for making this happen. Some school leaders may try to go back to the status quo, but we're excited by the possibility of using what we've learned to strike a new path.
Ginger Spickler is a founder and the chief of staff of Crosstown High, a diverse-by-design, project-based, competency-based, relationship-driven charter high school in Memphis. Bryan Davis is the curator of talent for Círculos High School in Santa Ana, California. Jesse Patrick is the coordinator for PSI High, an immersive full-time program located in central Florida where students work to solve real community, business and social problems.
Support The 74's year-end campaign. Make a tax-exempt donation now.