Educator's View: Hungry Kids Can't Learn. Congress Must Extend Pandemic Waivers so Schools Can Keep Giving Students the Nutritious Food They Need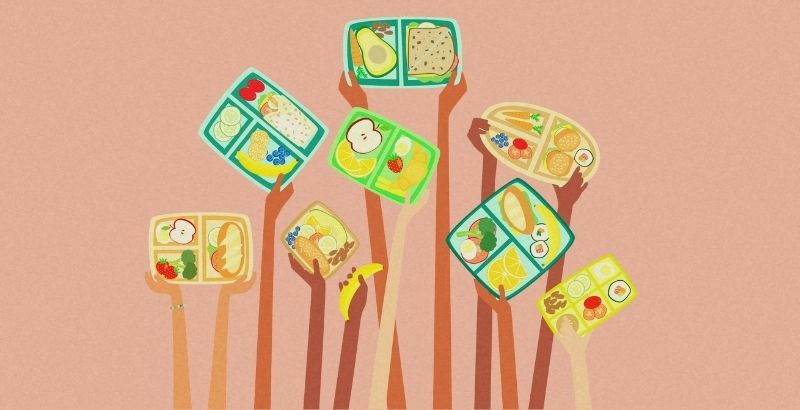 Get stories like these delivered straight to your inbox. Sign up for The 74 Newsletter
When I was a school superintendent in New York City, I would often run into my students outside of class. One particular eighth grader had a daily ritual of buying food from the local corner store following a long day of lessons and after-school sports. Looking at his crumbled bag of hot-flavored chips, fruit snacks and soda, I asked him one day if that was his dinner. His reply: "Yes, sir. It's cheap and the sugar rush helps me stay awake to do homework."
As an educator, I was able to see how children performed, interacted and even ate when they were inside the walls of their school. But the bigger picture outside the classroom, particularly when it comes to food, shows the key role schools must play in feeding their students. Affordable and accessible food for children is absolutely critical — and it's a matter of justice. And while legislative progress is being made, it's at risk of losing momentum.
During the pandemic, the U.S. Department of Agriculture introduced a meal waiver program in order to provide food to any student who needed it. The waivers, which reimburse schools for the meals they serve, have been a lifeline for families and school nutrition departments alike. These waivers allowed for every student to receive a free breakfast and lunch at school, regardless of family income. Without the bureaucratic red tape of charging kids for meals, school nutrition leaders were able to direct more time and money to sourcing nourishing, local ingredients for breakfasts and lunches.
However, these waivers are set to expire June 30. Eliminating this invaluable resource would be a critical mistake. Last month, Senate Agriculture Chairwoman Debbie Stabenow (D-MI) and Senator Lisa Murkowski (R-AK) introduced a bipartisan Support Kids Not Red Tape Act to keep the program alive until September 2023. Now, Congress must pass this bill and keep up the work that has impacted the daily lives of so many children, like the eighth grader I saw that day in the store.
That student is a child of Dominican immigrants. His mother, who works long hours for short wages in the service industry, also endures physical disabilities — with the child stepping up to attend to his younger siblings at home. On any given day, the choice between paying for prescriptions and buying food prevents the children from having nourishing meals beyond school breakfast and lunch. This family's story is a tough one, but it is not unique.
Black and brown families disproportionately carry the burden of food, housing, health and income insecurities due to systemic racism and poverty, two of the evils of society condemned by the Rev. Martin Luther King Jr., during a 1967 talk at The Hungry Club Forum in Atlanta.
Hungry kids — no matter their socioeconomic background — simply can't learn. Research links hunger in kids to greater absenteeism, lower grades and an inability to focus. And the situation for students in rural counties is even worse when even a local corner store is hard to find.
In pre-pandemic times, nearly 77% of the 30 million children eating school lunches received free and reduced-price meals. The majority of them came from families of color. If the current school meal waivers expire, these disparities are likely to worsen, deepening inequalities across racial, economic and geographic lines. Systems that make food access dependent on socioeconomic status favor wealthy, white families over all others. And schools that highlight families' income levels in their nutrition programs create a stigma for students.
Denying stigma-free access to the basic necessity of food for all children only exaggerates the racialized food apartheid in America and perpetuates a class tactic of utilizing income to burden families, many of whom are experiencing the compounding inequities of restrictive employment, housing discrimination and criminalization. During a tumultuous pandemic that upended millions of lives — a crisis that is still not over — the waivers have allowed schools, as sanctuaries within communities, to nourish kids' bodies while nourishing their minds.
James Baldwin wrote that there is a "roll call of unknown, invisible people who do not die, but whose lives are smashed on the freedom road." If Washington fails to pass this bill, millions of unknown, invisible students risk losing access to the freedom of nourishing meals.
No-cost meals — like desks and books — should be a given resource to all students within all schools. It makes a real difference. After sourcing philanthropic funds, the school was able to pay for nourishing meals for breakfast, lunch and dinner for more than 50 students and their families. At the end of the first week, my student from the corner store found me in the office to say, "I had one of the best weeks! I even slept better."
He had experienced a reprieve. But what he needed was justice.
Every child should be nourished and celebrated at school, but that vision is incompatible with an unjust system that treats kids differently based on their family income. It's time to invest in the well-being of every student, in every school, by providing the nourishment children need to thrive. They are depending on legislation like the Support Kids Not Red Tape Act. It's time for legislators to apply the lessons of the pandemic and prioritize feeding every child at school.
Dr. Robert S. Harvey is president of FoodCorps, a national organization committed to increasing access to nourishing food in schools, and former superintendent of East Harlem Scholars Academies.
Get stories like these delivered straight to your inbox. Sign up for The 74 Newsletter