Educator's View: How Outward Bound Schools Support Student Wellness — & Learning
After COVID, building strong school communities centered around belonging is essential to ensuring children have the support they need to thrive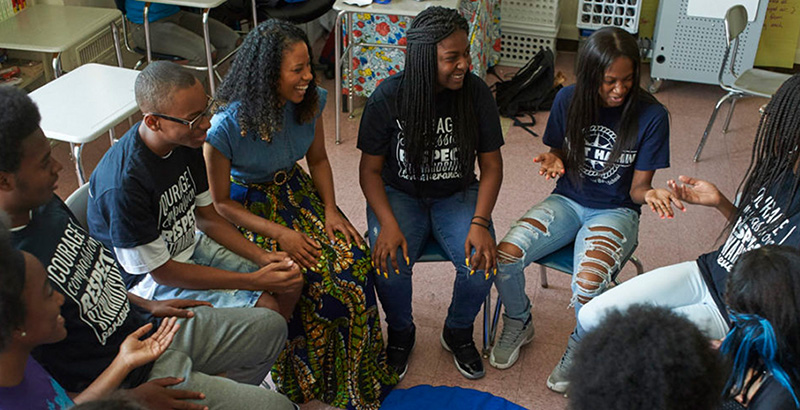 Support The 74's year-end campaign. Make a tax-exempt donation now.
Over the past two years of the pandemic, the New York City public school system — like many across the country — has struggled to adequately address students' rapidly changing needs, leaving many of the most vulnerable young people not only facing academic challenges, but feeling detached and isolated from their school communities. This is illustrated in persistent inequities across the system: Students of color from low-income backgrounds continue to have lower rates of attendance, graduation and college enrollment than their white peers. In fact, data obtained by the New York City Council showed that schools where at least half the student population was Black and Hispanic were nearly eight times more likely to report poor engagement or attendance compared to schools with lower Black and Hispanic populations.
These challenges and inequities are exacerbated when schools do not fully recognize the social-emotional needs of students and the critical interdependence between these needs and academic success. Many students don't feel a sense of belonging in their own classrooms and school communities. This is a particular problem among low-income children of color who often don't feel reflected in the curriculum or seen by their teachers. And when students don't feel seen, heard and valued, they are less likely to show up to school and stay engaged in the classroom.
The pandemic has demonstrated the importance of balancing a drive toward academic outcomes with self-care. So it was heartening to hear Schools Chancellor David Banks make a commitment to prioritize student wellness and appoint Dr. Jawana Johnson, chief of school culture, climate and well-being, to lead this work. Now more than ever, developing a strong sense of community and belonging at school is crucial.
One way to do this is to develop school communities where students can show up each day as themselves, knowing they are valued, listened to and cared for. It's in these safe and supportive environments that students learn, grow and fail safely. Only then can they connect in deep, meaningful ways with their classmates and teachers, grapple with challenges and work collaboratively to solve issues that affect their lives and communities.
At NYC Outward Bound schools and the schools in our national partner EL Education's network, we call this space Crew — borrowed from the phrase, "We are crew, not passengers" coined by Outward Bound founder Kurt Hahn. Crew is an advisory structure through which eight to 16 students meet together regularly with the guidance and individualized support of an adult adviser, or Crew leader, to foster a collective sense of belonging, engagement and compassion for one another. This creates an ethos of community that permeates the whole school. What does this look like day to day? Crews of students discuss current events, go on field trips, work on college applications and celebrate both big and small wins together. During the pandemic, when students couldn't physically be together, Crew emerged as a particularly important lifeline and social-emotional support system over Zoom.
In my first two months as CEO of NYC Outward Bound Schools, I've visited Crews in action at our 14 network schools and 49 new partner schools, seeing firsthand the learning that takes place and the love that extends beyond historical lines of division — race, culture, gender, economic status. In one particular Crew lesson, I witnessed middle school students lead discussions on race and equity, supported by an activity that had the kids choose a colored pencil that they thought best represented themselves and then see the beautiful multi-colored patchwork they created together.
Crew leads to more vibrant and connected school communities where students' identities are affirmed and valued. But beyond anecdotal evidence, it's important to examine two key student-level indicators — attendance and sense of belonging — that correlate strongly with academic outcomes and success. Research shows that students who report a stronger sense of community in their school are more likely to persevere in challenging tasks than those who don't, and that kids who believe they have a voice in their school are seven times more likely to be academically motivated than those who do not feel that way.
Attendance is the most prescient indicator of student academic performance — and in a rigorous third-party study, Crew was shown to have a statistically significant impact on attendance specifically resulting in a decrease in chronic absenteeism. There were half as many chronically absent students among the NYC Outward Bound Schools group than among the comparison group — 5.3% vs. 11.4%. Based on responses obtained from focus group interviews, overall perceptions of Crew were positive. Students and educators cited many benefits of Crew, including stronger relationships and community, academic and moral support, and family-school connections. Seventy-eight percent of students felt that their Crew leader cared about them. 
In a post-lockdown world, New York City schools — and school communities everywhere — can't afford to go back to old ways that were not serving students. There is one way forward, and that's to prioritize students' social-emotional needs. Building strong school communities centered around belonging is essential to ensuring children don't slip through the cracks and have the support they need to thrive academically, socially and emotionally.
Vanessa Rodriguez joined NYC Outward Bound Schools as CEO in January 2022. She has worked in education for more than 25 years, serving students in public, charter and alternative schools across the country. She started her career as a teacher in the Bronx.
Support The 74's year-end campaign. Make a tax-exempt donation now.