Education Secretary: Rhee Bows Out, DeVos May Be It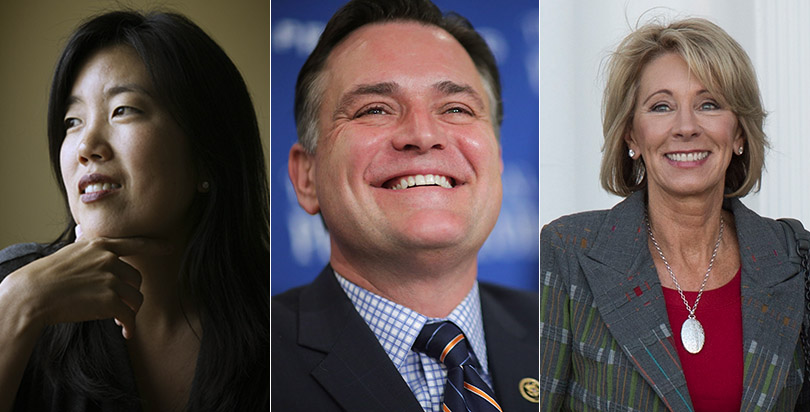 Betting on presidential nominees seems particularly hazardous in 2016, but we're not without information. The names floated, leaked or wishfully inserted into the conversation about Donald Trump's choice for education secretary share his apparent resolve to expand school choice — but they do so along a continuum.
The best-known of the presumed candidates, former Washington, D.C., schools chancellor Michelle Rhee, is not primarily associated with the choice movement; she backs charters but has been pragmatic and restrained (among this company) about other options. By contrast, for Larry Arnn, president of conservative Hillsdale College and a Trump supporter during the campaign, choice is an imperative of limited government and the free market.
But education secretaries labor in the shadow of the presidents they serve, and this, at least, is unlikely to change in the administration of Donald Trump. Even Rhee, who in her salad days was perhaps as close to a celebrity as a superintendent can get, is presumably unfamiliar to most Americans; well-connected and influential players like Michigan philanthropist Betsy DeVos and Indiana insider and U.S. Congressman Luke Messer are even less familiar outside the political bubble and their home states.
During the past 15 months, The 74 has reported on or published commentary by several of those thought to be the leading contenders, including DeVos and Rhee — who Monday night were reported by BuzzFeed to be the two finalists for the post — as well as Gerard Robinson and Jeanne Allen. We've culled some of this material from our archives to provide profiles below.
These short sketches describe where each is coming from — and suggest possible clues about where federal education policy may go next.
Betsy DeVos
DeVos is a prominent Republican Party organizer and civic patron in Michigan who has funded and helped lead many education reform initiatives. These include, most notably, the American Federation for Children, a national nonprofit that works to expand school choice, whose board she chairs.
She also sits on the board of Jeb Bush's reform group, the Foundation for Excellence in Education, and the Michigan-based Great Lakes Education Project, a charter advocacy and lobbying organization.
DeVos is married to billionaire businessman and former Michigan GOP gubernatorial candidate Richard DeVos; his father co-founded the Amway corporation.
The Dick & Betsy DeVos Family Foundation funds arts, community and education organizations, including The 74. We interviewed DeVos at length during our AFC-sponsored August 2015 New Hampshire Education Summit, which was attended by several of the Republican presidential candidates.
Michelle Rhee
Rhee taught in Baltimore in the 1990s (as a Teach for America corps member) before founding the New Teacher Project in 1997 to improve the recruitment and training of new educators and advocate for school reform. A decade later, Rhee was hired by Washington, D.C., Mayor Adrian Fenty, who had won control of the District's low-performing system, to serve as the city's schools chief.
Under Rhee, Washington, D.C., students made gains in test scores and the District reached an innovative but controversial collective bargaining agreement that allowed teachers to earn a higher salary in return for relinquishing tenure protections. Rhee was able to institute an evaluation system, called Impact, that led to the discharge of hundreds of low-performing teachers, a policy that researchers subsequently found beneficial.
Rhee's forthright, confrontational style made her something of a national celebrity: She appeared on the cover of Time magazine and catalyzed reformers but also alienated many D.C. residents and education traditionalists.
In December 2015 we fact-checked persistent criticism of Rhee by PBS education reporter John Merrow.
After Fenty lost his re-election bid, Rhee founded another reform advocacy group, StudentsFirst, and then headed a charter school chain started by her husband, former basketball star Kevin Johnson, who is now the mayor of Sacramento.
Gerard Robinson
Robinson is a resident fellow at the right-leaning American Enterprise Institute. Formerly president of the Black Alliance for Educational Options, a pro-charter advocacy group, he was appointed in 2010 as Virginia's secretary of education before becoming education commissioner in Florida; he remained in each position for about a year.
Robinson propounded school choice at each stop, and he moderated a panel, which included Congressman Messer, at The 74's New Hampshire Education Summit in August 2015. The following month, in an essay reprinted in The 74, he called a Washington court decision finding the state's charter school law unconstitutional to be "an existential threat to the parental choice movement in the Evergreen State and across the nation."
Jeanne Allen
Allen worked on education issues with the Heritage Foundation before founding the Washington-based, pro-charter Center for Education Reform, which she has led for more than 20 years. In September, she described herself in a 74 op-ed as a "pro-choice warrior" who supported Donald Trump's call for expanded school choice. During the Republican National Convention in July, she called for greater civility in the campaign in a post to The 74's live blog of the proceedings.
Luke Messer
Messer is a libertarian-leaning, second-term Republican congressman from Indiana and a frequent advocate of greater parental choice. He described his views at The 74's New Hampshire Summit in August 2015 and at the Republican National Convention in July, where he argued in a panel for Title I portability — the idea that children of low-income families should be able to take federal dollars to whatever school their families choose. "We are not suggesting we create a federal department of school choice," he said.
---
The Dick & Betsy DeVos Family Foundation provides funding to The 74, and the site's Editor-in-Chief, Campbell Brown, sits on the American Federation for Children's board of directors, which was formerly chaired by Betsy DeVos. Brown played no part in the reporting or editing of this article. The American Federation for Children also sponsored The 74's 2015 New Hampshire education summit.
The 74 is supported by donations from foundations, corporate sponsors and individuals. Our reporters play no role in cultivating financial relationships with any of our contributors. Donors do not dictate editorial content and understand that The 74 may publish content that does not reflect their views or preferences.
Support The 74's year-end campaign. Make a tax-exempt donation now.