Education Savings Account Bills Fail in Virginia House and Senate
All four Republican proposals killed as of Tuesday's session midpoint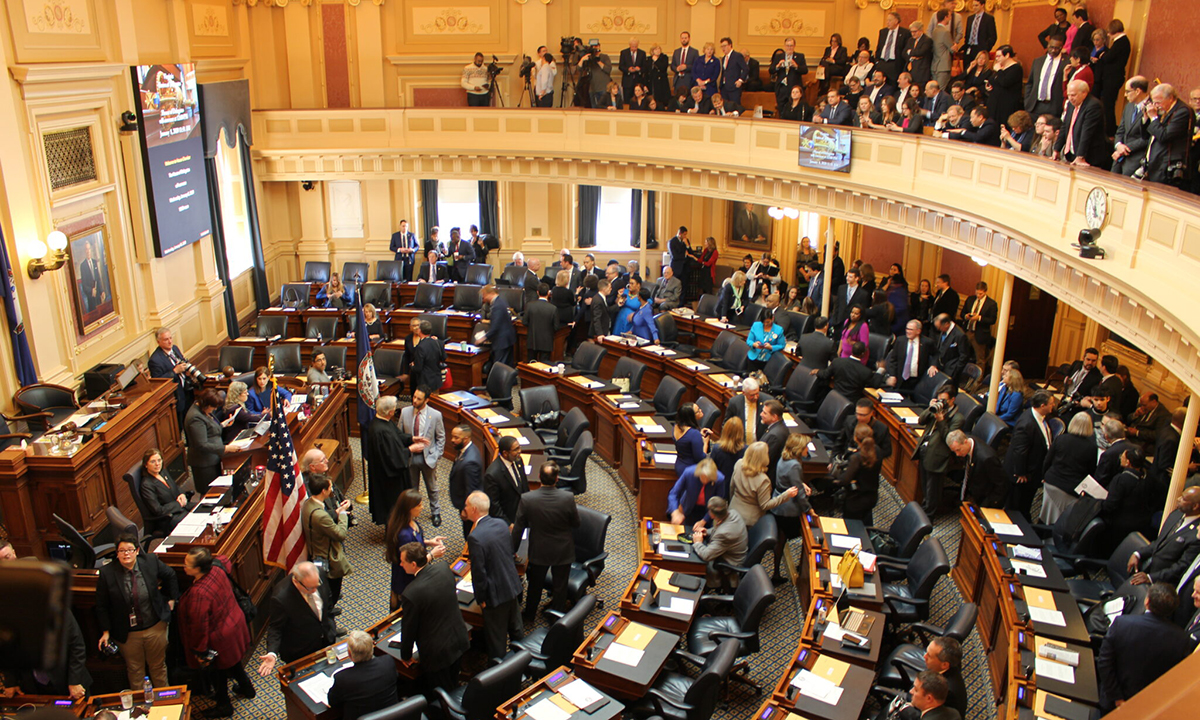 Get stories like these delivered straight to your inbox. Sign up for The 74 Newsletter
All four bills put forward by Republican state legislators in Virginia this year to let parents use state education funding to cover the costs of educational opportunities outside the public school system failed to make it through this year's General Assembly.
One bill carried by Sen. Amanda Chase, R-Chesterfield, died in the Democrat-controlled Senate. Two others carried by Dels. Phillip Scott, R-Spotsylvania, and Marie March, R-Floyd, failed in Republican-controlled House Education subcommittees
The most promising, House Bill 1508 from Del. Glenn Davis, R-Virginia Beach, initially cleared the House Education Committee, which Davis chairs, but ran into trouble later in the legislative process.
That bill, which gained the support of numerous Republicans including Lt.-Gov. Winsome Earle-Sears, would have created the Virginia Education Success Account Program, a proposal that would allow parents to set up a savings account funded with state dollars that could be used to cover educational expenses outside public schools in Virginia. Funds could be used for costs like tuition, deposits, fees and textbooks at a private elementary or secondary school in Virginia.
Last month, Davis estimated that an average of $6,303.25 could have been available per student. The program would only have applied to students previously enrolled in public school or who were starting kindergarten or attending first grade for the first time.
Out of state funding appropriated for students, Davis said a third would have been directed to the program.
Davis said when the bill reached the House Appropriations Committee Friday, he was one vote short of what he needed to pass the legislation and agreed to send it back to the Education Committee in hopes of fast-tracking it through the approvals it still needed. He told the Mercury he considered adding a delayed enactment clause to the proposal to skirt concerns about the current budget cycle but said the committee was "one day short" of exercising that option.
On Tuesday, the deadline for the House to complete consideration of its bills, his legislation effectively died for lack of action.
"We've had the largest, most diverse grassroots effort that I've ever seen for (education savings account) legislation this year," said Davis. "I really appreciate all the support, all the testimony, and I think the testimony was extremely influential. And I wish that testimony could have been shared with the Senate Education Committee, and I expect it will be next year."
Earle-Sears said in an email to the Mercury that "while I am disappointed that HB 1508 did not move forward this year, we will continue to fight for better education opportunities, like the ESA, for all students, regardless of zip code."
This year's education savings account bills were part of a larger effort by Republican lawmakers to strengthen and expand parental rights in response to increased tension between Virginia parents and school boards over school reopenings, masking, curriculum decisions and transparency issues.
Democrats opposed the bills, including Davis's, stating they would take funds away from public schools.
"I think it's a sign that there are some kind of common-sense Republicans on the House Appropriations Committee that understands that we need to be building up our public schools and not defunding them," said Del. Schuyler VanValkenburg, D-Henrico.
Republicans passed similar bills setting up educational savings accounts in 2016 and 2017, but they were vetoed by former Democratic Govs. Terry McAuliffe and Ralph Northam, who said there were "significant constitutional concerns" with the idea.
Rachel Adams, director of external affairs for Americans for Prosperity Virginia, a libertarian conservative advocacy group, said supporters plan to continue educating lawmakers about the benefits of educational savings accounts.
"I think people are still learning and getting their minds around what ESA's are and how they work and making sure that they don't harm public schools," Adams said. "We'll be back next year doing the same thing."
Virginia Mercury is part of States Newsroom, a network of news bureaus supported by grants and a coalition of donors as a 501c(3) public charity. Virginia Mercury maintains editorial independence. Contact Editor Sarah Vogelsong for questions: info@virginiamercury.com. Follow Virginia Mercury on Facebook and Twitter.
Get stories like these delivered straight to your inbox. Sign up for The 74 Newsletter