Edmodo: 6 Things to Know About the 'Facebook of Education' As It Moves from Teachers to Parents — to Stockholders?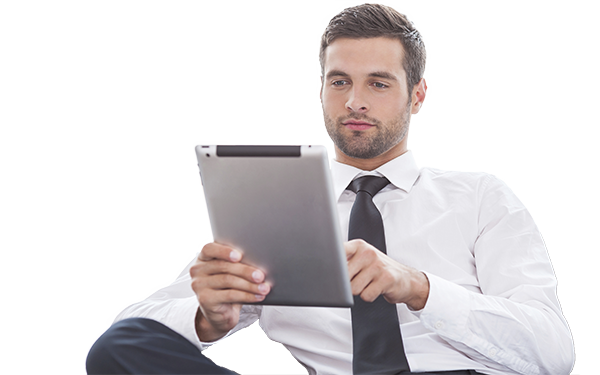 1
It's a social network for teachers, parents and students (.a.k.a., the Facebook for education)
Teachers sign up for free, create a profile and seek out connections with other educators in their school and around the world. They join groups or start their own based on their interests and the classes they teach, then invite students to sign in so they can access assignments, polls, messages and quizzes. Similar to Facebook, the homepage features a customizable news feed and a drop-down list of activity notifications. The light-blue interface is friendly and not too cluttered.
Simply put, "It's a global education network," said Ketan Kothari, general manager of consumer business for the San Mateo-based company.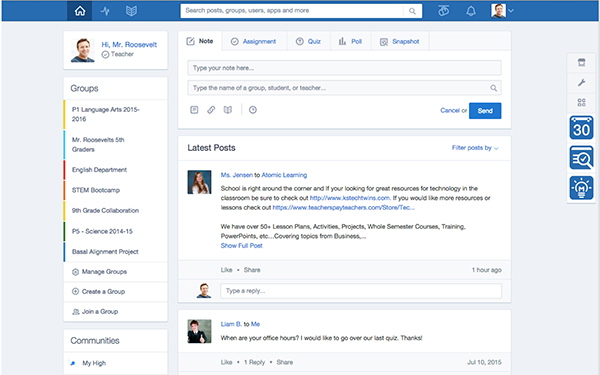 One of the site's most popular uses by educators is networking and professional development, Kothari said. For example, an English Language Arts teacher in Iowa planning a lesson on Shakespeare posts on the newsfeed seeking ideas for getting her students interested in the Bard of Avon. She receives a great suggestion from another teacher in Australia, along with ideas from others around the world.
2
An education technology company — founded by educators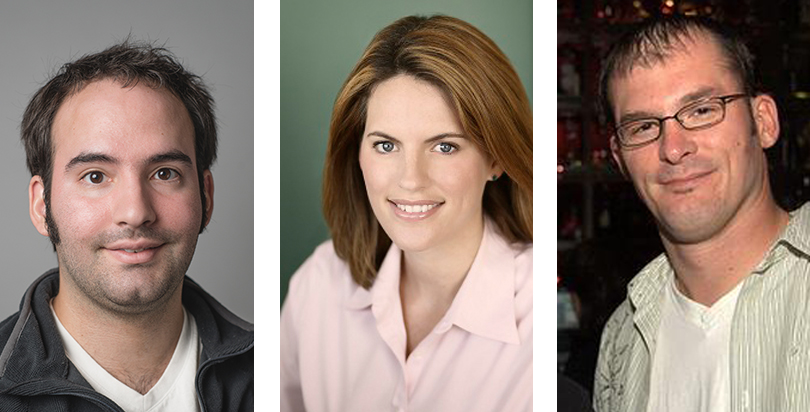 It was founded by two former school employees.
Edmodo's origin story goes like this, Kothari says: In 2008, Nic Borg and Jeff O'Hara were working in information technology at two neighboring school districts in the Chicago suburbs. As their districts looked to join the growing group of K-12 institutions blocking access to social media sites like Facebook because of concerns over security and cyber-bullying, Borg and O'Hara decided there had to be a better, safer alternative for connecting educators and students online. And they would build it.
"They wanted to deliver a tool that allowed for safe communication inside the classroom, that worked like the tools that everyone was starting to use outside of school," said Edmodo spokeswoman Mariana Kosturos.
The two spent nights and weekends working in O'Hara's basement to build the platform, while working their district day jobs. O'Hara tapped into his network of educators for input and managed the servers while Borg designed and coded the product.
Within a few months, they launched Edmodo and sent it out into the world with a single tweet, according to Kothari. As the company approaches its seventh birthday in September, it counts more than 51 million users around the world and is one of
the top two
most widely used learning management systems available.
3
It recently launched a new app for parents.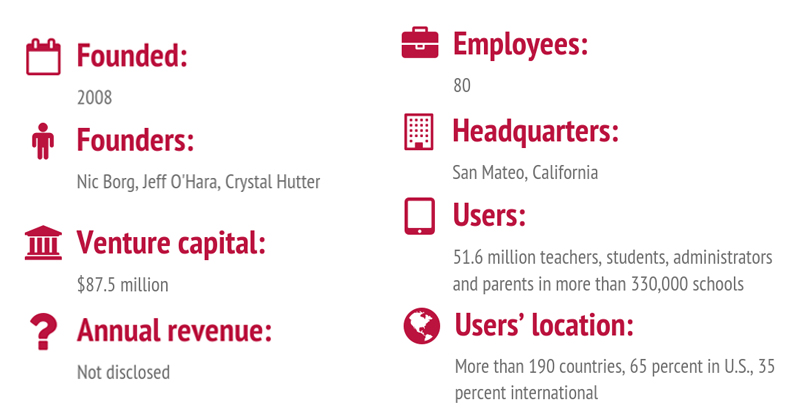 New app takes parents inside their kids' education
The "dog-ate-my-homework" excuse is rendered forever obsolete. Dads and moms who download the free
Edmodo for Parents
app get real-time notifications about their children's assignments — when they're received, turned in or overdue — or when they have a quiz. They can check school announcements and send messages directly to their child's teacher. It's still in beta, but look for updates in the coming months.
4
It's now making its first real foray into commerce.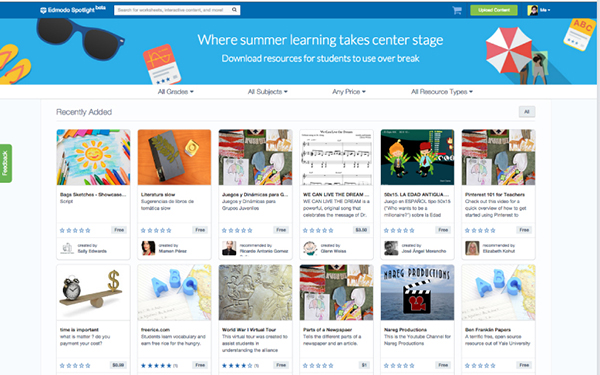 As the company evolves from a solely growth-focused first few years with an eye on generating revenue, it has expanded its roster to include tools and products for purchase. Edmodo holds in-district workshops to train teachers to use its site for anywhere from $2,500 to $7,500, Kothari said.
Snapshot
, a student assessment tool aligned with the Common Core and the Texas state learning standards, is another feature that's free to most users with a premium version available for a cost.
The most substantial revenue will come from
Spotlight
, the company's new digital marketplace for resources like lesson plans, worksheets, quizzes, PDFs, Word documents, video, audio — basically any material that can be uploaded and shared by teachers and publishers. Of the tens of thousands of items now on the site, most appear to be priced under $10, though some are free, such as this
video simulation
explaining how the human heart works. Spotlight is now in beta. Teachers currently download purchases with a credit card or PayPal, and Edmodo eventually plans to offer a districtwide purchasing system.
5
All signs point to them going public in a big way.
Speculation about Edmodo's plans to make an initial public offering has been brewing for months, especially after its venture capital funding was bumped up to $87.5 million last summer. Kothari puts to rest the notion that a public launch is imminent — but it's clearly something Edmodo is eyeing.
"That is a great goal for us to achieve but I don't think it's impending," Kothari said. "We have to kind of do a litmus test in investment banks and others to determine what is the right time. Companies that are going public in our space tend to (focus on) three things: revenue, profitability and growth … so we're working towards all three of them and when the time is right, that's when we can make those determinations, but it's certainly not now."
Edmodo doesn't disclose its revenue figures. But leveraging the Spotlight marketplace is its best new opportunity for revenue growth, Kothari indicated.
6
It's hosting EdmodoCon on Aug. 4.
EdmodoCon is the company's annual professional development conference. More than a
dozen speakers
are lined up for the day-long live webcast that is virtually attended by tens of thousands of people around the world.
Sheryl Place
, who teaches English for speakers of other languages at Miami Killian Senior High School in Florida, flew to San Mateo last year to be an EdmodoCon 2014 presenter. This year, she's one of the many educators who will hold viewing parties at their home schools, complete with treats, a raffle and Edmodo swag.
"I love connectedness and I think that social media and teachers using social media helps break down the walls that separate them," Place said.
In addition to being an Edmodo "ambassador," the 33-year veteran teacher considers herself a power user: She initiated her district's use of Edmodo soon after the company launched and now oversees use of the platform by about 11,000 teachers — nearly half the teachers in the Miami Dade County Public School district, the fourth-largest in the nation.
Place personally counts almost 700 teacher and student "connections" on six continents and uses the site every day.
Her advice to newbies? "Don't be afraid. Ask for help — there are always people who are willing to help … And look for me!"
Get stories like these delivered straight to your inbox. Sign up for The 74 Newsletter