Recap: The 50 Most Important Education Votes in 2016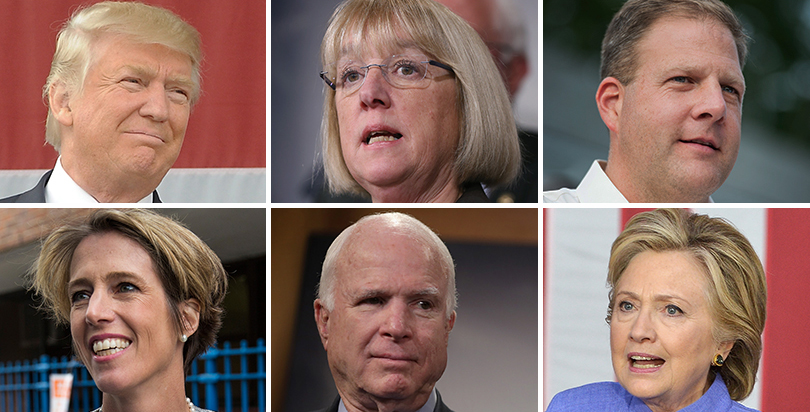 Below is our complete Election Night recap of this year's top education races. For continuing coverage and analysis, sign up for The 74 newsletter.
6:15 p.m. Dec. 5 — McCrory Concedes: It's a month late, but it's official: On Monday, Republican Gov. Pat McCrory of North Carolina conceded to Democrat Roy Cooper in "the closest governor's race" in state history. Monday's news followed a weeks-long battle by McCrory to retain his seat that prompted a recount and unsubstantiated allegations of voter fraud.
Throughout his campaign, Cooper was an outspoken critic of North Carolina's new law barring transgender people from using restrooms that match their gender identity, and the new state leadership could have profound effects on transgender students.
Additionally, Cooper's election could have huge national implications for elected officials who oppose inclusive transgender bathroom policies, a heated debate that has largely played out in American schools. In October, the U.S. Supreme Court announced it would consider whether the Obama administration could require public schools to allow transgender students to use facilities that correspond with their gender identity. —Mark Keierleber
---
3:01 p.m. Wednesday (Nov. 9) – Political Outsider, Right-to-Work Champion, Wins Missouri Governor's Race: Newcomer Eric Greitens, a Republican, will succeed two-term Democratic Gov. Jay Nixon, who was term-limited out of office. The political neophyte defeated Democratic Attorney General Chris Koster 51–45.
Greitens' victory, along with continued Republican control of the state Legislature, all but assures that Missouri will become a right-to-work state with laws that diminish the power of labor unions, the St. Louis Post-Dispatch reported.
That result creates potential for an invigorated school choice movement in a state where well-funded labor unions have traditionally fought tooth and nail against such education reforms.
(Read our prior coverage here: In Missouri, a Fight to Override a Governor's Veto — and to Rescue Poor Kids from Failing Schools)
Greitens, who grew up as a Democrat and later switched parties, campaigned as an outsider who promised to clean up corruption in state government, among Republicans and Democrats alike.
The 42-year-old former Navy SEAL and decorated combat veteran is also a humanitarian activist, Rhodes scholar, best-selling author, and founder of the Mission Continues, a philanthropic organization for returning veterans who want to serve their communities, the St. Louis Dispatch reported. —Mareesa Nicosia
---
EDlection—Buzzing Now on Social Media:
---
12:35 p.m. Wednesday — Clinton Concedes to Trump; President-Elect's Education Aims Remain Hazy: Speaking to supporters in a midtown Manhattan hotel late this morning, Democratic presidential nominee Hillary Clinton, who held at least a narrow lead over her Republican opponent Donald Trump throughout the campaign, conceded defeat to the billionaire businessman and political novice. Trump will become the nation's 45th president.
"We owe him an open mind and a chance to lead," Clinton said.
Trump's victory shocked pollsters, financial markets, Americans of both parties, and the international community by attracting huge turnouts that helped him win crucial swing states like North Carolina, Ohio and Florida, as well Rust Belt states where Clinton was thought to be safely ahead, including Pennsylvania, Wisconsin, and Michigan.
Republicans also retained control of the House and Senate.
Trump devoted little time during the campaign to education. He vowed in an October speech to push for some sort of broad education bill during his first 100 days in office that would cover both K-12 and higher ed. His primary policy proposal was a sweeping school choice plan for poor children that echoed the talking points of choice advocates but fell short on details — including how he would fund it and incentivize "inner-city" school districts to adopt smaller-scale programs. –Carolyn Phenicie
---
12:30 p.m. Wednesday — Maine Education Tax Too Close to Call: Maine's ballot measure to fund education by taxing the wealthy had a 6,000-vote lead Wednesday morning, the Portland Press Herald reported, making it too close to call. Question 2 would add a 3 percent tax to those making over $200,000, ultimately raising $123.8 million toward the state's requirement to fund 55 percent of K-12 education. Opponents worry the additional levy cause wealthy residents to leave the state. —Kate Stringer
---
11:45 a.m. Wednesday – Early Results Indicate Marcellino, Who Fought Campaign Over Ed Record, Will Retain NY Senate Seat: Ahead of Tuesday's election, all attention focused on a handful of tight contests on Long Island that would determine which party would control the New York State Senate. In one of those races, unofficial results show Republican Sen. Carl Marcellino, the Senate Education Committee chairman, with a narrow victory. Although Democrats have maintained that the race is too close to call until after absentee votes are counted, indications are the GOP will retain control of the Senate in Albany.
Democrat Jim Gaughran campaigned hard against Marcellino's education record, directly tying the education chairman to state standardized tests that riled New Yorkers — especially on Long Island — last spring.
Marcellino, a former New York City teacher and education administrator who was first elected to the Senate in 1995, has voted to increase the number of charter schools and evaluate teachers based on student performance. When about half of third- through eighth-grade students refused to take state math and English exams last spring, Marcellino's district became a battleground in New York's opt-out movement. Gaughran, the Suffolk County Water Authority chairman, used the issue to claim that "career politicians" in Albany have demanded "more time be spent on testing than teaching." —Mark Keierleber
---
11:10 a.m. Wednesday – Early Results in Tight North Carolina Gubernatorial Race Suggest Democratic Upset: It appears Democrat Roy Cooper, an outspoken critic of North Carolina's law banning transgender people from using restrooms that match their gender identity, will become the state's next governor. Cooper declared victory over incumbent Republican Gov. Pat McCrory early Wednesday in a speech rebuffed by the GOP as "rude and grossly premature." Media reports said the race was too close to call, with preliminary results showing Cooper up by only about 5,000 votes.
The controversial transgender bathroom law, which also affects North Carolina's K-12 students, became a key sticking point in the gubernatorial contest after McCrory approved the measure in March. Cooper has called the law discriminatory and used the widespread backlash as a cornerstone of his campaign.
Cooper's election could have huge national implications for elected officials who oppose inclusive transgender bathroom policies, a heated issue that is largely playing out in American schools. The U.S. Supreme Court announced in late October that it would decide whether the Obama administration can require public schools to allow transgender students to use bathrooms and locker rooms that correspond with their gender identity. —Mark Keierleber
---
11:05 a.m. Wednesday — Montana Governor, Public School Advocate Bullock Narrowly Wins Re-election: Montana voters returned Democratic Gov. Steve Bullock to office, picking him over Republican challenger Greg Gianforte. The race wasn't called until Wednesday morning, with the incumbent leading by just over two percentage points. Bullock was backed by the state teachers union, as well as the Network for Public Education, a group that opposes charter schools and test-based accountability.
The candidates had sharply divergent views on education policy. Bullock emphasized the expansion of pre-K, while Gianforte focused on school choice initiatives. As governor, Bullock supported a type of charter school that shares many similarities to traditional public schools, including being overseen by a local school board.
Bullock's position was described by the Bozeman Daily Chronicle: "'Once you start privatizing,' Bullock said, it ends up diverting resources and money from public schools. Charter schools in other states, especially those run by for-profit companies, have had 'mixed results,' he said, and they lack accountability to elected school boards, to state education standards and to taxpayers."
Gianforte, a tech billionaire who funds private schools and whose family foundation provides private school scholarships to students not doing well in the public schools, has said, ""In education, as in business, one size does not fit all. Competition improves everybody's performance." —Matt Barnum
---
10:54 a.m. Wednesday – Key races remain undecided in Colorado, though lean GOP: Control of the Colorado state Senate and Board of Education remained up in the air Wednesday morning.
Three of the board's seven members were up for reelection, and as expected, Republican incumbents Steve Durham and Joyce Rankin easily held onto their seats. However, a key race in the Denver suburbs remained too close too call, with the Republican incumbent Debora Scheffel narrowly leading. The race will determine control of the board; Republicans currently holding four seats, although votes have not always split along party lines. In a case of strange bedfellows, both Democrats For Education Reform and the state teachers union backed Scheffel's Democratic challenger, Rebecca McClellan.
Control of the state Senate was up in the air as well, with two crucial races yet to be called. However, the Denver Post reported that Republicans appear to have an edge. The GOP currently maintains a narrow majority, but Chalkbeat Colorado reported that if Democrats retake power, it could mean more money for education, a less hospitable environment for charter schools, and a greater likelihood of retaining the PARCC exam, which is tied to the Common Core standards.
In one state House race of particular interest to education advocates, DFER-backed Democrat Jeff Bridges maintained a narrow lead over Republican Katy Brown, who was supported by the state teachers' union.
Bond and tax initiatives to raise money for schools had mixed fates across the state. Most notably, Denver voters approved two tax hikes to support educator training programs and school facility improvements. —Matt Barnum
---
10:25 a.m. Wednesday — Incumbents Sweep Oakland School Board Race: A heated Oakland school board contest fueled by the growth of charter schools failed to knock any of the incumbents out. Jody London, Jumoke Hinton-Hodge, Roseann Torres, and James Harris will all be returning to the board, the East Bay Express is reporting. Great Oakland Public Schools, a school reform group, endorsed all the incumbents except Torres, which it said was not a reflection of her stance on school choice, but rather her poor attendance record at board meeting. The teachers union backed Torres and several challengers in a crowded field of 12 candidates vying for four seats. The race was also seen as something of a referendum on Oakland's reform-minded superintendent, Antwan Wilson, who has tried to bring universal enrollment to the district where nearly 25 percent of students attend charters schools. —Kate Stringer
---
9:37 a.m. Wednesday – Union-backed Democrats Take Two Seats on Nebraska State Board of Education: Lisa Fricke, a Democrat, ousted Glen Flint, the incumbent Republican in District 2 on the Nebraska State Board of Education, the Omaha World Herald reported. Flint had been appointed by former Gov. Dave Heineman in March 2014. Though Nebraska is one of the few states without a charter law (advocacy groups have a bill in the works for 2017), Flint supported both charters and vouchers for Cornhusker students.
The 28,000-member teachers union backed Fricke as well as Patsy Koch Johns, who ran for a District 1 seat; both are retired educators.
Fricke wants to work with Nebraska school districts and state officials to develop "reasonable accountability" measures as part of the new state assessments under the Every Student Succeeds Act.
Fricke and Flint appeared to diverge sharply on the issue of transgender student rights, according to their statements on a League of Women Voters questionnaire. In response to a question about what policy the state should adopt regarding transgender students, Flint advocated against the ability to transition.
"Gender is determined at birth. Let's get these students the help they need, rather than a lifetime of regret," he said, adding a link to a website addressing sex change regret. Fricke responded by citing state policy that provides for inclusivity for all students.
"All students who enroll in our public schools should be taught in a safe, enriching, and welcoming environment," she said. —Mareesa Nicosia
---
9:22 a.m. – Union-backed Candidates Sweep San Francisco School Board Races: Two incumbents and two new members were elected to the San Francisco school board, where four of the seven seats were on the ballot. All four winners were endorsed by the United Educators of San Francisco; the one incumbent not supported by the local union lost her re-election bid. Two candidates backed by charter advocates — including Phillip Kim, who works for KIPP charter schools — won little support. Incumbent and Board Chair Matt Haney, who received a surprising endorsement from President Obama, was the top vote getter. The Board was in the news earlier this year for discontinuing its contract with Teach For America. —Matt Barnum
---
9:05 a.m. Wednesday – Common Core Antagonist Takes New Hampshire's Governor Race: Republican Chris Sununu narrowly beat his Democratic challenger Colin Van Ostern in New Hampshire's gubernatorial race. He will succeed Democratic Gov. Maggie Hassan, who ran for U.S. Senate. Sununu, a member of New Hampshire's Executive Council, wants to abolish the state board of education and opposes Common Core State Standards and the Smarter Balanced assessments his state has adopted. He supports charter schools. —Naomi Nix
---
9:00 a.m. Wednesday – Amid turmoil, Detroit Elects a New School Board: In a crowded election with over 60 candidates, Detroit elected seven members to a newly empowered school board. At least four of the candidates on track to win were endorsed by the Detroit Federation of Teachers, and one was a member of the city's previous school board. Detroit Public Schools have faced turmoil in recent years, as declining enrollment and the expansion of charter schools have led to mass school closures and severe fiscal distress. The city schools, which have been run by the state for a number of years, have some of the worst achievement scores in the country. The state recently passed a package of policies to reduce the district's debt and return some power to a locally elected board. A federal lawsuit was recently filed arguing that Detroit schools had violated students' constitutional "right to literacy." —Matt Barnum
---
8:51 a.m. Wednesday — Charter-supporting Dems Win Two State Legislative Seats in Northern California: In two California legislative races closely watched by education observers, Democrats supported by charter advocates bested fellow Democrats backed by teachers unions.
In a state Senate district based in San Francisco, Scott Wiener narrowly beat Jane Kim with 100 percent of precincts reporting, according to the Los Angeles Times. The race pitted two candidates with many similarities against each other: both were Democrats and members of the San Francisco Board of Supervisors. But the candidates appeared to diverge on education, with Wiener receiving backing from the powerful charter lobby and Kim drawing support from the powerful teachers union.
A similar divide played out in other races across the state, which has a relatively unique primary system that allows members of the same party to face each other in the general election. Another such race pitted Mae Torlakson against Tim Grayson for an East San Francisco Bay area Assembly seat. Torlakson, the wife of California's state superintendent of public instruction, was backed by unions, while Grayson got support from charter advocates. Grayson won easily with over 60 percent of the vote. On his campaign site he pledged to advocage "for non-profit charter schools in regions where they provide a way to 'tailor' education to the needs of a community's student." —Matt Barnum
---
8:35 a.m. Wednesday — Evolution Skeptic Wins Re-election to Texas Board of Education: Staunch conservative Ken Mercer narrowly won re-election to the Texas Board of Education, beating his Democratic challenger Rebecca Bell-Metereau. Mercer has made a name for himself for his skepticism of evolution and the Common Core and his support for approving social studies textbook standards that downplayed slavery. This was Bell-Metereau's third attempt to unseat Mercer. In District 1, Democrat Georgina Perez won, while Republican Donna Bahorich was re-elected in District 6. Republican Keven Ellis easily won a seat on the board in District 9, while Republican Tom Maynard was re-elected to the board in District 10. —Naomi Nix
---
8:30 a.m. Wednesday – Montana Schools Chief Fails to Nab Historic House Seat: If elected by Montana voters Tuesday, Democrat Denise Juneau would have added a new historic title to her resume: the first Native American woman to serve in Congress. That didn't happen. Juneau, who was already the first Native American woman elected to statewide office when she became Montana's superintendent of public instruction in 2008, failed to grab enough votes from Republican Rep. Ryan Zinke. Juneau, an enrolled member of the Mandan Hidatsa tribes and a descendent of the Blackfeet tribe, made education a priority throughout her campaign, focusing largely on teacher recruitment and retention, as rural Montana schools often struggle to attract and keep qualified educators. —Mark Keierleber
---
8:14 a.m. Wednesday – North Dakota Re-elects Superintendent of Public Instruction Kirsten Baesler: Voters have handed a blowout re-election victory to Superintendent of Public Instruction Kirsten Baesler in North Dakota. According to unofficial results, Baesler defeated challenger Joe Chiang, a ninth-grade teacher, 75-25. Chiang had made news when he signed a pledge to abolish the U.S. Department of Education if elected. North Dakota's public education system has struggled this year with a statewide teacher shortage, and tougher issues could be ahead for Baesler, as the state faces potential education budget cuts next year because of lagging oil prices. Baesler spent about 23 years with Bismarck Public Schools in teaching and administrative roles before becoming superintendent in 2012. —Mark Keierleber
---
8:02 a.m. Wednesday — Charter Supporter Ro Khanna Beats Incumbent for California Congressional Seat:
In a bitter Congressional race that pitted two Democrats against each other, Ro Khanna
ousted
incumbent Mike Honda for this Silicon Valley seat. The race was a re-match from 2014, and although education wasn't a major factor in the election, it was still something of a proxy battle between two factions of the Democratic party: Khanna
emphasized
his support for charter schools as a way of highlighting his independence, while Honda, a former teacher himself, was
endorsed
by California teachers unions. Honda may have lost in part because of an ongoing ethics
probe
into whether he improperly used taxpayer dollars meant for his office staff to fund his 2014 race against Khanna. —
Matt Barnum
---
7:58 a.m. Wednesday — California Approves Bond, Taxes to Build, Improve Schools: California will issue $9 billion in bonds to improve the construction of school facilities for K-12 and community colleges. Proposition 51 passed with 53 percent of the vote, the Associated Press reports. Opponents like Gov. Jerry Brown and the Los Angeles Times Editorial Board argued that the proposition is too expensive. Supporters like the state PTA and school districts say buildings desperately need the money for repairs. Californians also voted to continue taxing the wealthy to bring in $4 to $9 billion for schools and hospitals. Proposition 55 passed, 62 percent to 37 percent, the Associated Press reports. The taxing was set to expire, but the proposition extends it through 2030. Millionaires pay an extra 3 percent in taxes, while single-filers making at least $263,000 and families making at least $526,000 pay an extra 1 percent. —Kate Stringer
---
7:55 a.m. Wednesday – Oklahoma Voters Reject Initiative to Raise Teacher Pay:
Oklahoma teachers will not get a raise. A ballot question to boost teacher salaries 
lost easily
 Tuesday, garnering just over 40 percent of the vote.
The initiative, known as Question 779, would have raised the state's sales tax from 4.5 to 5.5 percent to give every teacher in the state a $5,000 raise. Oklahoma's teachers are among the worst paid in the country, and their average compensation, adjusted for inflation, has 
dropped
 since 2009. The state 
has faced shortages
 of certified teachers in recent years, and 
research has shown
 that pay is a key factor in recruiting and retaining educators.
Though many states in the country 
have seen cuts
 in education spending since the Great Recession, Oklahoma's have been the deepest: Between 2008 and 2016, state education funding in Oklahoma has dropped by nearly 25 percent.
The ballot question was 
spearheaded
 and 
funded
 in part by Stand for Children, a national nonprofit that generally promote reform policies like charter schools and accountability measures. The National Education Association — the country's largest teachers union, which often at loggerheads with Stand for Children — also 
backed
 the measure.
Supporters' ads have showcased teachers arguing that they deserve a raise and that Oklahoma students deserve well-compensated educators. In one 
commercial
, Jon Hazell, the state's 2016 teacher of the year, says, "Other states recognizes the value and the training and effectiveness of Oklahoma teachers. That's why they come here and recruit every year and take as many as they can." The Tulsa World has 
reported
 that Oklahoma teachers regularly move to schools in neighboring states like Missouri or Kansas, where the salary is several thousand dollars higher.
Another ad
 featured country music star Toby Keith endorsing the measure.
Opponents of the tax hike have 
argued
 that it amounts to a slush fund for school administrators, pointing out that not all the money raised will go toward teachers and dismissing it as a waste of taxpayer dollars. (Some of the additional revenue 
will fund
 pre-k and the state's higher education office.)
Multiple 
newspaper
editorial
boards
 in the state have also opposed the measure, raising concerns about the increased tax burden. The Oklahoman editorial board 
wrote
, "We believe Oklahoma's K-12 teachers deserve better pay, and understand proponents' frustration with the do-nothing Legislature. Yet the permanency of this tax combined with the question's sweeping approach, its lack of clear reform and its potential to harm Oklahoma's cities, towns and businesses make [Question] 779 a plan we can't endorse."
According to Ballotpedia, backers of the initiative 
raised
 over $4 million, while opponents spent virtually nothing. –
Matt Barnum
---
7:45 a.m. Wednesday – Chris Reykdal Holds Narrow Lead in Washington Superintendent Race: Chris Reykdal, a Democratic member of the state House of Representative, holds a 51-49 lead over school administrator Erin Jones in the race for Washington superintendent of public instruction. Reykdal has served as vice chair of the Education Committee and was endorsed by outgoing Superintendent Randy Dorn, who is retiring after eight years. The new superintendent's biggest challenge is fully funding education, as mandated by the state Supreme Court. –Kate Stringer
---
7:30 a.m. Wednesday – Three Incumbents Keep Their Seats on Washington Supreme Court: All three Washington Supreme Court justices who were seeking re-election will return to the bench. Hundreds of thousands of dollars were spent in an attempt to unseat Justice Charlie Wiggins in the wake of a controversial 2015 ruling that declared charter schools unconstitutional, but he easily defeated challenger Dave Larson 58-41. Chief Justice Barbara Madsen bested opponent Greg Zempel in a landslide, 63-36, and Justice Mary Yu easily won over David DeWolf, 58-41. Charter schools will once again come before the court in a case filed this past summer. The court has also been fining the state Legislature $100,000 a day for failing to fully fund public schools. –Kate Stringer
---
7:15 a.m. Webnesday – Republican Elsie Arntzen Leads in Montana Schools Chief Race: With 77 percent of precincts reporting, Republican state senator and retired teacher Elsie Arntzen holds a significant lead in the race to be Montana's superintendent of public instruction. She is ahead of Democrat Melissa Romano, who is also a teacher and ran with union support, 52-47. Arntzen is skeptical of the Common Core standards and supportive of school choice and additional counseling services for students. She would be the first Republican superintendent since 1988, replacing Denise Juneau, who was term-limited. Juneau lost her bid last night to become the first Native American member of the House. –Kate Stringer
---
6:45 a.m. Wednesday – Trump Wins Presidency, Education Policy Aims Remain Hazy: Shocking pundits, financial markets, and Americans of both parties, Donald Trump has been elected the 45th president of the United States.
Trump won the key swing states of North Carolina, Ohio and Florida, as well Rust Belt states he was not expected to win, including Pennsylvania, Wisconsin, and Michigan.
Republicans also retained control of the House and Senate.
Trump devoted little time during the campaign to education. He vowed during an October speech to push for some sort of broad education bill covering both K-12 and higher ed during his first 100 days in office. His primary policy proposal during the campaign, a 
broad school choice plan for poor children
, echoed the talking points of choice advocates while falling short on details like which federal funds he'd devote to such a program or how he'd incentivize "inner-city" school districts to adopt smaller-scale programs. –
Carolyn Phenicie
As Mark Keierleber has previously reported on at The 74, Donald Trump has said he "loves the poorly educated," and has long recognized the need to appeal to working class white voters — many of them without college degrees — but as Chuck Todd explained Monday, the college-educated Clinton swing is bigger than some expected, and may turn out to be the game changer of the election:
The candidates may not have talked much about American education…but boy are their pollsters keeping track of their fan's education level pic.twitter.com/M3EPRhuzdM

— Steve Snyder (@TheSnydes) November 7, 2016
---
6:45 a.m. Tuesday — Preview of Massachusetts' Question 2: Bay State voters will today decide whether the Commonwealth should lift a cap on charter school growth. More money — over $38 million — has flowed into this close contest than any other ballot initiative in the state's history. Much of it, especially in support of more charters, from out of state.
The most recent poll did not bode well for pro-charter advocates, with 52 percent saying they planned to vote against Ballot Question 2 and 39 percent saying they favored raising the limit on charters. The poll, released Friday by the Western New England University Polling Institute, seemed to contradict a poll from the week before by The Boston Globe and Suffolk University, which found voters tied — although the margins of error of the two polls were relatively large.
Ballot Question 2 would allow charter operators to create 12 new or expanded schools each year anywhere in Massachusetts. Current law sets a cap at 120 schools and limits spending.
Outcomes from the vote could provide insight into the expansion of charter schools nationally, and advocates on both sides of the debate have waged huge advertising campaigns. Massachusetts's charter schools statewide have been unremarkable, but in Boston, the schools have made large gains in reducing the achievement gap between white and black students and raised SAT scores. Opponents argue that charter schools siphon off money from district schools, lack accountability, and perpetuate inequalities. (See our previous in-depth coverage about what research shows about the quality of Boston's charter schools, and the demographic breakdown of those who may vote yes on 2) —Mark Keierleber
---
Monday — A 2012–14 Flashback: We're monitoring the top 50 education races of 2016, but first, a quick flashback to six big education votes in previous election cycles that changed the landscape.
In 2014: Washington state voters narrowly passed the Washington Class Size Reduction Measure, Initiative 1351, a ballot initiative to limit class sizes and ramp up hiring of teachers and staff (the following year, Gov. Jay Inslee would sign a law establishing a four-year suspension on implementation of the initiative); Colorado voters overwhelmingly rejected a measure that would have expanded gambling at horse racetracks to finance a fund for local public schools; and Nevada residents turned down a proposal that would have created a 2 percent tax on businesses earning more than $1 million to fund public schools.
In 2012: 68 percent of South Dakota voters overturned a law supported by Republican Gov. Dennis Daugaard that would have made teacher tenure optional rather than a requirement for school boards, established a statewide teacher-evaluation system and created bonuses for some teachers; Bridgeport, Conn., voters rejected a proposal that would have allowed the mayor to appoint a school board rather than maintain an elected one; and Georgia voters restored a state commission that was empowered to approve the creation of charter schools, rebuffing a state supreme court ruling that the commission was unconstitutional. —Naomi Nix
---
Monday — Preview of 3 Big Colorado Races: Many eyes will be on Colorado Tuesday night, as the perennial presidential swing state decides where to bestow its nine electoral votes. But further down the ballot are a number of important races that are likely to affect education in the state.
Colorado Senate:
Perhaps most important for statewide education policy is control of the Colorado Senate. Republicans currently hold the chamber, but Chalkbeat Colorado
reports
that if Democrats retake power, it could mean more money for education, a less hospitable environment for charter schools, and a greater likelihood of retaining the PARCC exam, which is tied to the Common Core standards.
State Board of Education:
Meanwhile, education observers are closely watching races for the state board of education, which is composed of seven members in areas corresponding with congressional districts. Four Republicans and three Democrats currently sit on the board; their votes don't always split along partisan lines. Three seats are on the ballot, but the
key race
is in the Denver suburbs, where both teachers unions and school-reform groups are backing a Democrat who is hoping to unseat a Republican incumbent. This could give Democrats control of the board.
U.S. Senate: Finally, the marquee matchup (outside of the presidential election) pits an incumbent Democrat, Sen. Michael Bennet against Republican challenger Darryl Glenn. Bennet, who previously was the superintendent of Denver Public Schools, currently serves on the U.S. Senate education committee. He has long been
supported
by Democrats for Education Reform. The seat was initially expected to be a key pickup opportunity for Republicans, but
polls show
that Bennet is likely to win easily. (Local voters in the state will also
decide on a number
of bond and tax initiatives to increase school spending — with charter schools
getting a cut
of that money in some, but not all, districts.) —Matt Barnum
---
Monday — Welcome to Our EDlection 2016 Live Blog! We'll be updating with breaking news, vote tallies and social media buzz through midday Wednesday. Please bookmark and refresh — or get alerted to updates at the @The74 Twitter handle. —Steve Snyder
SaveSaveSaveSaveSaveSaveSaveSaveSaveSaveSaveSaveSaveSaveSaveSaveSaveSave
Support The 74's year-end campaign. Make a tax-exempt donation now.