Ed Secretary Cardona Touts More Tutoring, Extracurricular Activities as Part of Vision for Schools to 'Level Up' After Two Years of Pandemic Disruption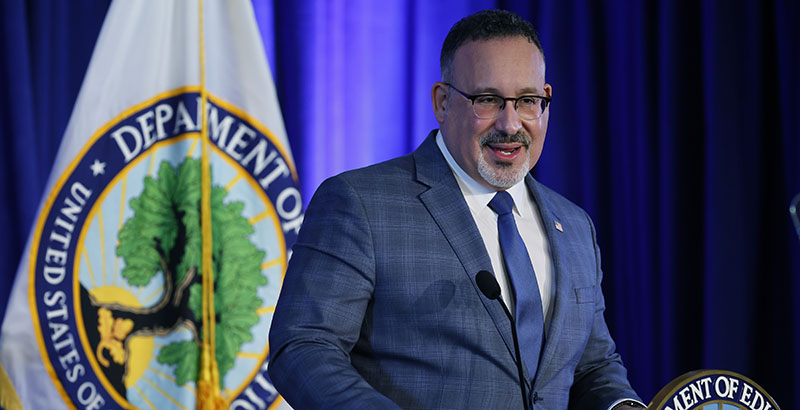 Support The 74's year-end campaign. Make a tax-exempt donation now.
Every student who has fallen behind because of the pandemic should receive an hour and a half of high-quality tutoring each week, and all high school students should participate in an extracurricular program, U.S. Secretary of Education Miguel Cardona said Thursday in an address to the nation.
Those are among the steps he wants schools to take in order to "level up" the education system after nearly two years of pandemic disruption and persistent achievement gaps.
"All kids must be seen. All kids must hear their names in school every single day," he said, adding that schools' "hardest and most important work lies ahead."
A week after President Joe Biden tried to refocus the nation's attention on his first year accomplishments, Cardona's speech — held in person at the U.S. Department of Education — came as schools continue to grapple with short-term school closures from the Omicron outbreak and ongoing local debates over mask mandates and racial equity initiatives. Speaking for more than 20 minutes, Cardona offered something for everyone, calling out students by name in the audience, noting that his department has spoken to 8,000 parents over the past year and exhorting educators to "collectively lead our nation's healing."
"We didn't sign up to serve during a pandemic, but we did sign up to serve students," he said.
His efforts to inspire the nation's district and school leaders, however, are running up against educator fatigue compounded by the latest COVID surge and the stalemate in Congress over President Joe Biden's domestic policy agenda.
"Our school leaders continue to burn the candle at both ends," Ronn Nozoe, CEO of the National Association of Secondary School Principals, said in a statement, "and without immediate action to address their staffing shortages and concerns about teacher and student wellness and well-being, it will be extremely challenging to make sure these proposals actually provide the real support our communities need and deserve."
Speaking to reported increases in youth anxiety and depression, Cardona said all students should have access to a mental health professional and all high schools should have a career counselor.
To implement the types of education and student support programs he described, Cardona noted that the department has now distributed all $122 billion from the American Rescue Plan to states. But a recent analysis from Burbio, a data firm that tracks schools' responses to the pandemic, showed that only about a third of districts were spending relief funds on tutoring.
At the moment, education leaders are particularly worried about meeting a September 2024 deadline to obligate relief funds. Last week, more than 30 organizations asked Cardona for more time to spend funds on school construction projects. Meeting that deadline will be "nearly impossible for most districts because limited contractor availability and supply chain disruptions are substantial and expected to get worse in 2022," the letter said.
Cardona said all young children should have access to universal preschool and referenced a need for additional funding for students with disabilities and low-income schools.
But that depends on Congress. The department has proposed spending increases for Title I and the Individuals with Disabilities Education Act in the fiscal year 2022 budget. But the deadline to pass a budget or another continuing resolution is weeks away, and some experts doubt the administration will be able to get what it wants. President Joe Biden wants to include universal pre-K for 3- and 4-year-olds in his Build Back Better plan, but that's also been stalled in the Senate. The plan passed by the House in November also included funds for teacher and administrator preparation programs.
Focusing on one his priorities — college and career pathways — he said his department would work more closely with the departments of labor, commerce, and health and human services to "invest in underrepresented groups" of students.
That pledge sounded promising to Marisol Quevedo Rerucha, chief of strategy and partnerships for the National Parents Union, a leading advocacy group that has been pushing the department to take a bolder approach to pandemic recovery.
"That idea of those big government agencies working together to address comprehensive needs of families has a lot of potential," she said, but added that many of Cardona's "sound-bitey statements" about addressing students' mental health needs and "reimagining" instruction left her flat.
"We've been saying this in education for decades," she said, adding that charter and innovative public schools have been "talking about this and doing the work."
Stephen Pruitt, president of the Southern Regional Education Board, which works with 16 states to improve education, wants Cardona to prioritize students' preparation for the workforce by giving them access to college courses while they're in high school.
"We estimate that 18 million southerners alone will be unemployable in the next few years without additional education and training," he said in an email. "The workplace and our economy are changing fast. We're only at the beginning of how automation and technology will impact most jobs."
'On the back burner'
Past secretaries have given similar addresses. During the Obama administration, former Secretary Arne Duncan gave back-to-school bus tour speeches in the fall. But COVID-19 and the push to pass the Build Back Better have likely caused Cardona to "put this kind of engagement on the back burner," said Khalilah Harris, managing director of K-12 education policy at the left-leaning Center for American Progress.
"The administration is rightfully pivoting to tell its story for any wins from last year and the ways they'll focus their energy looking ahead," she said. "Taking the offensive is the right way to engage directly with the American public … instead of having opponents lead a narrative that isn't about expanding access to opportunity for all children."
For Rerucha, the fact that Cardona didn't address the political divide over curriculum and teaching the history of racism was a glaring omission. While he talked about the "nation's healing," Rerucha said, "he did not address what our nation needs to be healed from" and why Black, Hispanic and other minority student groups are persistently behind.
The secretary's speech also comes as the department is preparing to release discipline guidance that many expect to resemble Obama administration policies. The guidance would likely discourage suspension and expulsion, and increase oversight of districts when disproportionate numbers of students in any one racial group are excluded for disciplinary reasons.
Michael Petrilli, president of the Thomas B. Fordham Institute, has urged the department to hold off, saying that the pandemic has only created more hardship for many students living in poverty and that schools are seeing the effects in increased behavior problems.
"The problem is, nobody has come up with a sure-fire way to quickly reduce misbehavior and school violence that doesn't involve removing disruptive students from classrooms and hallways," he wrote in a recent op-ed.
Support The 74's year-end campaign. Make a tax-exempt donation now.