Ed Department to Update 45-Year-Old Federal Law Protecting Children With Disabilities From Discrimination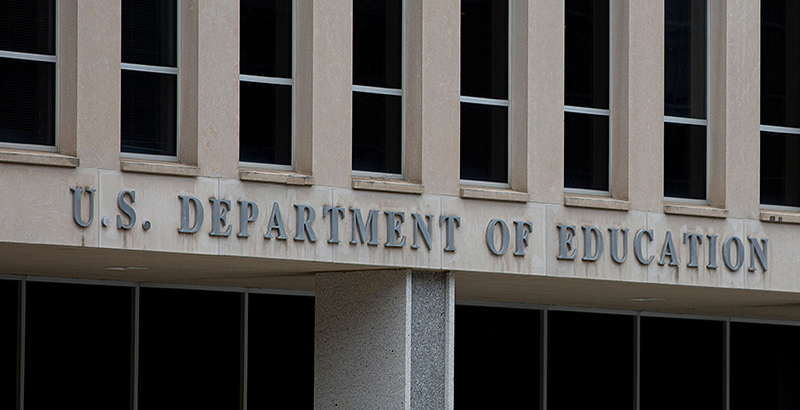 Get stories like these delivered straight to your inbox. Sign up for The 74 Newsletter
The U.S. Department of Education will update a 45-year-old civil rights law meant to protect students with disabilities from discrimination. The department this month will begin collecting public comments on what is known as Section 504, which applies to students with physical or mental health needs who might not qualify for special education under the Individuals with Disabilities Education Act.
Special education experts say there's wide variation in how school districts accommodate students' needs in the classroom and that parents are often in the dark about their children's rights under 504.
"It's time to … make the regulations current and responsive to the experiences of students and families in schools," Assistant Secretary for Civil Rights Catherine Lhamon said Friday, after the update was announced. "We have, over these 45 years of experience, seen ways that sometimes schools don't understand or don't follow the law."
The announcement follows the department's recent agreement with the Los Angeles Unified School District to make up for services that roughly 66,000 students with disabilities missed during remote learning. The district has to determine which students were denied services and make sure parents know their children are eligible for additional support. The update, according to the department, is also part of the Biden administration's strategy to address escalating mental health needs among young people.
Experts in the special education field said updating the law is long overdue.
"It's about darned time," said Julie Weatherly, a special education attorney in Alabama who advises districts and works to resolve disputes with families over special education services. At a minimum, she said, she hopes some language in the regulation will be updated.
"The best thing that could happen would be that the word 'handicapped' would be removed," she said.
It wasn't until 2010, when President Barack Obama signed "Rosa's Law," that the terms "mental retardation" and "mentally retarded individual" were replaced with "intellectual disability" and "individual with an intellectual disability" in federal law.
Typical accommodations under 504 include letting students sit in the front of the classroom, break up assignments into shorter sections and gain exemption from physical activities. The department, Weatherly said, could update the regulations to provide more specific examples of how a disability interferes with learning or "major life activities," as the law states.
But she said she doesn't want to see the department add extensive documentation requirements. For students who require an individualized education program under IDEA, she said, the process is already "parent unfriendly."
But families and advocates want to see a more standardized process for ensuring that students receive services.
Denise Stile Marshall, CEO of the Council of Parent Attorneys and Advocates, said Section 504 is "incredibly important in terms of protecting equity and student access," but districts sometimes "treat it like a consolation prize" if a student doesn't qualify for special education — and might not even let the parent know accommodations are available.
Lisa Mosko Barros, a Los Angeles parent and advocate, added that currently, districts aren't required to involve parents in designing accommodations and that schools don't receive additional funding for a child served under the program, as they do for special education. 
"There does not seem to be as robust a framework for accountability" as with special ed, she said, "nor does there seem to be adequate mandates around family partnership in the process."
Advocates for students with dyslexia said they welcome the opportunity to provide comments.
"Far too often, individuals with dyslexia are denied access to the accommodations and educational services they are entitled to," said Megan Potente, co-state director of Decoding Dyslexia California. "Strengthening rights is absolutely critical to addressing barriers and accessing opportunities for those with dyslexia."
Lhamon said the length of the comment period has not yet been determined, but it could be 2023 before new regulations are released.
Get stories like these delivered straight to your inbox. Sign up for The 74 Newsletter