For Schools, an Eclipse Conundrum: To Open or Close? For Fun or for Science?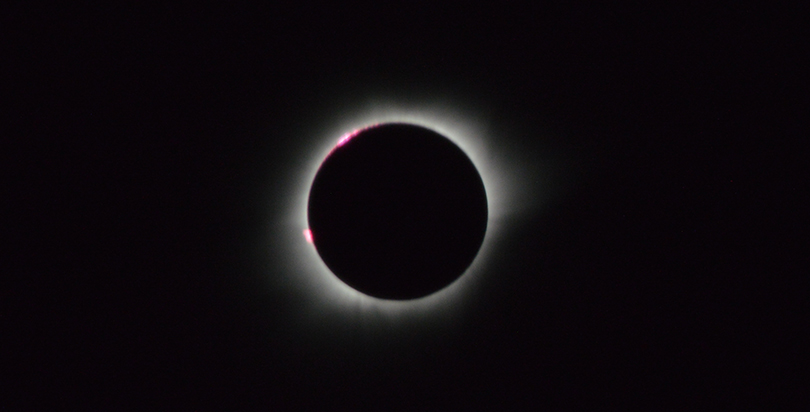 As America prepares for the moon's shadow to darken the sun's path across the United States on Monday, Aug. 21, school districts from
Idaho
to
Colorado
to the Southeastern states are buying protective glasses so students can witness the nation's first coast-to-coast solar eclipse in
99 years
with their own eyes.
But various districts are seeing the celestial event in very different lights.
Some educators view it as an opportunity for students to get outside and bask in the glow of this once-in-a-lifetime opportunity. Others see danger, compelled to keep students indoors, out of the shadows.
Close school early or keep class in session late? Cancel outdoor recess? Hold school at all?
Matters of great gravity indeed. Here's what some districts in and near the Path of Totality — the 67-mile-wide swath across 12 states, from Oregon to South Carolina, where the eclipse will be at its most dramatic — are doing.
For sun worshippers in Nebraska, the eclipse is cause for celebration — and science.
School-age children by the busload will be traveling to Cope Stadium at the University of Nebraska at Kearney for a citywide viewing party. "It's going to be a fun atmosphere, with music and some games and physical activity," Kelly Bartling, the university's vice chancellor of communications and community relations, tells Kearneyhub.com. "During the prime watch time, from 12:30 to 1:30 p.m., we see it as being a really cool and memorable event."
In the city of Lincoln, squarely in the Path of Totality, Southeast High School Principal Brent Toalson isn't waiting to start the festivities. "Guided by specialists in all curriculum areas, this eclipse day of celebration will be preceded by a full week of rich, hands-on learning opportunities leading up to the grand finale," he wrote on the school website. Among other pre-eclipse activities, James Blake, science curriculum specialist for Lincoln Public Schools, tells The 74, elementary school students will try to make their own eclipses, using two properly proportioned styrofoam balls, and simulate the phases of the moon by orbiting black and white ping pong balls around their faces, with their heads serving as the Earth.
All but the youngest students will watch the eclipse outdoors — wearing solar safety glasses, of course, and keeping in mind the chant, "Save our eyes, don't look at the skies!"
Other districts — in Georgia, for example — take an, er, dimmer view.
Gwinnett County Public Schools extended the school day for an hour. "It would be difficult to monitor students who are being dismissed or those who are riding on the school buses during the eclipse," Jonathan Patterson, associate superintendent for curriculum and instructional support, tells WSB-TV.com. "Ordinary sunglasses, even very dark ones, are not safe for looking at the sun. In addition to addressing safety concerns associated with the eclipse, the delay will provide more time for us to make this a special educational event for our students, allowing us to organize safe and engaging viewing experiences for students."
In Kansas, the eclipse posed a lunchtime dilemma: Should kids be allowed out for recess? The answer, for some schools in the Shawnee Mission School District, is no: They will adjust recess times to keep children indoors.
In Tennessee, officials, like the orbit of the planet Kepler-413b in the constellation Cygnus, have wobbled and wavered, unsure what to do. Metro Nashville Public Schools, one of the largest districts in the Path of Totality, originally had school closed on eclipse day for professional development. Then, Mayor Megan Barry asked the district to keep classes in session. But the school board voted no — so school's staying closed after all.
In South Carolina, eclipse fever reached all the way to the state capitol, where a joint resolution of the General Assembly proclaimed that schools this year would be allowed to open ahead of schedule — as early as Aug. 17 — to "capitalize on the potential educational value of this eclipse." So … Charleston schools will open for the year Aug. 17, but will be closed Aug. 21. The Columbia and Greenville districts decided to skip the festivities altogether and begin the school year Aug. 22. The city of Rock Hill split the difference and went for a half-day that day.
Wherever you may be Aug. 21, raise a (solar) glass to eclipse 2017!
Get stories like these delivered straight to your inbox. Sign up for The 74 Newsletter