Early Reports: 200 Indian Students Trapped By Raging Floodwaters at University of Houston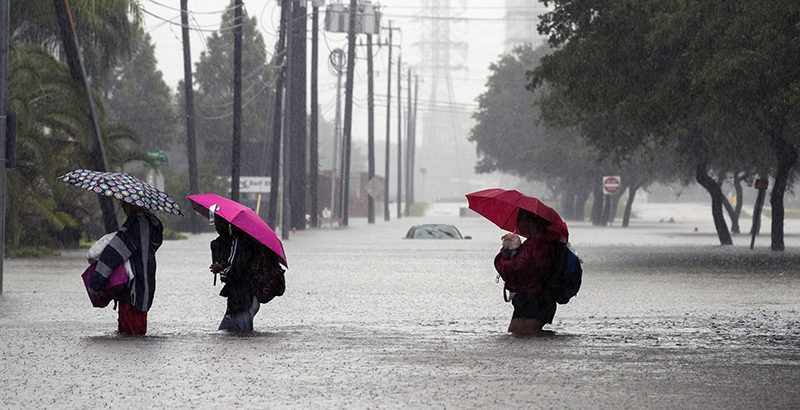 Photo: Getty Images
Extreme flooding caused by Hurricane Harvey has reportedly trapped 200 University of Houston students from India, according to early social media reports. Indian Minister of External Affairs Sushma Swaraj tweeted about the incident Monday morning and said the Coast Guard is organizing a rescue.
@CGHoust has informed me that 200 Indian students at University of Houston are marooned. They are surrounded by neck deep water. /1

— Sushma Swaraj (@SushmaSwaraj) August 28, 2017
We made efforts for delivery of food but US Coast Guard did not allow as boats were required for rescue operations. /2

— Sushma Swaraj (@SushmaSwaraj) August 28, 2017
Mr. Anupam Ray our CG Houston is organising the rescue operations. /3

— Sushma Swaraj (@SushmaSwaraj) August 28, 2017
Swaraj added that two of the students, Shalini and Nikhil Bhatia, are in intensive care and that officials are working to get their family to Houston as soon as possible.
Indian students Shalini and Nikhil Bhatia are in ICU. We are ensuring that their relatives reach there at the earliest. /4

— Sushma Swaraj (@SushmaSwaraj) August 28, 2017
University of Houston President Renu Khator tweeted later that the students were safe, had food, and would be evacuated soon.
Campus police got in touch with them last night. They were safe on 2nd floor with food for last night. They are being evacuated now. https://t.co/YHQxLsy0zk

— Renu Khator (@UHpres) August 28, 2017
Anupam Ray, the consul general of India based in Houston, posted that university officials were in contact with the students and "working tirelessly" to help them.
Meeting Indian students affected by floods in #Harvey #Houston

Posted by Anupam Ray on Monday, August 28, 2017
We will update this post as more information is available. University of Houston officials and the Coast Guard were not immediately available for comment.
Submit a Letter to the Editor