Early Look at District Plans to Spend Billions in Federal Relief Funds Shows Lack of Focus on Learning Recovery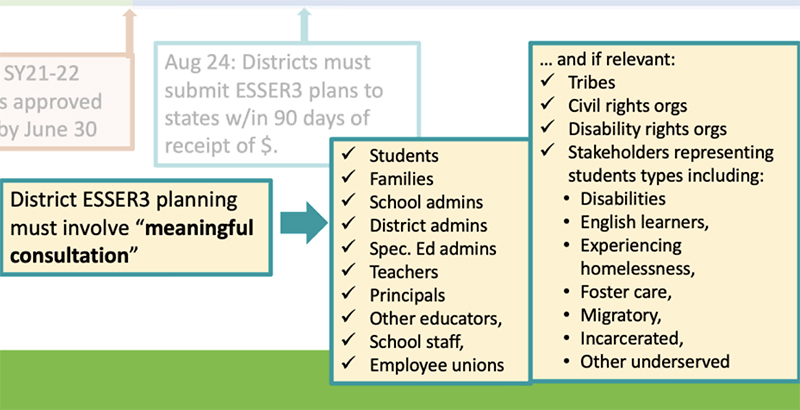 Get essential education news and commentary delivered straight to your inbox. Sign up here for The 74's daily newsletter.
States have until Monday to distribute $81 billion in federal relief funds to districts — two-thirds of the total for K-12 schools in the American Rescue Plan. And while the law requires districts to put aside 20 percent of their funding to address learning loss, an early review of spending plans shows most aren't adding tutoring programs, extending the school year or adopting other programs expected to help students catch up.
Instead, they are largely using the money to fill budget gaps, hire staff and issue "thank you" bonuses to teachers, Marguerite Roza, director of Georgetown University's Edunomics Lab, said during a Tuesday webinar. Her team has consulted with district finance officials and reviewed school board documents and media reports.
"That surprised us because tutoring is sort of the darling … for how to spend federal funds," Roza said Tuesday, referring to multiple studies in recent months about the effectiveness of "high-dosage" tutoring programs.
Chad Aldeman, policy director at Edunomics Lab, added there's little evidence so far of efforts to focus on the needs of the most vulnerable students. "The pandemic has affected different students differently, and we're seeing a lot of one-size-fits-all," he said. Facility improvements, he added, might be a smart use of one-time funds, but they don't really help students most impacted by the pandemic.
The relief bill, passed in March, represents the largest-ever, one-time influx of federal funds for K-12, setting up a "fast and furious" planning process for districts over the next few months, Roza said. According to the law, districts have to submit spending plans to their states in August and provide updates or revisions every six months. They have until the end of September 2023 to spend the money. Meanwhile, leaders are facing heightened scrutiny from parents and advocacy groups looking to hold leaders accountable for helping students recover from months of remote learning. District spending plans must demonstrate that officials made extensive efforts to involve parents, educators and students.
"That means districts can't go into a dark, smoke-filled room and make a plan," she said, urging officials to be more transparent than usual about hiring staff, launching new programs and issuing contracts for services. Some superintendents, she said, are still operating under emergency powers, allowing them to sign off on expenditures without school board approval.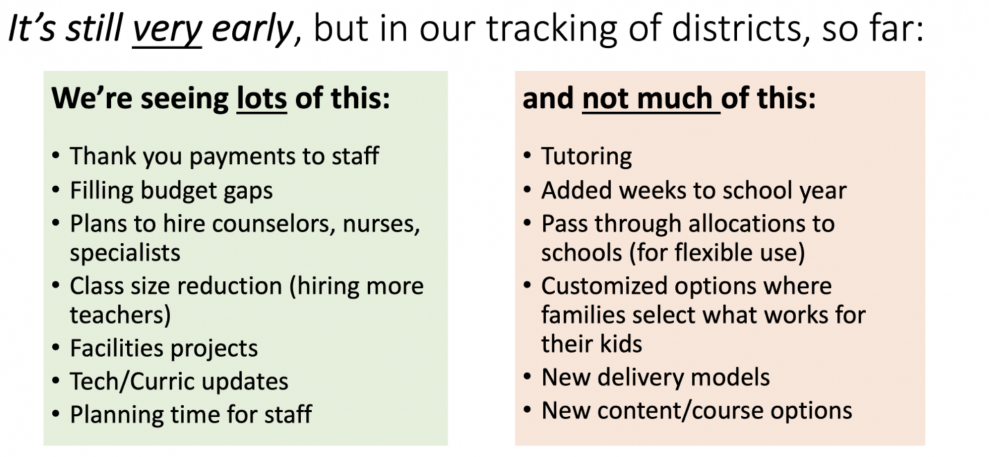 'They can do better'
The National Center for Youth Law, a nonprofit law firm based in Oakland, California, is among those closely tracking whether districts are spending the funds on students with the greatest need. On Tuesday, the organization joined with three other California groups to release an analysis of how 48 districts in the state planned to use relief funds from last year.
While there were some bright spots, the analysis showed plans often lacked detail, especially on how schools intended to respond to students with limited internet access, seek parent and community input, and target support to English learners, students in foster care and others likely to face the most earning disruption.
Vague descriptions of goals make it "hard for folks to follow up, so at the end of the school year, they can ask, 'How did it go?'" said Atasi Uppal, an attorney focusing on juvenile justice and education at the firm. "We want to give some grace to districts that were planning last September, but we also just think they can do better."
As districts in the state begin to develop plans for a combined $55 billion in state and one-time federal funds, the groups are calling for greater input from the public and offer a list of questions parents and others can use to seek details on programs and expenditures.
Roza and other school finance experts warn districts against using time-limited funds on raises, new staff and other recurring costs. But Ted Lempert, president of Children Now, one of the other California groups, added that schools in the state already have such large shortages of school counselors and nurses that it might be wise to increase staff. "There is a need for a lot of extra support now," he said.
However, districts planning to hire may struggle to find enough qualified applicants, Aldeman said, based on labor market data showing districts have more job openings than they're able to fill.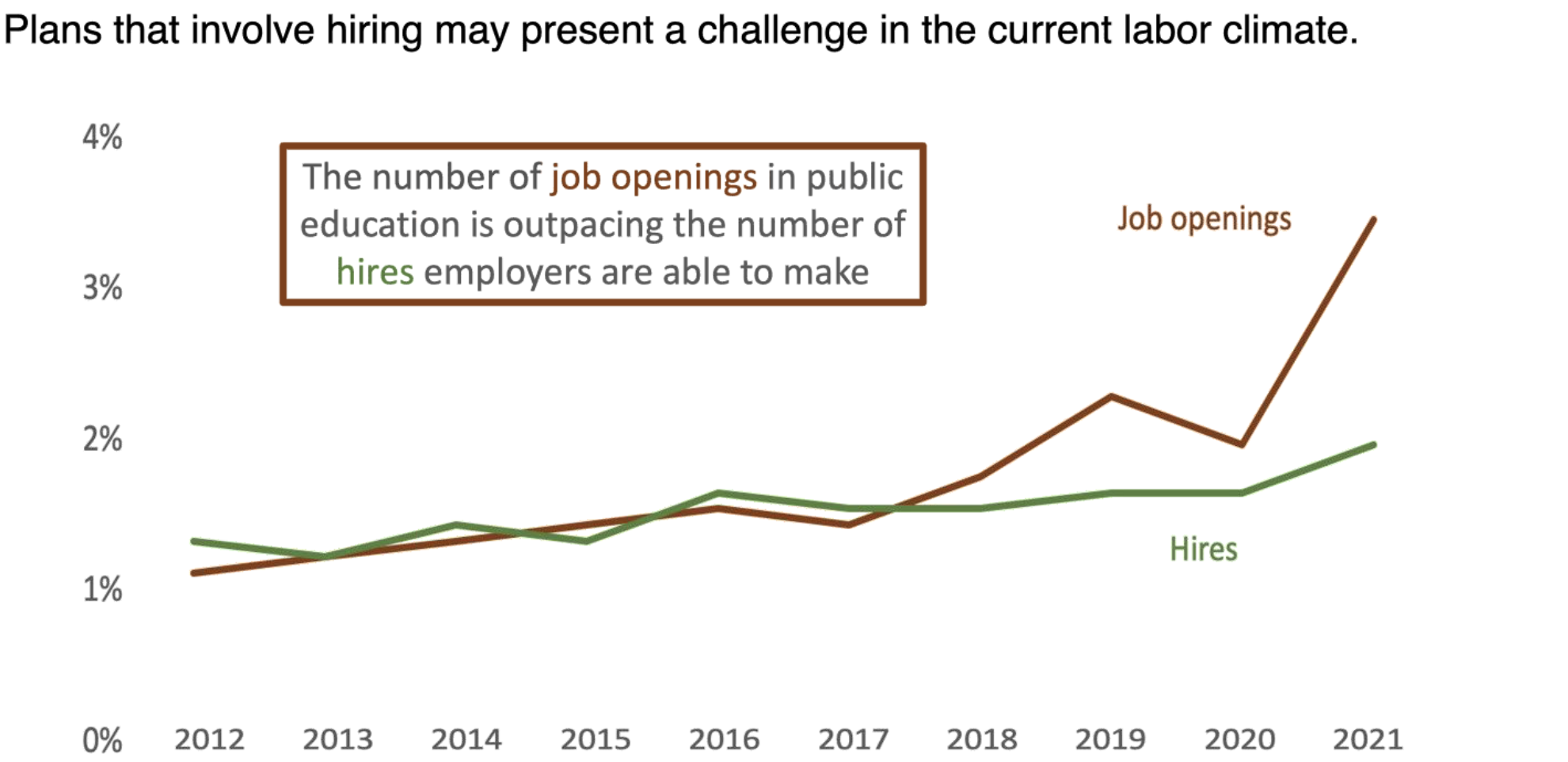 In Colorado, the Denver Public Schools tried to get a jump on the planning process by meeting with a budget advisory committee in December, even before the Biden administration took office and the relief bill passed. Those meetings — involving students, parents and union representatives — inspired a new $3 million pilot program to provide on-site mental health professionals at schools.
Chuck Carpenter, the district's chief financial officer, said schools want to have "the most welcoming and ready environments" when students return in the fall. But the challenge is to avoid committing to new programs they won't be able to sustain financially in the future. "It's a grant and you have to treat it like that," he said. "There will be a time when it's not there."
Meanwhile, not all states will meet the deadline to allocate funds to the local level. One possible complication is that they are holding onto the money at the state level as part of their annual budget process. And in some states, the legislature doesn't approve the budget until the end of June. "If that's the case, then generally those funds can't leave the state treasury to be liquidated … until the state's budget has been enacted," explained Austin Reid, education committee director at the National Conference of State Legislatures.
According to the U.S. Department of Education, some states have alerted the department that they will miss Monday's deadline as well as the June 7 deadline to submit a state plan for using relief funds. A department spokesperson did not offer specifics, but said, "states are providing updates on a regular basis."
Get stories like these delivered straight to your inbox. Sign up for The 74 Newsletter