Dobard: From Strong Accountability to Open Enrollment and Community Engagement, 10 Reasons New Orleans's Schools Are Succeeding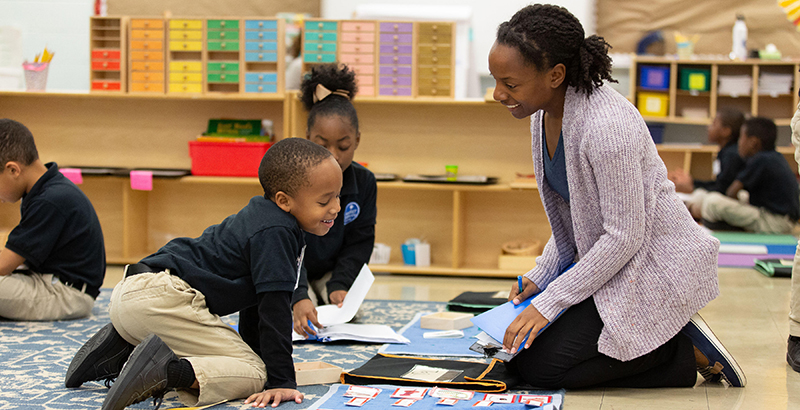 New Orleans's public schools have shown significant growth and progress in the past 13 years. This progress did not happen overnight; it took passion, leadership, accountability, funding and focus to turn our education system around. The results are impressive. In 2005, 62 percent of New Orleans students attended the lowest-performing schools in the state, compared with just 8 percent in 2018. Our college-entry rate has risen from 37 percent in 2004 to 61 percent in 2017.
How did we do it? This work has been nuanced and complicated, but when I look at what distinguishes education in New Orleans, 10 things stand out:
Aligned leadership for 13 years
Since Hurricane Katrina, the leaders managing our system of schools have shared a clear vision for local education. We believe that the people closest to children should be making decisions about their schools, because principals know their students better than a district administrator does. We know that schools need real autonomy and families deserve true accountability. We believe great talent is key, so we must recruit and support great educators. We maintain a passionate pursuit of equity and justice, setting these principles as the bedrock of each policy and plan we make. By uniting in these convictions, we have been able to make real, positive change.
High accountability standards: Only schools that meet the bar remain open
Since 2006, no charter operator with a school performing below the state's academic requirements at the time of its renewal has been allowed to continue running that school. Though it is never easy to close or transition a school, we cannot allow students to remain in classrooms where their needs are not being met. Our community largely stands behind the practice; no parents want their children in a school where they aren't being supported, challenged and educated. In a 2015 survey, around 60 percent of New Orleanian respondents agreed that "schools that are consistently rated a D should be turned over to a different operator to be restarted."
Equitable citywide enrollment: Students can apply to any public school in New Orleans
In almost all U.S. districts, a child's address determines which public school he or she will attend. This perpetuates inequity, as children from wealthier families end up in stronger schools with access to more opportunities. In New Orleans, there are no default neighborhood schools. Instead, families can apply to nearly all city public schools through OneApp, our unified enrollment process. Families apply for the schools they feel are best for their children. In the main round of this year's OneApp, 82 percent of incoming kindergarten and ninth-grade applicants received one of their top three choices.
Thriving band programs: Music fills our classrooms and spills onto our sidewalks
In New Orleans schools, music is not just an extracurricular. It is a part of life. Around 60 percent of our K-12 schools have bands; their directors are heroes and their drum majors are celebrities. Student musicians win awards and go on to national fame. During Mardi Gras, school bands march in more than 70 parades, performing for more than a million revelers. In a nation where arts are often pushed aside in schools, this focus stands out; New Orleans knows that strong academics must exist alongside thriving creative expression.
A requirement to fill open spots: Schools cannot turn students away from open seats at any grade
Charter schools are public schools, and in New Orleans, we believe that public schools must provide a free, high-quality education to as many students as they can. All New Orleans charter schools are required to backfill — accept new students for open seats in any grade, no matter the time of year. This is critical for equity, providing families that are new to the district or desire a transfer with as many school options as possible. Backfilling keeps the highest-demand schools at maximum capacity, so they can benefit the most students.
An engaged community: More than 400 local leaders serve on charter boards
Though the elected Orleans Parish School Board has just seven members, an additional 400 community members are deeply involved with our schools as members of charter boards. They are educators, business and nonprofit leaders, scientists, lawyers, social workers and more, bringing expertise from many fields and experiences to help charter management organizations and school leaders run the schools.
Equitable funding: Resources for our schools are allocated based on students' unique needs
New Orleans's public schools are funded not only based on how many students they educate but also on the number of students with additional needs and the intensity of those needs. Schools get more funding if they educate more English learners, students who are overage for their grade and students with special needs. The special-needs funding is also proportional to the specific services each child requires.
District bureaucracy does not make decisions for classrooms: Principals, teachers and networks do
In most districts, many aspects of how schools are run — from bell schedules to curriculum — are determined at the district level. In New Orleans, however, we know that teachers, principals and charter networks, not district administrators, are the experts on their students. For example, if principals believe their students would benefit from a restorative justice model, they are empowered to put that into place. In a traditional district, a principal would need to go through layers of approval to even attempt such a change; here, they can make and implement new decisions more efficiently. Ultimately, this enables school leaders to respond more quickly to their particular students' needs. When parents send their child to a public school in our city, they know their principal runs that school based on a true knowledge of their child and their classmates, not on sweeping, districtwide mandates.
Clear roles systemwide: School board members, educators and community partners collaborate
Three forces support our school system: regulators, innovators and collaborators. Our central regulator is the Orleans Parish School Board, which manages everything from enrollment to facilities. Our innovators are our teachers and school leaders, who come up with great ideas to improve student learning. And, because students' needs extend beyond the classroom — including issues like housing, hunger, mental health, early child care and career readiness — we collaborate with nonprofits that provide needed supports.
Steadfast, visionary talent: Our educators work tenaciously for what each child deserves
Beyond all the policy and planning, our schools have dramatically improved — as shown in a recently released Stanford study — and continue to improve because of our people. Every day, our school leaders, teachers and support staff educate and support our students, setting them up to thrive in college and careers. They work hard all day in the classroom, then show up to band practices, school plays and basketball games to cheer students on. Our educators take initiative to create the environment their students require. They encourage young people to speak up for what they believe. They engage authentically with families and listen to what their students have to say. They are the true backbone of our system.
In truth, our progress has been much like a gumbo — there are some basic, familiar ingredients as a base, but our own creative twist sets us apart. These 10 ingredients are a large part of the improvement we have seen over the past 13 years. They will also fuel our progress going forward; New Orleans's schools are strong and poised to be stronger each day. Together with our engaged community and devoted families, we will move forward for our brilliant, unstoppable students.
Patrick Dobard is CEO of New Schools for New Orleans.
Support The 74's year-end campaign. Make a tax-exempt donation now.