'Do Not Remain Silent … Please Be Brave' — Amid Pain and Fear, an Education Advocate Finds Hope That Allyship & Commitment to Justice Can Create a New Reality for Students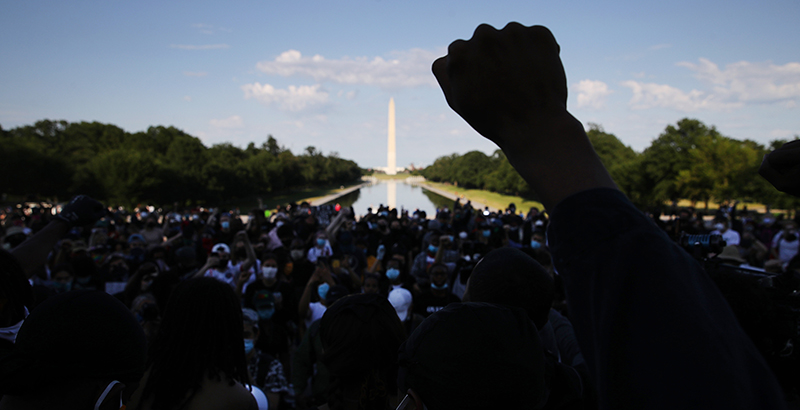 Every day, I wake up in a skin that requires me to be tragically aware of who watches me enter a room, aware of who wants me there, who might be afraid of me or who might not want to be my friend. Since hearing the news of George Floyd's death, it has been hard to focus on anything other than my skin. My blackness is my life and how I first present myself to the world. I am black first. And while this message is going to be messy, it will be honest and incredibly necessary.
This is not business as usual.
I have been praying and crying more than I have in my adult life. I have wept, I have screamed, and I have begged for mercy on behalf of my people since we watched George Floyd be suffocated to death while bystanders begged police to reconsider their force, and while Floyd, a 46-year-old black man, cried out for his mother. We watched Christian Cooper be harassed in a New York City park by a woman who simply needed to leash her dog. We watched Ahmaud Arbery be murdered on his regular morning jog, and we mourned Breonna Taylor, killed in her sleep in an illegal police raid. There are many, many more.
I am a black woman, the oldest of 11 children. I have seven black brothers. To say I am exhausted, to say I am weak, are understatements. I am afraid. I am scared. I am terrified because as a black woman, I could be next. My people are being hunted and I am a walking target, and this nightmare is televised hundreds of times daily to perpetuate the cycle of generational trauma. I am exhausted. We are exhausted.
At a peaceful protest at the White House on behalf of the black and brown lives that are being taken during this open season, I spoke with officers, particularly a black male officer who shared not only how afraid he was for himself on the front lines, but how afraid he was for me, my friends and his own children. These systems are no longer working for America, and at this moment the only thing bringing me hope is that the world is finally awakening to the injustices inflicted on, and the internalized trauma experienced by, black and brown people. The world is finally realizing that we have to require more of our leaders to end this vicious cycle of oppression, death and destruction.
What also brings me hope is allyship. That my white, Asian and Latino associates, friends and colleagues are checking in to see how I'm feeling, to ask what they can do to support our communities. I am grateful for their bravery in simply speaking up. Since May 26, black and white alike have bravely shared remorse and solidarity on their social media pages. Black and white alike walked arm in arm, rode in caravans and chanted, "We can't breathe." This bravery is what brings me hope, and while we all try to heal and help the world realize that our lives do matter, brave white allyship is a necessary force in this movement.
Do not remain silent. Please, check in with your black friends and colleagues, ask what they need, listen, seek to understand and bravely stand up with them. Share your learning with your own family, friends and social networks. Publicly support your position and perspectives for the black people in your life. Please, be brave.
Our educational organizations, including the Association of American Educators, AAE Foundation, our state chapters and many dedicated partners, are homes to black staff and serve black members and, ultimately, black children. Systemic racism is an issue that directly impacts our work. How am I trying to do that work? I am trying to stay calm, to pray, to rest. I am trying to handle my responsibilities to myself first, to help create a new reality for our students and this country.
Kira Tookes is director of advocacy for the Association of American Educators Foundation.
Support The 74's year-end campaign. Make a tax-exempt donation now.