Dissect a Frog Without the Mess? Eon Brings Virtual Reality to Life in the Classroom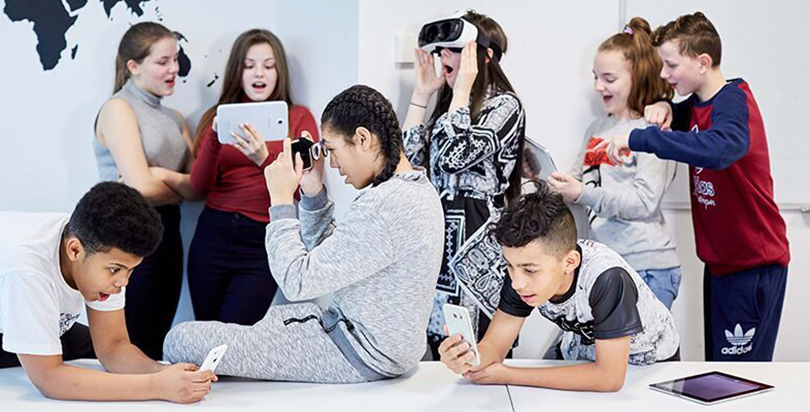 When gamers enter a world of augmented or virtual reality, they are surrounded by an unfamiliar environment where they must absorb new information for an extended period of time and solve a variety of challenging problems. Those same skills are essential for learning, which is why one virtual reality company is putting gaming elements to use in the classroom.
"When learning in virtual reality, you are able to close your eyes and recall the experience you had," Mark Cheben, Eon Reality's global marketing manager, told The 74. "It is a totally new way to learn. You are immersed in this new world. It is a lesson, but also an experience."
Earlier this year, Eon introduced a free learning platform for both Android and Apple devices, putting an early focus on biology, anatomy and engineering for grades six through 12. By focusing on phones and tablets — the most common devices available today — Eon enables students and teachers to access its content regardless of the level of technology available in the school.
"We change the learning dynamic away from 'Ask and answer' to 'Explain and discover and compete against your peers,' " Cheben said. "We gamify aspects of the classroom, not to take anything away from teachers, but to give them another option."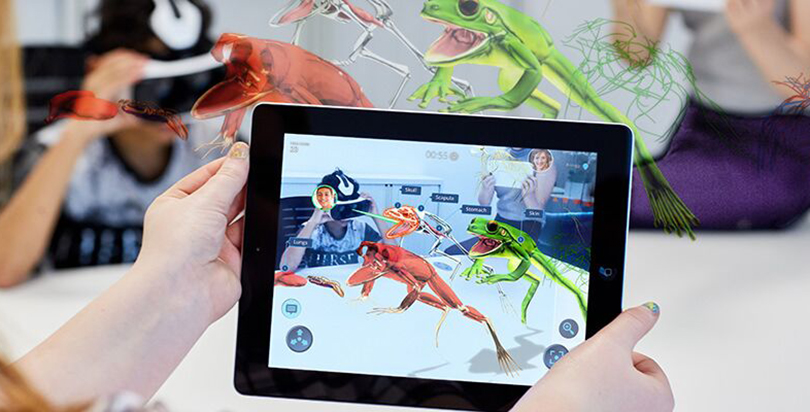 For example, rather than handing students a scalpel for a traditional science lesson about dissection — described by Cheben as a "boring lecture and sticky pan of frog" drenched in formaldehyde — teachers can employ an augmented or virtual reality app to help students visualize and understand amphibian biology.
"We turn it into where you learn about the frog with video and notes and then a game mode where you find and locate [parts of the frog] and compete against people in the class," he said. "Think of it like golf: You compete against yourself, but you get a rank against everyone else at the same time."
Teachers can select from stock Eon lessons, modify them with their own videos, annotations and links, or create their own, using models from Eon's library of more than 8,000 3-D components. Once inside the app, students can select games such as "Find and Identify," which awards points for quickly coming up with an answer.
The more students working in the same program at the same time, the greater the opportunity for interaction, teamwork and competition. "It is more fun if they are competing against each other at the same time," Cheben said. "A little bit of adrenaline in the classroom doesn't hurt. It makes it more interesting for some people."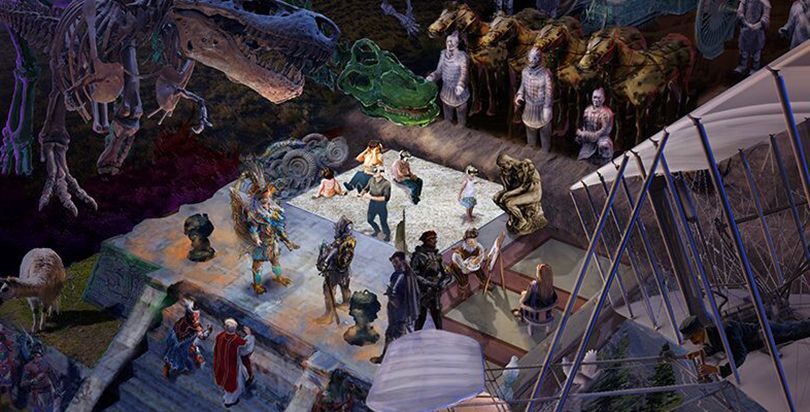 Mats Johansson, Eon Reality's CEO, sees a natural progression from games to educational apps. Games, he said, "often require difficult, long and complex processes that through compelling gameplay and/or storytelling hold a gamer's attention for long periods of time."
Cheben said Eon hopes to apply those principles to even more sophisticated and esoteric subjects, such as representing a chemical reaction or conceptualizing areas beyond STEM, like English, history and geography. The company also plans to extend its content beyond grades six through 12; Cheben said Eon has signed an agreement with a major university, enabling the subject matter to "skew" to higher levels.
Still, he said, the cost and difficulty of bringing new technology into the classroom have been major hurdles in getting content in front of students, teachers and school administrators. The company believes that its free apps can work around those technological deficits and intends to expand its free offerings with premium add-ons that will grow as the product evolves.
"In our ideal world, we would love to have every student on a device to interact and collaborate and build on skills that aren't necessarily taught in the classroom but are very important," Cheben said.
Support The 74's year-end campaign. Make a tax-exempt donation now.