Dillard & Hoover: During the Pandemic, Teachers Became Much More Engaged with Education Technology. How to Keep that Momentum Going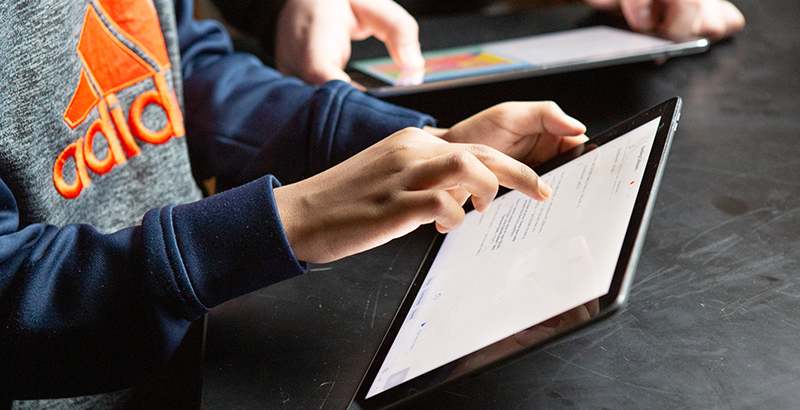 Support The 74's year-end campaign. Make a tax-exempt donation now.
For all the ways that schools and educators have changed since the pandemic, this may be the longest lasting: Teachers have a greater understanding of, and appreciation for, education technology.
Before COVID-19 shuttered the schools, it was not uncommon to hear teachers say they just don't do technology. In Alexandria City Public Schools, where we help teachers incorporate ed tech into their classrooms, that mindset is as out of style as the rotary telephone. How do we know? Instead of asking how to log into an app or share their screens, educators are soliciting advice on the best tool for an upcoming lesson. The ed tech conversation has switched from "How do I do this?" to "What's best for my students?" — from troubleshooting to how to teach.
As students return to in-person learning, the trick will be building on that momentum. It would be a tragedy if teachers slipped comfortably back into the familiar routines of the pre-COVID instructional era.
Educators who are champions for ed tech — including the two of us — have a tremendous opportunity to reset norms and expectations for using these tools inside the physical classroom. Here are four ways district leaders and instructional technology teams can motivate teachers to continue using ed tech:
Bring teachers into the district's technology decisions
There are many good reasons to take a districtwide approach to selecting ed tech — cost, ease of implementation, privacy and safety, alignment with broad instructional goals. But districts must acknowledge each school's unique needs; what works in some schools may not best serve students or teachers in others. District leaders can make better decisions when they consider teachers' input and give teachers an inside look at the educational strategies behind them.
As the pandemic extended remote instruction in our schools well beyond what anyone imagined, we worked hard to keep ed tech use aligned with the district's overall mission. We also held focus groups so teachers could provide input into the tools we selected. After hearing from colleagues at other schools — including those who taught the same grade to a vastly different group of students — many teachers told us they left with a new appreciation for how and why the district selects its ed tech tools.
Make ed tech work for, not against, teachers
Teachers work hard to plan meaningful lessons for their students. But they often spend too much classroom time trying to help students remember passwords or sign into multiple applications. Technology can provide an easy solution. For example, like most schools in the U.S., we use a platform called Clever, which creates a one-stop place for students to access the online tools they need. All teachers and students need to do is sign on once to get all their learning apps and activities.
​​When we started the 2020-21 school year virtually, we used Clever as the go-to place not only to log into class, but to access all information critical to a student's learning. When there are student surveys or assessments, for example, students access them there. This provides consistency for students and families across schools and grade levels when there is information to distribute, while taking some of the burden off teachers.
Continue offering professional development on digital instruction — with flexibility
Students are not the only ones who became accustomed to virtual instruction during the pandemic. Teachers are hungry for more professional development on how to make the most of videoconferencing, speech-recognition programs and game-based apps. Many educators have also found that online platforms allow them the flexibility to do professional development in a quiet environment, at a slower pace or during nights and weekends, rather than in a room with colleagues. Schools should create online tutorials or self-paced courses to accommodate those learning styles.
Let teachers choose — and customize — the tools they actually use.
As former classroom teachers, we understand our colleagues' desire to own the learning environment. Every educator has a unique teaching style, a favorite way to discuss expectations and a preferred system for organizing and delivering lessons. For teachers unaccustomed to digital learning tools, ed tech can sometimes seem prescriptive, imposing a structure on their tried-and-true methods for delivering instruction to students. That's why teacher input throughout ed tech selection is so important. But districts should not stop there; they should make a wide variety of tools available to educators, giving them choice in what they use daily. For example, in our district, teachers have their pick of digital tools like BrainPOP, Discovery Education, Nearpod and Flocabulary that span K-12 content areas. This diversity of tools allows educators to select features that align with their own pedagogy — videos, written passages, interactive activities, student projects or collaboration.
It is up to people at the district level to make sure teachers can select the tools that work best for them, and learn to customize those they use most often. This involves more than simply showing educators how to change the color of their digital wallpaper. For teachers who encourage classroom collaboration, it may mean directing them to resources that can help students share, edit and present projects to their peers. For math teachers, it could involve demonstrating the time-saving benefits of self-grading quizzes.
It is the person behind the ed tech who will make or break the learning experience, not the ed tech itself.
Emily Dillard is director of instructional technology and Elizabeth Hoover is chief technology officer for Alexandria City Public Schools, a district of more than 15,000 students in northern Virginia.
Support The 74's year-end campaign. Make a tax-exempt donation now.