DeVos Returns to the Senate: 6 Education Issues She's Sure to Face During Tuesday's Testimony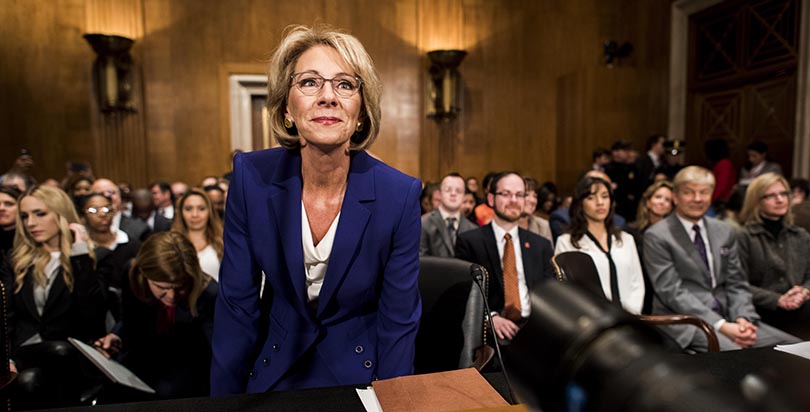 It's sure to be a bit of déjà vu, of both her pre–Memorial Day fight with Democrats on the House Appropriations Committee and her combative January confirmation hearing before the Senate Health, Education, Labor and Pensions Committee.
Four members of the subcommittee with jurisdiction over the Education Department's budget also sit on the HELP Committee: Republican Lamar Alexander and Democrats Patty Murray, Tammy Baldwin and Chris Murphy.
Here are a few topics that could come up Tuesday from those senators and other subcommittee members with a vested interest in education.
• Alexander — The Tennessee Republican and HELP committee chairman became DeVos's de facto chief congressional defender during her bruising confirmation process. Expect him to help DeVos emphasize that any federal school choice program would be voluntary for states, as he did during her confirmation.
• Baldwin — Wisconsin Democrat Baldwin is the only openly LGBT member of the Senate, and she tussled with DeVos over protections for LGBT students in January. She was also one of the lead signatories of a legal brief supporting Gavin Grimm, the transgender teenager who sued his Virginia school district for access to facilities matching his gender identity. Look for Baldwin to pick up lines of questioning raised in the House over what, if any, backstop DeVos would provide to combat discrimination in private schools that receive federal voucher funds. The secretary has said repeatedly that the specifics of civil rights and private school admissions should be left up to the states.
• Roy Blunt — The subcommittee chairman and Missouri Republican was previously president of Southwest Baptist University and has long focused on higher education issues. He was a staunch critic of the Obama administration's regulatory efforts in higher ed; he could focus his questioning on the Trump administration's proposed changes to financial aid, such as streamlining income-based loan repayment programs.
• Murphy — Though the Connecticut Democrat elicited DeVos's much-lampooned "grizzly bear" comment on guns in schools, he's also been one of the most vocal accountability hawks on implementation of the Every Student Succeeds Act. He could ask about how the new K-12 law will be carried out, and how Trump's school choice proposals could impact Title I funding for low-income children.
• Murray — Washington Democrat Murray, her party's leader on the HELP Committee, has taken the lead arguing against private school choice programs. Look for her to focus there, or on sexual assaults on college campuses and the Office for Civil Rights, which the Trump administration proposed flat-funding as compared to the first six months of the year but cutting as compared to what the office received in its final 2017 appropriation.
• Marco Rubio — Rubio is one of the most vocal advocates of federal private school choice programs, having several times introduced legislation to create a federal tax credit scholarship similar to the one that exists in his home state of Florida. The Trump budget didn't offer any specifics on a federal tax credit scholarship, so Rubio could focus on the importance of school choice more broadly and the administration's other proposals in that area. Trump has proposed a $167 million increase for the federal charter school program, a $250 million private school scholarship initiative, and $1 billion in new Title I dollars that would follow low-income children as they transfer among public schools.
Support The 74's year-end campaign. Make a tax-exempt donation now.