DeVos Pitches New ESSA Flexibility to Big-City Schools Leaders, Gets Tepid Response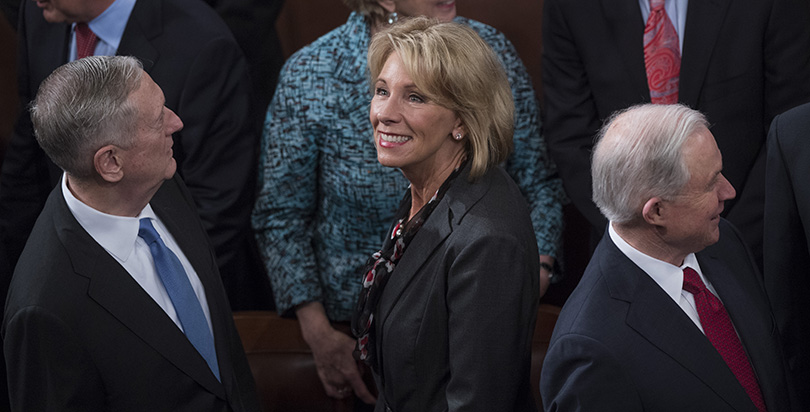 Washington, D.C.
Education Secretary Betsy DeVos in a speech Monday touted new, looser rules for state implementation of the Every Student Succeeds Act in a speech that received a lukewarm reception from leaders of the country's largest city school districts.
The new rules, which lay out how states should rate schools and improve those that aren't performing well, implement ESSA as Congress intended, with the flexibility state and local leaders need and deserve, DeVos said.
"Too often, the Department of Education has gone outside of its established authority and created roadblocks, wittingly or unwittingly, for parents and educators alike. This isn't right, nor is it acceptable. Under this administration, we will break this habit," DeVos said.
The new ESSA regulations will require only what's absolutely necessary to implement the law as written, DeVos said.
"When Washington gets out of your way, you should be able to unleash new and creative thinking to set children up for success," she said.
Education Department staff live-tweeted highlights of the speech, receiving scores of critical tweets in response from some of the secretary's social media foes.
Her reception at the Council of the Great City Schools, which represents the country's 70 largest urban school districts, was civil but not particularly enthusiastic.
Felton Williams, school board president of the Long Beach (California) Unified School District and chair of the council's executive committee, introduced DeVos at the gathering at the Mayflower Hotel in downtown D.C.
The group members are proud, Williams said, of improving academic achievement and high school graduation rates in schools whose student bodies have large populations of poor students, English-language learners, children of color, and children with disabilities.
They're also "proud of the fact that our schools accept everyone who walks through our doors," Williams said, an apparent dig at DeVos's longtime advocacy of publicly funded private school choice programs.
The big city school leaders are also encountering problems with funding shortfalls, immigration, infrastructure, and ESSA implementation, he said.
(The 74: Divisive Trump Surrogate Draws Boos at Great City Schools Conference)
"Some issues we will be able to work together on, others we will not, but we welcome you to our house today and want to work with you where we can, and we hope that you will see us as a resource for the important work in front of you," he concluded.
DeVos, in her 12-and-a-half-minute speech, reiterated common themes she has voiced since her January confirmation hearing — that parents should have greater choice in their children's education and that more control should be in the hands of state and local leaders.
"If a child is able to grow and flourish, it shouldn't matter where they learn, and one of those quality options should be a great public school," she said. "I know that you have their best interests at heart, so I'm confident that we can work together to improve education for all kids."
DeVos in her speech highlighted what she called three "out of the box" proposals of the type that can thrive without burdensome federal intervention: Cleveland's "Project Lead the Way," which connects students with engineering businesses; Denver's Success Express, which provides transportation for children who attend schools outside their neighborhood; and Indianapolis's Innovation Schools program, which frees schools from some local regulations as they work to improve performance.
In Indianapolis, DeVos noted, parents and local leaders, not a third-party school operator, led turnaround efforts. "It's this kind of local control that we want to empower, because when parents are in charge, students benefit," she added.
Her remarks Monday didn't touch on any specific school choice plan, which could come as part of the Trump administration's budget release later this week. Education Week, citing unnamed sources, said there could be an increase in Title I funds, which are targeted to high-poverty schools, many of whose leaders were at Monday's conference. Under a Trump budget, however, additional Title I money could go toward a school choice program for low-income students. Programs for teacher training, career and technical ed, college prep programs, and wraparound services could face cuts as part of the broader reductions to non-defense spending Trump has advocated, though the final version is not yet set, EdWeek reported.
Instead, DeVos focused on implementation of ESSA and her department's just-released new template for state plans. It significantly scales back requirements from the Obama administration's proposal, including those related to the distribution of experienced teachers. It's organized by sections of the law, rather than general theme, so some provisions that appear to have been cut have just been moved elsewhere, the department said in a fact sheet.
Congress last week passed a resolution blocking the Obama administration's ESSA accountability rules that Republicans said ran afoul of limits in the law.
(The 74: The Senate's 50–49 Killing of ESSA Rules)
Rep. Virginia Foxx, Republican chair of the House Education and the Workforce Committee, and GOP Rep. Todd Rokita, chair of the subcommittee on early childhood, elementary, and secondary education, called the release of the new rules "an encouraging step in delivering on our promise to empower states and ensure all children receive an excellent education."
Foxx and Rokita said they look forward to continuing to work with the department to make sure the law is "implemented according to its letter and intent and that states have both the certainty and flexibility they need to provide their students a high-quality education."
Democrats and civil rights groups slammed Senate Republicans for blocking the rules. Sen. Patty Murray and Rep. Bobby Scott, the top Democrats on the congressional education committees, wrote to DeVos late last week with concerns about "potential chaos that will result in ESSA implementation as a result of the repeal of the ESSA regulation and the introduction of multiple state plan templates."
In their letter, they also pointed to "numerous federal guardrails" throughout the law designed to make sure low-income students, children of color, English-language learners, and students with disabilities are well served by their schools.
The Education Department, in its FAQ document released Monday, said DeVos believes all applicable civil rights laws remain in place, even if they aren't specifically named in the ESSA regulations.
"An added benefit of additional flexibility is that states can focus less on paperwork and compliance and more on actually delivering programs that provide genuine results for the students these laws were designed to support," the department wrote.
DeVos did not take questions, but officials with the council took written questions from the school leaders and promised to get them to the Education Department. A handful of attendees gave her a standing ovation at the conclusion of her speech, but the vast majority stayed in their seats and clapped politely.
---
---
The Dick & Betsy DeVos Family Foundation provided funding to The 74 from 2014 to 2016. Campbell Brown serves on the boards of both The 74 and the American Federation for Children, which was formerly chaired by Betsy DeVos.
Support The 74's year-end campaign. Make a tax-exempt donation now.