DeVos Looks to Reassure, Pledging 'Students Come First' in First Speech to Ed Dept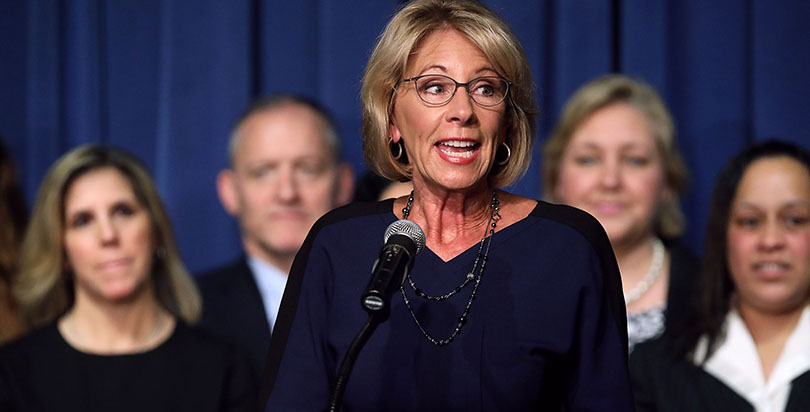 Education Secretary Betsy DeVos sought on her first day in office to reassure the department's employees that she is not the unprepared zealot that became an actual caricature during her pitched confirmation battle.
"Let's set aside any preconceived notions, and let's recognize that while we may have disagreements, we can and must come together, find common ground and put the needs of students first," she said in her introductory remarks to Education Department employees in Washington, D.C.
The event was carried live on C-SPAN, unusual for the typically below-the-radar Education Department, and a marker of how much attention and controversy DeVos has received — and may continue to receive — as she begins her tenure as secretary. Her contentious nomination process came to a close yesterday after Vice President Mike Pence cast a historic tie-breaking vote to confirm her to the office, 51–50.
(The 74: DeVos Confirmed as Ed Secretary After Historic Tie-Breaking VP Vote, Unrelenting Opposition)
Over the past few weeks, opponents have criticized DeVos for her perceived lack of knowledge about education policy, particularly laws protecting students with special needs, and for a rigid orthodoxy that prized charter and private school choice, potentially to the detriment of traditional public schools. Civil rights groups, women's groups and advocates for LGBT students also opposed her nomination, fearing DeVos wouldn't protect those students' educational opportunities and safety on campus.
She indirectly addressed several of those concerns during her 10-minute remarks, highlighting "students who may be struggling" and "special needs students and families to whom we owe our full support" as among the "complex population" the department must "champion."
And she praised the department's "unique role in protecting students," ensuring they have classrooms that foster curiosity and are also "free from harm."
"I'm committed to working with you to make this the case," she said, earning applause.
She also showcased a sense of humor.
"There's no need to pull any punches. For me personally, this confirmation process and the drama it engendered has been a bit of a bear," she said, referring to her now-infamous confirmation-hearing fumble that some schools might need guns to protect from grizzly bears.
In a more serious acknowledgment of the withering criticism she's faced, DeVos thanked her husband, Dick, for being "unfaltering in his support and encouragement" and said she was grateful for her family.
The Michigan-based DeVos family are the billionaire co-founders and co-owners of Amway. Betsy DeVos is a philanthropist who has used her wealth to promote school choice and to support Republican causes and candidates. DeVos has said she will forgo the education secretary's $205,700 salary, accepting $1 instead.
DeVos, who pledged Wednesday to challenge department orthodoxy but also listen to longtime employees' ideas, got backup from leading civil servants who make up the bulk of the department.
She gave her speech flanked by the dozen career employees who have led the 4,400-member department's various agencies throughout President Trump's tumultuous transition.
---
Getting to know the incredible @usedgov team. A true honor to join them! Look forward to meeting each and every one of you. pic.twitter.com/Go28bE1Gg9

— Betsy DeVos (@BetsyDeVos) February 8, 2017
---
Phil Rosenfelt, the deputy general counsel and beloved longtime civil servant who served as acting secretary for the past two weeks, introduced DeVos and expressed optimism that there would be a smooth transition as the department works toward shared goals, even if they "get there in different ways."
Rosenfelt compared touring the department with DeVos and her team and introducing them to career DOE members to his daughter's wedding, saying it was like watching "two families coming together to form a better family of education."
(The 74: Phil-ing In: Meet the Man Overseeing America's Schools While We Wait for a New Education Secretary)
Critics have said DeVos lacks the experience to run a $68 billion–a-year federal agency.
During her speech, she promised to have an open door policy and work with anyone, whether they backed her nomination or not, "to protect, strengthen and create new world-class educational opportunities for America's students."
For the moment, that seems like undue optimism. The leaders of America's teachers unions have already pledged to resist DeVos at every turn. In a Politico article titled "DeVos Foes Promise to Make Her Job Hell," Lily Eskelsen García, president of the 3 million–member National Education Association, said, "There will be no relationship with Betsy DeVos."
---
Protesters greet @BetsyDeVos on her first day at @usedgov. ✊?#resist pic.twitter.com/G39QTRpPhG

— Alt Dept of ED (@Alt_DeptofED) February 8, 2017
---
Other advocates didn't concede DeVos an easy first day, either: Activists protested outside the Education Department's headquarters in Washington, and additional demonstrations were planned at 10 regional offices across the country.
The Dick & Betsy DeVos Family Foundation provided funding to The 74 from 2014 to 2016. Campbell Brown serves on the boards of both The 74 and the American Federation for Children, which was formerly chaired by Betsy DeVos. Brown played no part in the reporting or editing of this article.
---
---
Get stories like these delivered straight to your inbox. Sign up for The 74 Newsletter