DeVos: Dreamers and Other Undocumented College Students Not Eligible for Federal Emergency Aid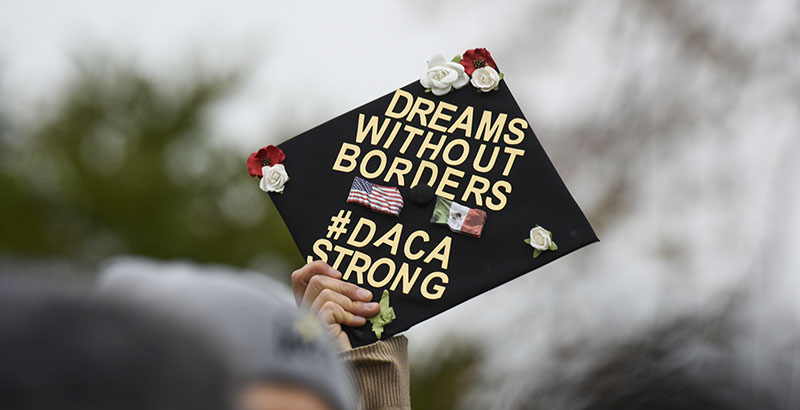 Undocumented students are not eligible for federal emergency assistance that colleges and universities are to distribute under the CARES Act, according to new guidance issued by the Trump administration. Only students who completed or were eligible to complete the Free Application for Federal Student Aid, or FAFSA, can receive a share of the nearly $7 billion in aid.
The U.S. Education Department decision effectively bars undocumented and international students, who are not eligible for federal financial aid programs, from receiving grants intended to defray housing, child care, food and other emergency costs imposed by the pandemic. Some estimates put the number of students rendered ineligible as high as 1.5 million.
The 10-campus University of California enrolls some 4,000 undocumented students. Spokesman Andrew Gordon said the university is disappointed and will continue to advocate for its students regardless of immigration status. "These students will not be left empty-handed," he said. "The university will leverage other institutional funds to replace financial support that these students have been unfairly restricted from accessing."
The law requires colleges and universities to give more than half of the aid directly to students.
A recent report by the advocacy organization New American Economy, which researches the effect of immigration on the economy, put the number of undocumented students attending U.S. colleges and universities at 450,000 — higher than previously thought. Some 216,000 of those students are eligible for the Deferred Action for Childhood Arrivals (DACA) program, which protects some people who were brought to the United States as children.
The future of the program, established by the Obama administration in 2012, is uncertain. President Donald Trump has sought to end DACA, and the Supreme Court this spring is expected to rule on its continuation.
Undocumented youth make up 2 percent of U.S. higher ed students, according to the report, with the majority enrolled in California, Florida, Illinois, New York and Texas. About half were brought to the country when they were 12 or younger. Nearly half are Latino.
It's a second blow for a population largely denied the individual stimulus payments authorized by the same law. Millions of U.S.-born children with undocumented parents were excluded from relief funds, as were undocumented residents who lack Social Security numbers but still pay federal taxes.
The federal guidance comes after nearly a month of tussling between the department and many of the 5,000 colleges and universities expected to apply for the aid. Earlier this week, Politico reported that less than 1 percent of funds had been sent to colleges.
School officials had complained about everything from the process for asking for the money to the lack of instructions on how to distribute it. In turn, the department had accused colleges of being slow to complete applications.
Signed into law March 27, the CARES Act is silent on the question of student immigration status, but department representatives have said they based the new guidance on Title IV of the Higher Education Act, which authorizes the major federal student aid programs. Undocumented students are ineligible for most of those but often qualify for state financial aid, private scholarships or grants from individual colleges.
The CARES Act's higher ed provision has sparked a separate controversy, with several Republican lawmakers who voted in favor of the stimulus package complaining that colleges with large endowments should not apply for a share. In response, a number of universities with large endowments, including Harvard and Stanford, have announced that they will not apply for the funds.
Get stories like these delivered straight to your inbox. Sign up for The 74 Newsletter