New Videos, Photos, and Reactions: DeVos and Weingarten Visit Ohio School Together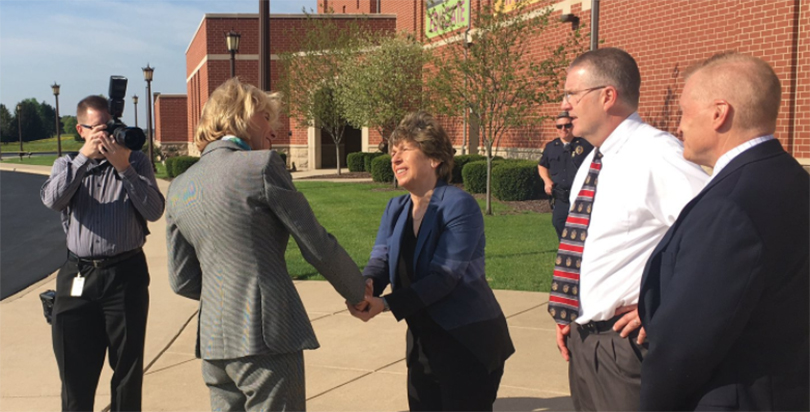 U.S. Education Secretary Betsy DeVos and American Federation of Teachers President Randi Weingarten descended on Van Wert, Ohio, today for the first stop in what has been billed as a multi-school tour by the education policy adversaries.
---
.@rweingarten greets @BetsyDeVosED in Van Wert, Ohio. She thanks DeVos for accepting the invite to tour a great public school. pic.twitter.com/t2Vi2lwDTf

— AFT (@AFTunion) April 20, 2017
---
The visit has been in the making since a few weeks after DeVos's confirmation, when she agreed to visit two school districts with Weingarten. Weingarten, who opposed DeVos's nomination for secretary of education by President Trump, chose Van Wert City Schools as their first stop. DeVos has not made her pick yet, but she has said she intends to find a "school of choice" for their next stop.
When they arrived at the 2,000-student district, which consists of a preschool, an elementary school, a middle school, and a high school, they were welcomed by staff eager to talk about their trials and triumphs educating children.
Check out some of the scene we saw being shared on social media:
.@rweingarten & Sec DeVos being welcomed by local reps, Supt & Mayor of Van Wert @AFTunion @mcropper1 pic.twitter.com/RTO6E1GdSE

— Bob Morgenstern (@MorgyWV) April 20, 2017
Now: @BetsyDeVosED @vwft4088 Pres Hood, @AFTunion Pres @rweingarten @OHEducationSupt to hear how distr meets needs of all children #OFTnow pic.twitter.com/dsxSdO98W3

— Ohio Fed of Teachers (@OFTadvocate) April 20, 2017
We aren't here for a photo op, we're here to see the real challenges that Van Wert and OH face and get a slice of reality. –@rweingarten pic.twitter.com/6hMaeWq0pP

— AFT (@AFTunion) April 20, 2017
Secy. @BetsyDeVosED is visiting Van Wert City Schools today, "a public school district with much to be proud of…" https://t.co/DebwKbH6pb pic.twitter.com/JKsfTd9uGQ

— US Dept of Education (@usedgov) April 20, 2017
She has arrived. Meeting with Van Wert pre k and kindergarten teachers. #Devos pic.twitter.com/3TV1RVx6aw

— Kelly Roberts (@NewsieKelly) April 20, 2017
Secretary of Education Betsy DeVos has arrived in Van Wert to tour school district @WTOL11Toledo pic.twitter.com/2eegHayaQt

— Allie Hausfeld (@AllieWTOL) April 20, 2017
Secretary of Education Betsy DeVos took time to listen to teachers speak about education system pic.twitter.com/KFHCsyrcf3

— Sam Bauman (@SamBaumanNews) April 20, 2017
.@rweingarten and @BetsyDeVosED hear from kindergarten and pre-K teachers pic.twitter.com/peML7hmOan

— Caitlin Emma (@caitlinzemma) April 20, 2017
Early childhood @vwft4088 teachers tell @BetsyDeVosED why early learning is important. @AFTunion @rweingarten #OFTnow pic.twitter.com/qLBosXTMI8

— Ohio Fed of Teachers (@OFTadvocate) April 20, 2017
At roundtable with early childhood (Pre-k/K) teachers, who tell DeVos small class sizes, support staff are crucial. pic.twitter.com/J6bp5jG2Dk

— Erica L. Green (@EricaLG) April 20, 2017
.@rweingarten .@rweingarten and @BetsyDeVosED are back at the High School touring a robotics class. @vwft4088 @OFTadvocate pic.twitter.com/xGQIaMzswm

— AFT (@AFTunion) April 20, 2017
DeVos was going to try using the robot named Suzanne, but then there were technical issues pic.twitter.com/qo8gPrqMUH

— Caitlin Emma (@caitlinzemma) April 20, 2017
.@rweingarten & Sec DeVos learning about a patent application; great things happening in Van Wert schools @vwft4088 pic.twitter.com/QlPEXoXf91

— AFT (@AFTunion) April 20, 2017
DeVos chats with an engineering student pic.twitter.com/0SsUGGF9A9

— Caitlin Emma (@caitlinzemma) April 20, 2017
We showed up today to protest Betsy DeVos's visit to Van Wert. pic.twitter.com/zjDwQENKI1

— Indivisible OH5 (@IndivisibleOH5) April 20, 2017
Protesters greeting #Devos at the high school. pic.twitter.com/vkFYdmvlab

— Kelly Roberts (@NewsieKelly) April 20, 2017
#Devos at her last stop before a press conference. She's now at Van Wert Elementary School. pic.twitter.com/X5EIO6v8Hn

— Kelly Roberts (@NewsieKelly) April 20, 2017
Project-Based learning on full display in Van Wert 5th grade as @rweingarten & DeVos observe @AFTunion @mcropper1 pic.twitter.com/JpndzUbBvD

— Bob Morgenstern (@MorgyWV) April 20, 2017
DeVos talks to 5th graders as they work on an article about children during the Great Depression pic.twitter.com/SGXWIjPvyS

— Caitlin Emma (@caitlinzemma) April 20, 2017
Major props to these 5th graders in Van Wert, somehow carrying on with their day as cameras take over the room for DeVos pic.twitter.com/JzG03t6L5A

— Allie Hausfeld (@AllieWTOL) April 20, 2017
Children won't learn unless we address all needs of children, @AFTunion @rweingarten & Devos are told in Van Wert pic.twitter.com/fevOibl64a

— Bob Morgenstern (@MorgyWV) April 20, 2017
Van Wert high school students who support @realDonaldTrump parked their pickups with flags outside DeVos visit site pic.twitter.com/qH6Yb7RiUG

— Vanessa McCray (@vanmccray) April 20, 2017
You've all written that @rweingarten & @BetsyDeVosED are combatants. DeVos came & saw many great examples of public ed today. We thank her. pic.twitter.com/jraT1qJgKS

— AFT (@AFTunion) April 20, 2017
Weingarten says thank you to DeVos. "You learn how to do this work by doing this work." Says education transcends politics.

— Aaron Franco (@AFrancoTX) April 20, 2017
Get stories like these delivered straight to your inbox. Sign up for The 74 Newsletter