Despite No Plans for One, Pennsylvania Senate Approves Bill Prohibiting COVID-19 Vaccine Mandate for K-12 Students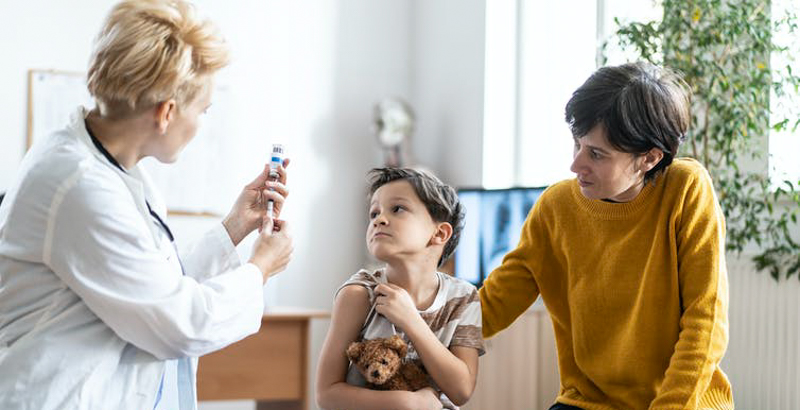 Support The 74's year-end campaign. Make a tax-exempt donation now.
Returning to Harrisburg on Monday for the last session week of the year, Republicans in the Pennsylvania state Senate approved legislation prohibiting a COVID-19 vaccine mandate for K-12 students.
The bill, authored by Sen. Michele Brooks, R-Mercer, passed the upper chamber in a 28-21 vote along party lines. The legislation, which saw pushback from legislative Democrats, would prohibit schools from requiring kids to get a coronavirus vaccine to attend classes.
"This legislation is not about the vaccine itself; it is about parental options," Brooks, whose Senate district has the fifth-lowest vaccination rate in the state, said on the floor. "There's nothing more local than parental options."
Since the pandemic began, GOP lawmakers have contested statewide mitigation efforts, including shutdowns and masking requirements. Stressing local control, Republicans, who hold the majority in the Legislature, argue that parents should decide what is best for their children — not the government or a lone state official.
Contention over pandemic response even prompted a voter-approved constitutional change that curtailed some of the governor's emergency powers.
Additional proposed amendments to limit the state's top public health official have circulated since outgoing acting Secretary of Health Alison Beam enacted a since-terminated mask mandate for K-12 schools and childcare centers in September.
The Wolf administration has no plans to implement a COVID-19 vaccine requirement for K-12 schools, Elizabeth Rementer, a spokesperson for Wolf, told the Capital-Star in an email. Rementer added that the governor opposes the bill prohibiting vaccine mandates for Pennsylvania students, describing it as a "waste of time and taxpayer money."
"[It] is a distraction from the real issues Pennsylvanians are facing that Republicans should be addressing, namely ending the pandemic by encouraging their constituents to get vaccinated, supporting our workforce, and growing our economy," Rementer said.
Legislative Democrats said the bill prohibiting vaccine mandates for Pennsylvania students would constrict officials from responding to the pandemic. Others looked to vaccine requirements already necessary for kids to attend school, including polio, measles, mumps, and rubella.
Brooks, however, said she introduced the bill with the anticipation of a COVID-19 requirement for Pennsylvania students. She also asked her colleagues to consider whether current vaccines required for students to attend school were authorized under emergency use authorization.
"What is curious about this is we don't have a mandate, so we're passing a bill to prevent a mandate that we don't have," Sen. Anthony Williams, D-Philadelphia, said before the vote. "I don't understand that."
Pennsylvania Capital-Star is part of States Newsroom, a network of news bureaus supported by grants and a coalition of donors as a 501c(3) public charity. Pennsylvania Capital-Star maintains editorial independence. Contact Editor John Micek for questions: info@penncapital-star.com. Follow Pennsylvania Capital-Star on Facebook and Twitter.
Support The 74's year-end campaign. Make a tax-exempt donation now.