Despite More Money Than Ever for Summer School to Aid With COVID Learning Loss, Teacher Shortages Threaten Programs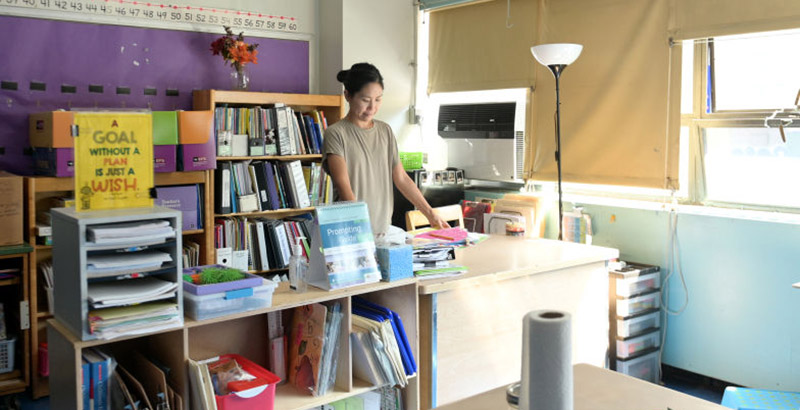 Get stories like these delivered straight to your inbox. Sign up for The 74 Newsletter
Oregon school districts may struggle to make use of millions of dollars set aside to expand summer school and help thousands of students catch up on their education, according to interviews and state records.
Schools in the state have access to more money than ever for summer school due to an influx of state and federal dollars. But district leaders say they may be limited in what they can offer students because of the teacher shortages that have waylaid schools throughout the year.
Last summer, Oregon schools used just half of an extra helping of state money for summer school and a fraction of the more than $1 billion provided from the federal government.
School leaders told the Capital Chronicle this was due to a combination of poor timing, staffing issues and ongoing concerns over in-person instruction during the pandemic.
Now, with summer approaching, schools once again have a record amount of money for summer school programs. The Capital Chronicle reached out to dozens of superintendents across the state to learn what they planned to offer students this summer, and whether they still faced the limitations of last year.
Officials at bigger districts, such as Portland Public Schools and the Salem-Keizer School District said they were planning some of their most ambitious summer programs yet.
Despite efforts to keep kids fully engaged virtually, educators have realized that students at all levels are behind where they would otherwise be in their learning.
"The reality is that we're trying to address 18 months of kids learning at home," said Ryan Vandehey, a media relations officer for Portland Public Schools, of the gaps summer programs hope to fill.
Some districts were preparing to host job fairs and hire high schoolers to provide summer programming. Leaders of some smaller districts said they had no plans to offer summer school.
More money than ever
Last year, Oregon lawmakers approved $205 million for summer programming, with the goal of helping students catch up after a year-and-a-half of online school. It was more than districts had ever been given for summer school. On top of that, the federal government allocated $200 million to be spent on addressing pandemic-related learning losses, the money available until 2025, according to the U.S. Department of Education. The Oregon Department of Education instructed districts that summer school would be an ideal use of that money.
Why didn't more get spent last year?
According to data from the state Education Department, just $4 million of the $200 million in federal dollars was reported by schools as used for summer school. That number is likely too low because of how schools classified expenses, according to Mike Wiltfong, director of school finance at the Education Department.
"For accounting purposes, it comes down to how they coded the resources," Wiltfong said. If they hired teachers for a summer program, "they might have put that under 'staff' instead of 'summer school'" when they submitted their reports to the department for reimbursement.
And schools spent just half of $200 million in state funds made available last year for summer school. District leaders say that's because the Oregon Legislature didn't adjourn until the end of June, meaning the state funding wasn't available to schools until well into the summer, when programs were already underway.
State data show that 161 of the state's 219 school and education service districts utilized the extra state money, according to the state Education Department, along with hundreds of community programs.
Last summer, more than 100,000 students took part in programs, compared with 13,000 during the summer of 2020.
This year, state Sen. Michael Dembrow, D-Portland, and Senate President Peter Courtney, D-Salem, got lawmakers to roll over the unspent $100 million and add $50 million to bring summer school spending up to $150 million for this summer.
Dembrow said he expects more performance by schools this year, that it's "important it be done right this summer and fully utilized."
Of the $150 million, $100 million will go to schools and education service districts and $50 million will go to community groups through the Oregon Association of Education Service Districts, a coalition made up of the state's 19 education service districts.
Smaller districts struggle with staffing
In the North Marion School District, located between Portland and Salem and serving about 340 students, Superintendent Ginger Redlinger wrote over email, "Our challenges are similar to those of other districts: teachers and support staff are burned out as most districts have been short staffed all year."
Redlinger said her district has been suffering shortages of teachers in general, and ones that can teach at different grade levels and subjects.
The district will provide programs to help high school seniors get on track to graduate, and have summer school programs for elementary age students paid for through the federal Migrant Education Program. Otherwise, Redlinger can't use the extra money unless she can find staff.
In other small districts such as Douglas County, Paisley, Klamath County and Harrisburg, summer programming won't be a certainty until they figure out staffing. Harrisburg Superintendent Bryan Starr said by email that "the extent of the program offerings will depend on how many teachers we can get to stay on for summer work."
In Klamath County, district officials are "experiencing limited people who are interested in teaching in the summer," according to Superintendent Glen Szymoniak, who said they are still recruiting.
In the Reynolds School District in east Multnomah County, Steve Padilla, assistant director of public relations, said the district will hold a job fair this weekend to recruit summer school staff. He said district leaders also are gauging how many current employees want to teach over the summer.
With "the stress of being a teacher in the last few years, in covid, many want to take the time off," he said.
Padilla said demand from parents for summer programs for their kids is high and they've partnered with several community organizations to help carry out classes and camps.
Recruiting the high schoolers
One way districts plan to get around staff shortages is to recruit high school students to teach or supervise classes.
In Hillsboro, student interns from the district's Career and Technical Education program will be paid to help teach students skills such as graphic design and robotics as part of a career class.
In Salem-Keizer, Nicole Spearman-Eskelsen, who oversees the district's summer programs, said they'll also pay high schoolers to staff camps and classes for elementary school students. She said the high schoolers "come with a background in the arts and use their technical skills to inspire the younger generations."
In Umatilla, after school director Stephanie Williams-Strege wrote that most staff who helped with summer programming in 2021 have expressed an interest in returning to teach this summer, including high school seniors they had hired to help out. Williams-Strege said they would recruit high schoolers again this year.
Some will forgo summer school all together
In the Fossil School District in north-central Oregon, which serves just over 1,300 students, there will be no summer school. Superintendent Jim Smith said it was not needed since all of the district's high school students are on track to graduate on time.
In the Cove School District east of La Grande, where one school building serves about 290 students, Superintendent Earl Pettit said district officials learned a valuable lesson last year.
"One can create the most robust and engaging programs for the summer but if students don't want to participate and have other things to engage in during summer, those programs will not work well," he said in an email.
The district's programming last summer was poorly attended, and student interest was low, he said.
"Perhaps in a suburban or urban atmosphere such programs would be more well-received," he said.
This summer the district will offer only internet-based classes for high schoolers who need credits to graduate.
Big districts with big plans
In Salem-Keizer, schools will provide programs for high schoolers, jumpstart programs to prepare new kindergarteners, middle and high school students for the next year, and camps focused on the arts, according to Spearman-Eskelsen.
Historically, Hillsboro School District has just offered classes for credits during the summer. This year, the district will use extra state and federal money to add students enrichment classes in math, literacy and language development, according to Travis Reiman, assistant superintendent of academic services.
Portland Public Schools will use $9 million of federal funding and $8 million of state summer learning money to pay for programs.
"Last summer we made a big push to have an intensive set of options," according to Vandehey, "and this year we have a massive suite of extracurriculars with the additional dollars."
A push for year-round school
Dembrow and Courtney see robust summer school funding as a stepping stone to year-round school. They plan to continue advocating for hundreds of millions in summer school funding.
In February, Courtney told the Capital Chronicle that, "In the end, it's the beginning of really talking about a full year of school."
Vandehey said school officials are considering how they can sustain such summer programs in Portland going forward "for at least next few years if not indefinitely." Vanderhay said turnout for credit recovery programs and enrichment classes and camps was high last year and is expected to be so this year.
"There was a lot of positive response. There were waiting lists last year on some of the programs," he said.
Oregon Capital Chronicle is part of States Newsroom, a network of news bureaus supported by grants and a coalition of donors as a 501c(3) public charity. Oregon Capital Chronicle maintains editorial independence. Contact Editor Les Zaitz for questions: info@oregoncapitalchronicle.com. Follow Oregon Capital Chronicle on Facebook and Twitter.
Get stories like these delivered straight to your inbox. Sign up for The 74 Newsletter