Descant: 5 Ways Parents Can Help Their Children and Teens Build Resilience Even in Times of Crisis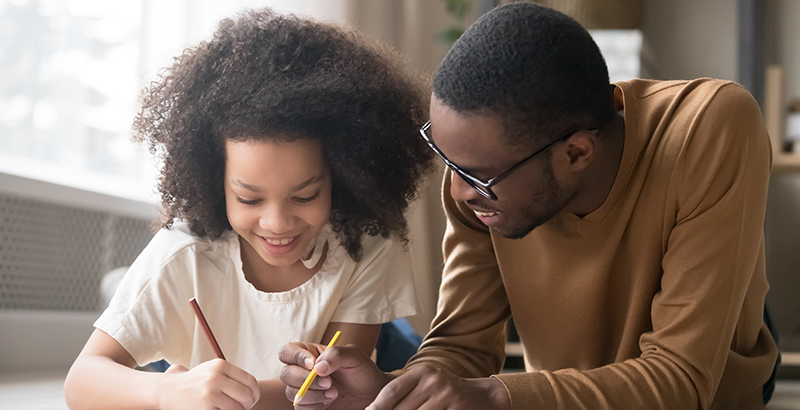 Families are tirelessly working to reach some sense of normalcy as the country moves from one crisis to another. How much is too much for children to endure, and how can adults assist them in coping with such traumatic events?
Parents can help their kids build resiliency even in the face of extreme adversity.
Adversity in the Houston area, where my nonprofit is based, is evident in the wake of a devastating winter storm, hurricane and COVID-19: home displacement, loss of school days, fear for safety. Poverty, community violence and hunger impact too many families in Houston and beyond, as do family conflict, unaddressed mental health issues, exposure to drugs and alcohol or the sudden loss of a parent to death, incarceration or deportation.
The common thread is severe, sustained stress over which the child has no control. Adversity can interrupt the brain's development of core life skills and redirect it toward automatic responses — flight, fight or freeze. When these become the default setting, children lose the capacity to concentrate, exhibit a diminished ability to plan for the future, have difficulty tracking routine details in their lives and struggle to find solutions to problems.
But adults can help children develop the resilience to cope with the incredible challenges they are facing now and may encounter in the future. Research from Harvard's Center on the Developing Child indicates that "the single most common factor for children and teens who develop the capacity to overcome serious hardship is having at least one stable and committed relationship with a supportive adult."
This is why the work of Communities In Schools is based on building trusting, supportive relationships with students by reaching out to bolster their families.
It can be difficult for children and teenagers to understand the trauma of missing reliable school meals, daily classroom routines with friends and after-school or family activities. Here are some ways parents can help:
1. Create a safe space. Dedicate a physical space at home for children to have regular time on their own to recognize and process their emotions. Whether a corner of their room with books and plush animals for little ones or a long bath listening to music for older kids, we all need time to unwind. Think calm, creative and private.
2. Explain that we all need help at one time or another and model this behavior. Encourage children to seek aid when struggling, to pay attention to friends' pleas for help and to recognize when to ask an adult to step in.
3. Listen intently. Reserve any judgment, frustration and unsolicited advice. Just listen.
4. Offer support to help them solve the problem: "Would you like my thoughts/ideas?" Give them a sense of mastery and confidence to be able to manage difficulty as it comes.
5. Create opportunities to do something they can control and help them focus on something positive, like keeping a journal or helping others.
There is no way for children to go back to the normal they once knew, but with the support from a caring adult, they can build the resilience to get through these difficult times and tackle the challenges ahead.
Lisa Descant, a licensed professional counselor and family therapist, is CEO of Communities In Schools of Houston, which supports more than 125,000 students and their families by working with community partners and educators.
Support The 74's year-end campaign. Make a tax-exempt donation now.