DeSantis Approves Boost to Parental Input on School Library Books; Critics Fear Bans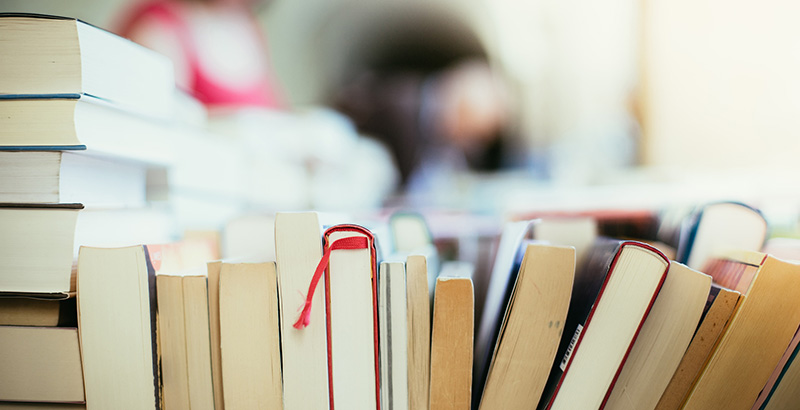 Get stories like these delivered straight to your inbox. Sign up for The 74 Newsletter
The DeSantis administration has been working to increase parental control over their children's education on the premise of "parental rights" spanning school choice options, COVID vaccine requirements, mask mandates, and more.
On Friday, DeSantis signed legislation (HB 1467) to allow parents greater opportunity to review, and potentially object to, school library books that they find "inappropriate," with the goal of removing questionable material from school libraries, even if other families are okay with the content.
Critics fear the result will be a wave of book challenges in school libraries, potentially pulling books off of shelves regarding LGBTQ people and racism in the United States pending review of these materials and perhaps permanently.
Still, DeSantis praised the effort.
"What this is going to do is it's going to require transparency with respect to materials that are being taught in classrooms and what's available in school libraries," he said Friday during a bill-signing ceremony in Volusia County.
The event took place at Embry-Riddle Aeronautical University, a private institution, and the governor took no questions from reporters. Several Florida lawmakers and Education Commissioner Richard Corcoran joined him.
DeSantis argued the new law, effective July 1, 2022, will provide parents the ability to review and object to materials that they find to "deviate from state standards or just to be inappropriate."
"We have the ability to choose what is appropriate for different age groups," he said.
"Adults have access to whatever they want to have access to but, when you're talking about some of these kids, particularly young kids, you know, to have some of these really graphic stuff in there is not in the best interest in the parents or the students. So, parents are going to have the ability to have their voice heard."
What the legislation does
The law works to integrate "public participation" in the material-selection process for school districts, meaning parents and community members would be more included when school districts consider new books and instructional materials.
Should parents or community members object to any materials, school boards must report those objections to the Department of Education.
The department will publish a list of "materials that were removed or discontinued as a result of an objection and disseminate the list to school districts for consideration in their selection procedures," the law says.
All elementary schools would have to publish "in a searchable format" a list of materials in the school library or on a required reading list.
The law calls for the "regular removal or discontinuance of books based on, at a minimum, physical condition, rate of recent circulation, alignment to state academic standards and relevancy to curriculum, out-of-date content," and additional reasons.
To LGBTQ advocates and others concerned with protecting free speech in schools, that forebodes censorship.
For example, following the bill signing, LGBTQ-advocacy group Equality Florida tweeted Friday:
"Today @GovRonDeSantis continues his censorship and surveillance agenda by signing HB 1467, which anti-LGBTQ proponents have touted as an opportunity to ban more books in schools.
"This weaponizes the DOE, requiring it to publish a list of books banned by any school district & circulate it to all other districts. It's an attempt to deprive even more students of access to educational materials, regardless of whether parents want them to have access."
The bill follows a trend of books being pulled from school libraries in Florida and across the nation.
Free-Speech advocacy group PEN America identified HB 1467 as one of four Florida bills that "censor classroom subjects and ideas, according to a March 17 post.
That group noted that it is "difficult to divorce the legislation (HB 1467) from its larger political context."
"There is a concerted campaign underway across the country to ban books and instructional materials containing 'objectionable' content. Often, that content amounts to little more than an acknowledgment of LGBTQ+ identities or the existence of racism or sexism," the organization said.
"The purpose of HB 1467 is to facilitate that campaign. By creating a centralized list of every objection leveled against a book, film, article, handout, or instructional software program somewhere in the state, school districts will be under enormous pressure to skirt all controversy and adopt only the safest, most anodyne materials possible. This may be a good strategy for avoiding controversy, but it is no way to educate a child. And if recent trends are any indication, first on the chopping block will be materials related to LGBTQ+ identities, sexuality, diversity, and racism."
Book challenges in Florida
There have already been efforts to limit what materials are available in public school libraries in Florida.
A notable example is in central Florida, where the Polk County school district removed 16 books from school libraries in late January following complaints from parents, The (Lakeland) Ledger reported.
These books have not been officially banned, as the titles are still under review, but students can't check out these books in the weeks it takes for the district to review the them.
Many of these books discuss on the experiences of LGBTQ people. Some parents found contents too explicit and inappropriate for children.
One of the books is "I am Jazz," which documents the life of a young transgender girl in South Florida. Another is "Two Boys Kissing," which explores the experiences of young gay boys.
The books in the list are not just focused on LGBTQ issues, either.  Two were written by the late author, Toni Morrison: "The Bluest Eye" and Pulitzer-prize winning "Beloved."
As of Friday, only four books had been fully reviewed by committees selected to analyze the books, according to the district website.
Jason Geary, with the Polk County school district, told the Phoenix last week that none of the 16 books had been returned to school libraries, as they still require consideration by the district superintendent and a final decision from the Polk County school board.
The district is on spring break this week and the Phoenix was unable to receive an update.
School board term limits
HB 1467 also imposes term limits on school board members.
DeSantis says he's a "big believer" in term limits on all levels of government, and said that term limits should be imposed on Congress as well, invoking a old Donald Trump tagline from when he ran for president.
"You know, I don't see how you 'drain a swamp' when you have people there for 30 or 40 years," DeSantis said. "It just doesn't work that way. So, this is very good for school boards, and, you know, you don't want little swamps in a school board either."
During the legislative session, disagreements emerged between the House and Senate over how long these term limits should be. The House wanted board members to serve no more than eight years, but settled with the Senate on 12-year limits.
"While it's not everything that the House wanted, or maybe what you wanted, governor, it represents a major step forward," Rep. Sam Garrison, a Republican who represents part of Clay County, said during the Friday event. He sponsored the legislation as it went through the 2022 session.
Garrison had wanted to eliminate the salaries of school board members, but backed down after a backlash and warnings against potential sexism (given the high proportion of women in these roles). Instead, he opted for term limits.
Education Commissioner Richard Corcoran said that term limits are "long overdue" for Florida school board members, and referenced some of the bad blood between his department and a handful of school boards that went against state officials by placing strict mask mandates on students during the surging COVID pandemic in fall of 2021.
DeSantis noted that Floridians do not have to wait for board members to term out.
"I'm a big believer in term limits," he said, but added: "You know, you don't always have to wait for that to attach, you can throw the bums out in the election.
"If they mistreated your kids, if they didn't follow the law or they did all the, anything, you have the opportunity for many of them to be up for reelection."
Florida Phoenix is part of States Newsroom, a network of news bureaus supported by grants and a coalition of donors as a 501c(3) public charity. Florida Phoenix maintains editorial independence. Contact Editor Diane Rado for questions: info@floridaphoenix.com. Follow Florida Phoenix on Facebook and Twitter.
Get stories like these delivered straight to your inbox. Sign up for The 74 Newsletter