DeKalb Elementary: Filmmaker Behind the Oscar-Nominated Short Talks About the Georgia School Shooting That Wasn't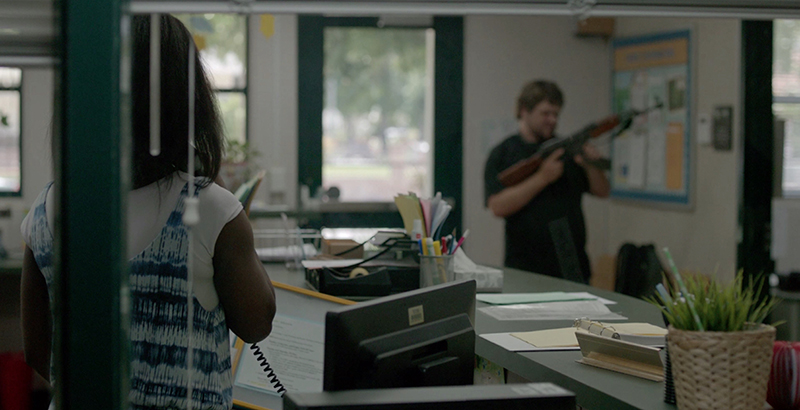 Leading up to the 90th Academy Awards, The 74 shares three education films that have been nominated for Oscars.
It was a school shooting with a very different ending.
On Aug. 20, 2013, a man walked into an elementary school in DeKalb County, Georgia, with an AK-47 and 500 rounds of ammunition. Shots were fired. Students were in lockdown. But no one got hurt.
Many say that is thanks to Antoinette Tuff, the school bookkeeper, who talked the shooter down — literally onto the floor — persuading him to hand himself over to the police instead of harming innocents.
This scene of empathy in the face of horror is the focus of DeKalb Elementary, nominated for an Oscar for Best Live Action Short Film. The 20-minute movie is based on the real 911 call from McNair Elementary School, where Tuff kept dispatchers on the line as she tried to calm down the shooter, Michael Hill.
Filmmaker Reed Van Dyk came across the 911 call accidentally, as he was working on another project for his master's in directing at UCLA. He couldn't stop listening to the recording, filled with questions about how Tuff could remain calm, authoritative, and shockingly empathetic in a situation that has played out too many times in schools across the U.S.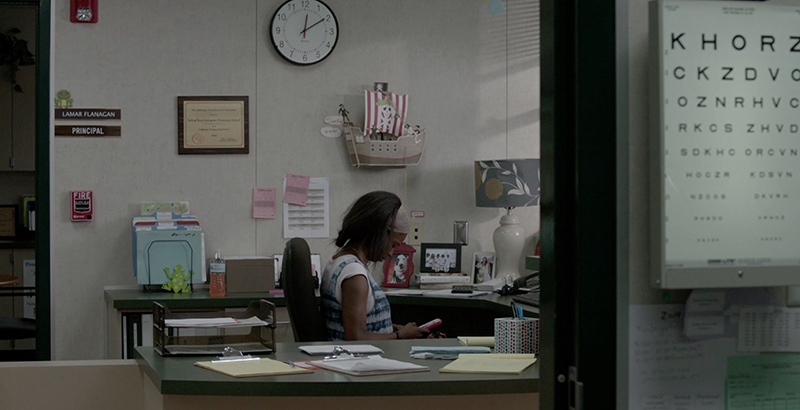 "The fact that she was able to see a suffering person and a person who was in need of help… It's extraordinary," Van Dyk told The 74.
The entire film takes place in the elementary school office, delving into the relationship formed between Hill and Tuff, played by Bo Mitchell and Tarra Riggs.
Hill confided in Tuff that he was mentally unstable and off his medication. She then told him her own story, of having tried to commit suicide after her husband left her. "But look at me now. I'm still working and everything is OK," she told him.
After Hill said he'd turn himself in to the police, Tuff told him she loved him and was proud of him.
Hill pleaded guilty and was eventually ordered to serve 20 years in prison. Tuff, who said her faith helped her navigate the most frightening experience of her life, was praised as a hero and published a memoir about her experience.
The outcome of this shooting is very different from the tragedies that have claimed hundreds of lives in U.S. schools, most recently 17 students and adults in Florida. But Van Dyk pointed out that Hill was very different from the other mass shooters: He quickly made it clear that he wasn't trying to hurt kids, but instead wanted to attack the police. He was also willing to engage in dialogue with Tuff.
Still, as debates rage around the need for gun control and mental health services, there's also room in the conversation for the role of empathy, Van Dyk said.
"We have to keep trying to understand people, and why, in America, young men keep walking into schools trying to take as many lives as possible," he said. "Understanding and empathy are essential."
Van Dyk said he hopes his film can help extend the discussions around why these shootings take place, discussions, he said, that "end all too abruptly."
Watch the trailer:
Support The 74's year-end campaign. Make a tax-exempt donation now.