DeGrow: New Detroit Supe Wants to Compete With Charter Schools. How He Can Start Raising the Bar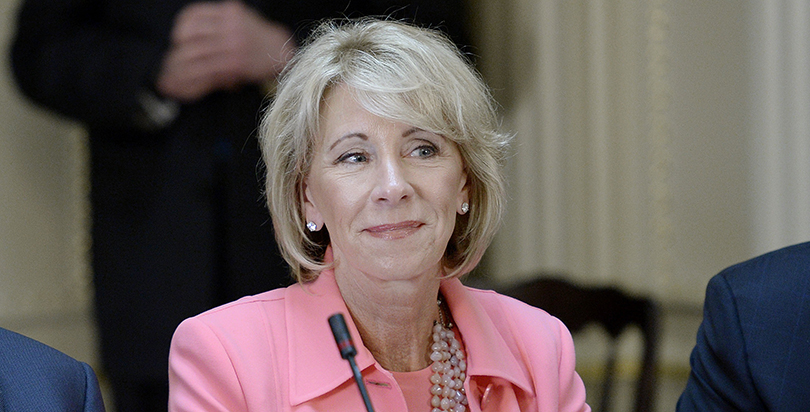 The kids of Detroit face a crucial crossroads. But the burden of charting a better educational future lies mainly with the adults, and few have a bigger role than the newly hired superintendent who left a plum job for a major career challenge.
The Motor City's bleak educational landscape attracted attention in recent months when Michigan school choice champion Betsy DeVos was picked to head the U.S. Department of Education. It's worth another look as Nikolai Vitti takes over the troubled Detroit school district, leaving behind his job as superintendent of schools in Duval County, Florida. Late last week, he formally agreed to serve as Detroit superintendent with a $295,000 starting salary.
Some tried to make hay out of Detroit by crafting the fake news story that the public charter schools backed by DeVos have underachieved and lack
accountability
. These charter schools exist because parents have sought better, safer options for their children. Overall, the results from Detroit's charters have raised the bar for the incoming schools chief. Local board control has been restored, and schools under the state's dissolved reform district, the Education Achievement Authority, soon will return to the Detroit district.
Vitti can raise the bar further, but it won't be easy. Detroit Public Schools Community District's academic woes are unequaled. Two dozen schools escaped the threat of closure only by agreeing to the state's three-year improvement plan. The district has been rated the nation's lowest-performing urban district for math and reading three times running, and there are no clear prospects for improvement. Outgoing interim superintendent Alycia Meriweather publicly
predicted
that the district would need eight to 10 years before seeing signs of academic improvement. Students currently being educated in the system can't afford to wait that long.
Over time, many families have fled. District enrollment is down 70 percent from 15 years ago. Many more Detroit youth attend charter schools or neighboring districts than the 45,000 who remain in the system. The best available research, from CREDO at Stanford University, says city charter students gain about three months of extra learning in math and reading, with nearly all charter schools equaling or exceeding their district counterparts. But overall achievement in Detroit still needs a lot of improvement.
Detroit's charters achieved their gains while bringing in 57 cents for every dollar the district collects — more than $18,000 per student in 2015–16. Months after the Legislature kicked in an extra $617 million to cover past debts and new expenses, the reconstituted Detroit school district began running a deficit. Stronger oversight is needed in a system that has seen more than its share of scandal. Most recently, a dozen former principals pleaded
guilty
to taking kickbacks from a crooked contractor.
Headlines also focused on mold, mice, and other deplorable conditions in many Detroit schools, which fueled teacher sickouts and cries for change. Less reported was the fact that in 2009, the district raised $500 million in bonds to finance building improvements.
In its 2016 reform bailout package, the Legislature rejected local political leaders' plans to help DPS by creating a commission with the power to strangle the growth of charter schools. During his job interview, however, Vitti expressed a desire to revive the district by attracting students back rather than forcing alternative providers to shut down.
"We are going to put charter schools out of business," the prospective superintendent
said
. "Why and how? We're going to offer a better product. If this is a marketplace, then we're going to compete."
Now officially hired, he has hedged his bets. In a Detroit Free Press
interview
, Vitti said the first step in competing with charters is "to lobby strategically and unapologetically to create better quality control of the charter authorization process." Yet the 2016 reform legislation allows only accredited authorizers to open new Detroit charters.
Before he starts lobbying, Vitti should focus on improving the "quality control" in DPS. The same legislation offers a handy measuring stick. Detroit schools, both district and charter, will start receiving letter grades for performance this year.
A similar accountability system that operates statewide in Florida helped motivate most low-ranking Duval County schools to improve under Vitti's watch. During his four-year tenure, he led aggressive reforms that increased the variety of options within the district: dual enrollment, International Baccalaureate, and specialized programs for dyslexic and gifted students.
But turning around the nation's lowest-achieving district figures to be more difficult, even with a new school grading system in place. Vitti has other tools at his disposal to help attract and promote high-quality teachers to Detroit. Unlike most large Michigan districts, DPS has followed state law by rewarding teachers with extra pay for improving student test scores and demonstrating exemplary professional behavior.
Many critics of the new education secretary have portrayed choice as a threat to traditional public schools. Betsy DeVos has
responded
by restating her commitment to promoting great results for kids, regardless of the school label.
The hard-charging new superintendent in the largest district in her home state will have a platform for competing to bring back students. Vitti deserves our best wishes to take on and conquer the steep challenge of improving the educational product in Detroit's conventional public schools.
But true success can come only if power remains in the hands of parents, not politicians.
Ben DeGrow is director of education policy for the Mackinac Center for Public Policy, a Michigan-based research institution. Follow him on Twitter: @bendegrow
Get stories like these delivered straight to your inbox. Sign up for The 74 Newsletter