An 'Illegal' Strike Continues: WA Teachers March Wednesday, Defying Judge Yet Another Day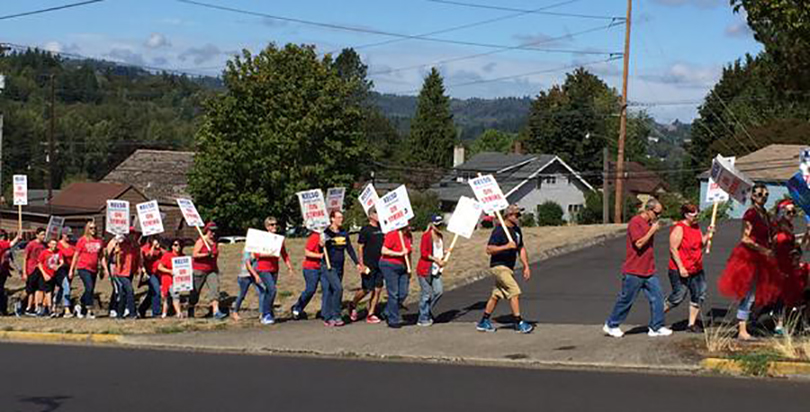 Updated Sept. 23: The strike continues for yet another day.
While the recently concluded Seattle teachers strike grabbed more headlines (and caused headaches for
far more parents
), a teachers strike 100 miles south in Kelso, Wash. has generated a good deal more drama.
On Sunday, the strike in the southwest Washington town took a turn for the criminal as Kelso's public school teachers voted 221 to 20 to continue their work stoppage in defiance of a judge's explicit order that they must return to work.
Cowlitz County district court judge David Koss's order enjoined teachers to show up for work by Tuesday because, he ruled, the strike is illegal under Washington law.
However, Sunday's vote has ensured that classes in all Kelso schools will not occur on Tuesday as the faculty of over 300 teachers will continue to refuse to show up for their jobs.
Tuesday will mark the seventh straight day Kelso students will miss all classes.
"You fight for it because that's your right to do that. We did that and you could feel it in the air tonight," the Kelso Education Association spokeswoman added on Sunday.
"What I'm hoping is it sends a message to the district: 'Look, let's sit down at the table, so that we can go back to the table,'" DeBruler
told the Longview Daily News
, a newspaper local to the Kelso area.
Kelso school board president Patty Wood said her side never left any table.
"We will remain at the bargaining table," Wood told the Daily News. "We're still intent on reaching a contract."
Salary issues remain the biggest sticking point between the two sides. Kelso teachers want to be paid more money for the time they spend in training and for class preparation. The union wants teachers to receive salary equal to 28 days for this work. District officials have offered 23 days' additional pay.
The union demand would cost the school district $575,000 over the next two years. That amount represents about one percent of the district's annual budget, the Daily News notes.
Koss, the district court judge who ordered Kelso teachers back to work, warned that a failure to follow the order would result in penalties. He did not specify what the penalties would be.
The judge has scheduled a hearing for early Wednesday morning to monitor the progress of his court order.
Kelso school district spokeswoman Casey Gleysteen
told Portland Fox affiliate KPTV
that district officials have not considered the option of hiring substitute teachers — yet.
Support The 74's year-end campaign. Make a tax-exempt donation now.