Decades After a Civil Rights Leader's Murder in Washington, a 10-Year-Old Stumbled Upon His Plaque — and Restored His Place in History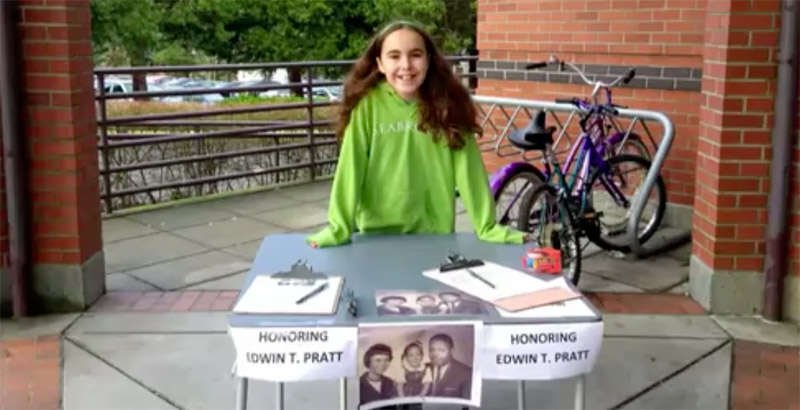 This article is one in a series at The 74 that profiles the heroes, victories, success stories, and random acts of kindness found at schools all across America. Read more of our recent inspiring profiles at The74Million.org/series/inspiring.
Sarah Haycox happened upon her calling in 2016 as she headed home from playing in a soccer game.
What first intrigued Sarah, now 10 years old, about the small memorial plaque affixed to a tombstone-like slab across from the field (and outside a public restroom) was how young Edwin T. Pratt was when he died — in 1969, the year of his 39th birthday.
"Wow, that's a really short life," the fourth-grader from Shoreline, Washington, said in a CBS News profile. "That's not typical."
The sad truth about the prominent civil rights activist would come out. Pratt, the first black person to move with his family into her town, was shot to death on the steps of his home while his wife and daughter were inside, nine months after the assassination of the Rev. Martin Luther King Jr.
When Sarah embarked on her 15-month quest to find out about Pratt, she had never even heard of him. Now everyone in her school and town, as well as people across the country thanks to the national news coverage, knows of the accomplishments in his well-lived if too-brief life.
And Sarah's job required a whole lot more than just Googling and social media posts.
She went old-school, poring through stacks of newspaper clippings and doing research to learn everything she could about the inspirational figure. Pratt worked his way up to executive director of the Seattle Urban League and campaigned tirelessly for the desegregation of the city's public schools, and for fairness and racial equality in housing and jobs.
The turning point came when Sarah noticed that her district was building an early learning center across the street from her school. It had not yet been named.
That's when the indefatigable youngster really put her boots to the ground.
Taking to the microphone at numerous school board meetings with the poise of a driven social justice activist herself, Sarah spoke at churches and in classrooms, went door-do-door and online, served on committees, and launched a letter-writing campaign in support of naming the facility after Edwin T. Pratt. She garnered more than 2,000 names on a petition to that end.
Salute to this young hero…."Ten-year-old Sarah Haycox says she was just walking through a park in Shoreline, Wash.,…

Posted by Kwame Vear on Monday, June 18, 2018
"It was just the lack of recognition that really, I think, maybe stunned me," Sarah told CBS's Steve Hartman. "I just felt like he's gotta have something more than just a plaque outside of a bathroom."
On May 21, Sarah's efforts paid off when the school board voted unanimously to name the learning center after Pratt.
But her work here is far from done. This month Sarah launched a GoFundMe campaign to help bring Pratt's family to the dedication of the center in 2019, a half century after the civil rights crusader's death. The site also seeks funds to commission an artist of color to paint a mural honoring Pratt on the building's exterior.
"She did a ton of stuff," said Curtis Campbell, spokesman for Shoreline Public Schools. "It's difficult times, but brighter futures are ahead of us, and it's because of kids like Sarah."
Loved the @OnTheRoadCBS story this week on @CBSSunday about Sarah Haycox and her work to honor local civil rights hero get the recognition he deserves. Help Sarah on the next step in her journey to honor Edwin T Pratt with a proper memorial. https://t.co/49paq6vvuv

— We💛SundayMorning🌞 (@sundaymornexp) June 17, 2018
Go Deeper: This article is one in an ongoing series at The 74 that profiles the heroes, victories, success stories, and random acts of kindness found at schools all across America. See our most recent inspiring profiles at The74Million.org/series/inspiring, and get the latest additions delivered straight to your inbox by signing up for The 74 Newsletter.
Submit a Letter to the Editor