DeBaun: Drop in FAFSA Completion Is a Slow-Motion Train Wreck for College Enrollment & Students' Futures. It's Not Too Late to Stop It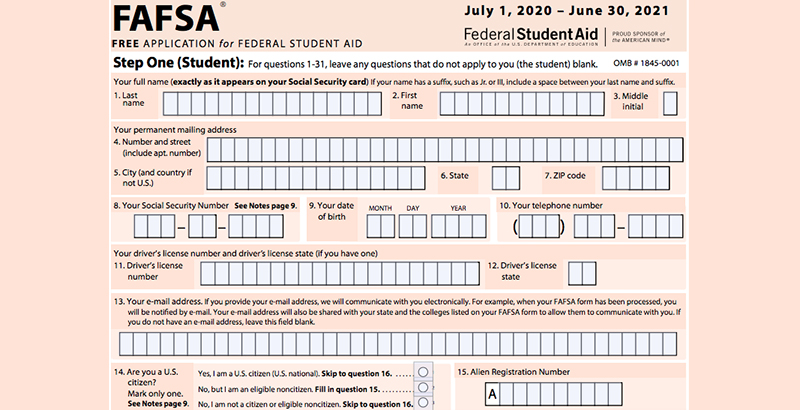 Leading up to Oct. 1, I told colleagues, partners and the media not to put too much stock in the results of the first week of completion data from the Free Application for Federal Student Aid. The FAFSA is a form that students complete to request federal grants and loans to help pay for college.
Now, six weeks into this nascent FAFSA cycle, I'm worried. Really worried.
Oct. 1 is a major annual financial aid milestone because it is the first day students can begin submitting their FAFSA forms to receive financial aid during the upcoming school year. Schools and programs working with students and families circle that date on their calendars well in advance. The FAFSA matters a lot as a key signal of intent to attend college and a leading indicator of postsecondary enrollment; 90 percent of FAFSA completers start college directly after high school, compared with 55 percent of non-completers.
This is the fourth year the National College Attainment Network is reporting weekly on high school seniors' FAFSA completion trends through its interactive tracker. Prior years demonstrate that early fluctuations are common in the first week or two but afterward stabilize to show a clear trend.
Through Oct. 30, completions are down 16.1 percent, which amounts to roughly 117,000 fewer completions than in the previous year. Our dashboard keeps a leader board reflecting progress in filing FAFSA; we can't even round out a top five right now because only Puerto Rico, Georgia and Hawaii have more FAFSAs completed than they did last year. Among Title I-eligible public high schools, those serving large proportions of students from low-income backgrounds, the deficit is even higher; these schools have 18.6 percent fewer completed FAFSAs through late October compared with last year.
These findings are both bleak and pervasive.
The National Student Clearinghouse Research Center, through a series of monthly updates, reveals a 4 percent decline in fall undergraduate enrollment across all types of two- and four-year colleges and universities. For first-time college students, that decline is an eye-popping 16.1 percent. When taking a deeper dive into the data, the decline is greatest among community colleges, the underfunded workhorses of American higher education. This fall, community colleges saw a 22.7 percent decline in first-time students enrolling through Sept. 24. These declines follow in part from FAFSA completion for the high school class of 2020 declining 4.2 percent compared with the previous year, representing more than 100,000 fewer students.
Our country's response to the coronavirus continues to injure every facet of our education system, including FAFSA completion, so the declines are unsurprising under the circumstances. Many students are facing economic uncertainty, food and housing insecurity, and tenuous access to tools and resources like electronic devices and broadband that would connect them virtually to the classroom. In a hierarchy of needs, FAFSA completion is less of a priority among those other necessities. Similarly, most districts and schools have their hands full just providing instruction, and FAFSA completion efforts fall by the wayside.
All this amounts to a slow-motion train wreck, present and future, for higher education enrollment. The educational trajectories of millions of students are on the line, as are their own economic futures and those of their families, communities, states and the nation overall.
States must take the lead in connecting students with the advising support they need. Washington, for one, has created a statewide texting chatbot to which students can send questions. Arizona has a similar tool focused on financial aid. Illinois provides mentors who are current or recent college students to assist high school seniors in navigating the college-going process; the state has continued support during the pandemic and moved events like financial aid completion workshops to a virtual platform. Rhode Island has several virtual or text-based FAFSA completion initiatives all available via Prepare-RI.
States must also seek out and cut the red tape associated with getting data about which students have completed their FAFSA into the hands of districts, schools and trusted nonprofit partners that are advising students on college application processes. Understanding this is key to sending supports to the right students. States can also provide technical assistance directly to schools, counselors and families, giving all three direct support in troubleshooting FAFSA applications.
The switch to virtual advising has proven extremely difficult for many districts and schools. Given demands on professionals' time, school leaders should focus on a few things. They can use the fall to raise awareness about the FAFSA and assist students who are already college-bound. In winter and spring, counselors can target students who may need more assistance, and provide one-on-one support throughout the financial aid process. Districts or schools can build a community calendar of virtual events such as workshops or one-on-one advising sessions that help seniors complete their FAFSA. They can also take advantage of this virtual advising guide.
It's unclear whether it's optimistic to believe that completion of the FAFSA for the 2021-22 school year could improve with a vaccine and/or more certainty about what next fall looks like. Either or both could shift students' plans in the new year and drive them toward enrollment in the fall. Unfortunately, a lot of first-generation students, many of them from low-income backgrounds and/or students of color, may have their postsecondary intentions scuttled before they get that certainty.
The FAFSA is sometimes referred to as the canary in the coal mine for college enrollment. Well, we are barely into the mine, and the canary isn't singing. To make a difference for students and their postsecondary futures, the best time for states and schools to act on FAFSA completion was before this cycle started. The next-best time is right now.
Bill DeBaun is director of data and evaluation at the National College Attainment Network.

Get stories like these delivered straight to your inbox. Sign up for The 74 Newsletter