'This Is What Democracy Looks Like': D.C. Students March on the White House to Protest Trump's Election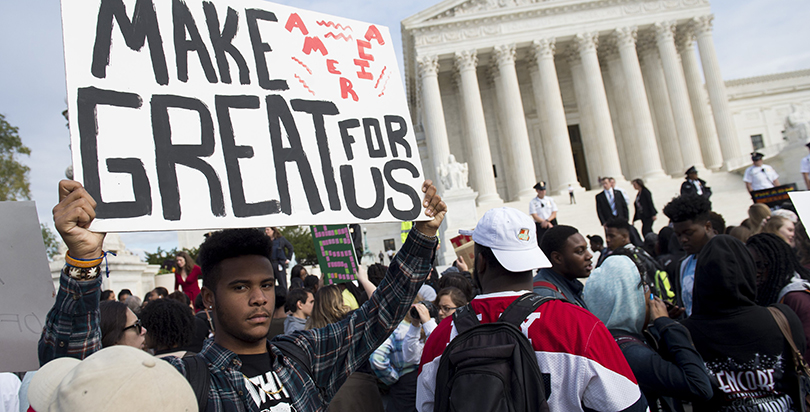 Washington, D.C.
Much has been written about how official Washington — the bureaucrats, lobbyists, congressional staffers and other insiders who make up the industry of government — is reacting to the surprise election of Donald Trump as president.
On Tuesday, it was unofficial Washington — the "District of Columbia" part of Washington, D.C., and the young people who inhabit it — that made clear, in no uncertain terms, their opinions of the president-elect.
Hundreds of high school students from both traditional and public charter schools in Washington and nearby suburbs took to the streets Tuesday to protest Trump's election, marching for more than three hours as they walked for five miles past the country's halls of power.
While students were protesting Trump in what will be his new residence come January, hundreds of New York City teens were doing the same at the president's current address. Marching through the pouring rain, Manhattan high schoolers chanted "Education not deportation," as they converged on Trump Tower Tuesday, Chalkbeat reported. Similar student demonstrations have erupted across the nation this week, including in the D.C. suburb of Montgomery County, Maryland, and in Los Angeles on Monday.
Tuesday's Washington protest, which made stops at Capitol Hill, the White House and the Trump Hotel, started shortly after noon, when students walked out of classrooms across the city and made their way downtown.
As wave after wave of students poured out of nearby subway stations, friends Zakkiyya Ali and Daniela Shia-Sevilla, students at the Duke Ellington School for the Arts, linked arms.
Trump is a "threat to all of us," Shia-Sevilla said. The president-elect, born into privilege, "doesn't understand us," she said.
The students gathered outside the newly opened Trump International Hotel, chanting, "We have rights," "Love trumps hate," "Not my president," and "America votes for Hillary, the system votes for Trump."
Abigail Koerner, a senior at Wilson High School, volunteers with the Young Women's Health Project, working to give better sexual health information to her peers. She said she was concerned about Trump and Republicans' proposals to defund Planned Parenthood and perhaps roll back abortion rights.
"This election has given my life purpose" to stand up for people who don't have a voice, she said, tearing up behind her tortoise-shell glasses.
The worst part, Koerner said, was that if only millennials had voted, Hillary Clinton would have won.
"Our future was decided for us," her friend Sue Thua said.
Several female students held signs reading "Pussy grabs back," a reference to the 2005 tape in which Trump was recorded bragging with Access Hollywood host Billy Bush about sexually assaulting women. Trump has called the tape "locker room talk" and dismissed women who subsequently went public with allegations of harassment and assault by Trump.
From the Trump Hotel, the students walked east on Pennsylvania Avenue toward the U.S. Capitol.
There, Derrick, a student at Eastern High School who declined to give his last name, used several expletives in describing how the president-elect would damage the country, particularly regarding immigration.
Trump's message goes against the basic premise of equality in the country, his friend Chris Goings said, perhaps trying to put a more publication-friendly spin on Derrick's rant. "That's what we all are: equal," he said.
Later, Solly Maya, a student at Bethesda–Chevy Chase High School in Maryland, said he was there in solidarity with the other local students protesting Trump's divisive rhetoric.
"Not doing anything was kind of giving in," he said.
The protesters looped around the Capitol, pausing at the Supreme Court before venturing on past the Library of Congress and House office buildings. Onlookers — including House staffers in the Cannon Office Building, students on a field trip to the Capitol and drivers whose cars were trapped by the human wave — cheered and honked for the young demonstrators.
Unofficial Washington, of course, was not Trump Country.
Hillary Clinton won 91.8 percent of the vote in D.C., her highest margin in the country by far. Adults have been protesting throughout the city since the election, and The Washington Post ran a story with the headline "No, you cannot have a giant bonfire on the Mall to mourn Trump's victory."
A spokeswoman with the Metropolitan Police Department said there was no estimate on the size of the crowd and that the department had made no arrests. Other law enforcement agencies, covering the Capitol, the Supreme Court and the U.S. Park Service, were also involved at various points along the route.
Michelle Lerner, press secretary for DC Public Schools, said that because the protest was not school-sponsored, any student who skipped classes would be given an unexcused absence.
"DCPS respects and defends all students' right to self-expression and peaceful protest, and we are committed to our students being informed and engaged in their community in constructive ways," she said in an emailed statement. "We highly value and are committed to fostering a learning environment where students feel safe and secure, and we encourage teachers and students to discuss the issues surrounding the walkout so that students can explore their questions and express their opinions in safe environments."
After they left the Capitol, the students walked down the National Mall, stopping at the Washington Monument before passing the reflecting pool on their way to the Lincoln Memorial.
They sat on the memorial steps for several minutes, chanting against racism, immigration restrictions and limits on women's reproductive rights, and for LGBT equality.
Before departing for their last stop, the White House, the students had a call-and-response chant. "Tell me what democracy looks like," the leader said.
The assembled students responded: "This is what democracy looks like."
Get stories like these delivered straight to your inbox. Sign up for The 74 Newsletter