Data Exclusive: Scores of New York City Schools Still Unclear Who Will Evaluate Students With COVID Symptoms a Week Before Reopening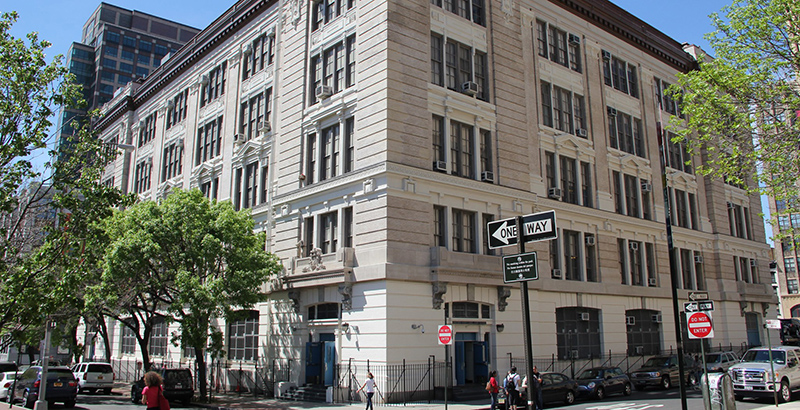 When New York City school officials finally sent medical help to Chelsea Career and Technical Education High School after a staffer fell ill Sept. 10 and was ordered home to get tested for COVID-19, English teacher Jan Scott was dismayed to learn that the dispatched school nurse wouldn't be staying long.
That same day, the nurse left. The following Monday, a different one arrived — again, just for the day.
"We still do not have a permanent nurse," Scott said. "How can they expect us to open the school on Monday, not knowing whether a nurse will appear?"
According to an analysis by The 74 of reopening plans submitted by administrators to the Department of Education in August and updated over the summer, as of Sept. 12, 109 schools were still in the process of determining who will evaluate sick students in the event of a potential COVID-19 case. In August, Mayor Bill de Blasio promised to hire 400 new nurses — enough to staff every K-12 school building by the first day of school, which was subsequently delayed from Sept. 10 to Sept. 21.
"To all the folks who have been raising that concern, I hear you loud and clear," the mayor said then of the need for more school nurses. "We have a whole month until school begins."
For more on how we did the story, click here.
In a conversation Monday, DOE spokesman Nathaniel Styer pointed out that the situation on the ground in the country's largest school district is changing daily. But the forms lend at least some insight into remaining gaps at scores of the city's 1,585 non-charter K-12 schools, as teachers and administrators plead with department officials for more answers about medical staffing during an unprecedented global pandemic. Looking at the data, Styer questioned its time stamp, citing five schools that indicated they were still locating appropriate staff but that he says now have assigned nurses. He declined to fact-check all of the schools and would not provide an updated number for how many still have nurse vacancies.
"The mayor and chancellor pledged that every school building will have a full-time nurse this fall, and we will deliver," he said. "As we continue to navigate this public health crisis, this is a critical support, and our work with the Department of Health and Hospitals will guarantee access to a high-quality medical professional for every child."
Many NYC schools lacked nurses before the pandemic. In 2018, The Wall Street Journal reported that, on any given day, an average of 25 public school buildings didn't have a nurse assigned. Jan Scott's Manhattan high school, which has 486 students, was one of them.
"We've always had this revolving door," she says. "That's a problem."
A school nursing shortage is just one in a series of obstacles tied to reopening. In recent days, efforts from the Mayor's Office and the Department of Education to stamp them out have come to resemble a frenzied game of whack-a-mole.
Last week, teachers returned to classrooms, where some said they found missing protective gear; others who felt their buildings weren't safe staged protests outside. So far, 55 out of 17,000 school-based DOE employees have tested positive for COVID-19. On Monday, officials promised 2,000 additional teachers to fill staffing shortages, while the principals union estimated that school leaders had asked for five times that many to implement hybrid learning this fall. Late Tuesday, the DOE announced that students doing the hybrid model would not be guaranteed live instruction on the days they're learning remotely from home. Some 42 percent of students have opted for fully remote instruction, up 15 percent in two weeks. In coming days, that number could climb higher. 
All of this has left teachers, whose faith in city leadership had been dwindling for months, spooked, and families of the system's 1.1 million students wondering whether New York can really pull off being the only major urban district to return to in-person learning this fall. 
Since de Blasio made his promise about nurses, the DOE has matched more than 250 of them with schools needing coverage; all of them have been hired through the New York City Health and Hospitals Corp., according to officials. In order to locate new staff, the organization contracted with a handful of third-party vendors. Neither Styer nor a Health and Hospitals representative would provide the names of the companies involved.
School nurses interviewed by The 74 said that their already-full plates are piled particularly high this fall, as they contact the caretakers of children with pre-existing health conditions to remind them to bring necessary medications to school, and educate their communities about the importance of virus mitigation. They spoke on the condition that their names not be used, citing a July 21 email from the Office of School Health — which is overseen by both the DOE and the city's Department of Health and Mental Hygiene — telling nurses working in the city's Regional Enrichment Centers not to speak with the press. The centers were created to care for the children of essential workers. 
One Manhattan-based nurse who worked at one of the centers this summer has been preparing this week for the return of students to her elementary school. Most recently, she's mapped out the direction that kids will walk through the hallways and placed stickers on the floor outside of her office, so that students will know where to stand if they have to wait there. The small space is adjacent to the school's "isolation room," where kids will be sent to be monitored by a paraprofessional if they show coronavirus symptoms.
The same nurse voiced concern that the relatively small capacity of her school, as it compares to the dimensions of the REC center, will make social distancing a challenge this fall.
"I think the DOE will push capacity," she said, adding that there's still no official word from her administrators on how many students should be allowed in her small office at one time.
Others wondered when they'd receive clarity about basic information, like what the official threshold is for a child being sent home for COVID-19 symptoms after he or she has been evaluated by a nurse. They wondered when they would get fit-tested for the N95 masks they've been promised. And they worried what reduced training for the latest round of hires — one week, as opposed to the six weeks that permanently hired school nurses receive — could mean for their communities.
"We need the help," said one veteran nurse, who tends to students with disabilities at one of the city's specialized District 75 schools. "But if you're going to promise a school nurse at every site, bring them in and train them enough."
In a normal year, school nursing is no easy assignment, she added. "We're the medical voice of the school," she said. "If you're not used to working alone — and most nurses aren't — you'll get overloaded."
According to the DOE, assigned nurses reported to their schools on Sept. 8, in order to become acquainted with their buildings, colleagues and school policies. 
"They participated in staff professional development last week, and they will be partaking in nursing-specific training on working with students with diabetes or those who have limited English proficiency and COVID protocols," officials said, adding that the Office of School Health-led training will run for four days and provide the new nurses with access to student electronic health records. The unnamed contract agencies "are responsible for the majority of training and supervision of nurses," they wrote.
Jan Scott, the English teacher at Chelsea Career and Technical Education, called the lack of transparency "disheartening."
"They're not being honest with us," she said. "We asked for everything to be public, and it's not. They promised us on national television that we'd have nurses in every building, but if we don't have them in there now, how are we supposed to have confidence it will happen?"
How we analyzed the data:
On Sept. 12, The 74 isolated data from the standardized sentence, "We have designated __ as our school's point person who will be responsible for the assessment of ill students" in the school reopening forms filled out by school administrators and made public on the New York City Department of Education's website.

The forms were initially submitted to the department in August, but metadata — information about how the data was created — along with noticeable changes made to the documents' content and formatting indicate that at least some have been updated since.

The 74 has not altered the data, except to remove personal email addresses and phone numbers where necessary. Given that pre-K and charter schools did not submit school reopening plans to the DOE, information about them is not included.

The 109 schools number cited in the article was determined by filtering the data for the words "TBD," "TBA," "nurse pending," "no nurse," "has not been assigned," "not yet been assigned," and "yet to be assigned."

In NYC, many schools share buildings. As such, flagged schools sharing an address with at least one other school not containing the keywords in the data — including charter schools — were not counted toward the 109 total.
Get stories like these delivered straight to your inbox. Sign up for The 74 Newsletter