Dallas Hits on Successful School Turnaround Model With ACE, but It Comes at a Steep Price. Could a Wider Expansion Across Texas Now Be Its Best Bet to Survive?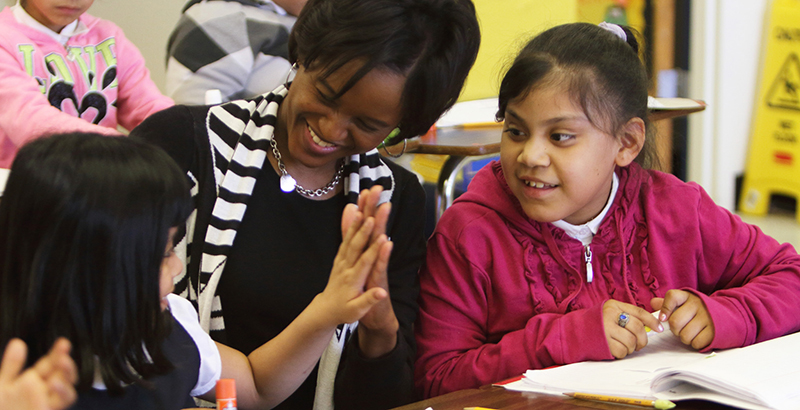 In the spring, fifth-graders across Texas took standardized tests to measure their comprehension in reading and math, just like they do every year. But when the scores came back for 2018, the Dallas Independent School District saw something highly unusual: Students at Blanton Elementary, previously one of the lowest-performing schools in the city, had outscored their affluent fifth-grade peers in neighboring Highland Park ISD.
Blanton, where 91.7 percent of students qualify for free or reduced-priced lunch, is one of Dallas ISD's Accelerating Campus Excellence — or ACE — schools, where teachers with strong performance records are recruited and paid more for longer hours and then supported by extra counselors and strategic administrators.
The campus turnaround program seems to be working miracles across the district, but, according to Dallas ISD Superintendent Michael Hinojosa, it's also bleeding the system dry financially. Each ACE school costs an additional $1 million per year. The 158,000-student district, which has an annual budget of $1.4 billion, brought ACE to its first struggling school in 2015. It now has 17. While the model has been picked up by some other districts — neighboring Fort Worth, Garland, and Richardson ISDs all have ACE schools — it remains prohibitively expensive for most districts.
State Rep. Diego Bernal, a San Antonio Democrat, wants to see the state pitch in additional funds for these turnaround plans. He plans to file a bill ahead of the 2019 Texas Legislature that could provide as much as $1,900 per student in additional state support for ACE and programs like it. The turnaround efforts come with a hefty price tag, but Bernal hopes that a bill with something for everyone — such as a performance-based teacher pay component —  can make it through Texas's notoriously tightfisted statehouse.
The don't-keep-it-a-secret of success
Everyone loves a story like Titche Elementary, another ACE campus in Dallas ISD. After falling short on state accountability standards for 11 of the past 12 years, the high-poverty elementary school went from an "F" to a "B" rating for 2018, with double-digit gains in its reading scores. At the same time, Titche's suspension and expulsion rates dropped by 60 percent.
Principal Damien Stovall talks a lot about high expectations, focus, intentionality, and other cost-free aspects to the ACE model. His goal is to create a joyful campus where everyone feels heard and supported.
"Before you can teach students, they have to be in a place where they want to learn," Stovall said.
The school practices restorative justice — attempting to resolve conflicts without exclusionary discipline — and each class spends 10 to 15 minutes per day in "circle," a time when students are invited to share their thoughts and feelings on the world, the class, or whatever is on their minds.
This happier, more peaceful atmosphere is what fifth-grade teacher Maria Diaz-Lopez loves about teaching at Titche, she said. Focusing on social-emotional learning allows teachers to communicate value and care to the kids.
"They feel we love them," she said.
Restorative justice, social-emotional learning, and focused support shifted the way the school runs. It's a positive change, Diaz-Lopez said, but teachers have to buy into the processes.
"You have to change your thinking," she said.
To help stay in the ACE mindset, teachers are part of professional learning communities — groups of teachers who regularly share ideas, best practices, and professional development — and are supported by counselors and extra administrators. They also receive extra stipends: a $2,000 "signing bonus" and a "retention stipend" of $6,000 to $15,500 per year based on their performance. The average base teacher salary in Dallas ISD is $56,063, about $3,500 more than the state average. The highest-paid teachers in the district under this salary structure can make $90,000 per year.
The stipend, said Stovall, is really just paying teachers for the extra work they already do. Teachers qualify for ACE based on district-wide measures of effectiveness, including student feedback. Teachers who score well — whose children are learning and gaining ground on both standardized tests and classroom indicators — are likely already working extra hours, taking work home with them, and going above and beyond to support kids.
The extra pay is also an incentive for teachers to go to schools where the students have more physical and emotional needs. That usually makes teaching more difficult and leads to higher teacher turnover than is seen in affluent schools.
"ACE acknowledges the reality that you cannot keep top talent at the schools with the most challenges," Bernal, the state lawmaker, said. "It's like we've been telling teachers that martyrdom is a part of their job."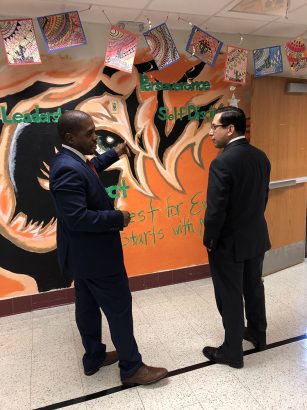 Although the system does result in higher pay for some teachers, the "merit pay"-like elements of the ACE program — and the teacher evaluations it is based on — were heavily opposed when former Dallas ISD superintendent Mike Miles introduced them. Bernal's bill will not seek to replicate the Dallas teacher evaluation system but will leave it up to districts to decide how to determine which teachers are eligible to teach at the turnaround schools and receive the added compensation that goes with it.
When schools are staffed with great teachers and those teachers are adequately supported, gaps in performance will begin to shrink, Bernal believes.
"I'm interested in getting schools and areas that have been traditionally underfunded and under-resourced the tools they need, so that students' natural talents and abilities can show themselves," Bernal said.
You get what you pay for
The extras at ACE schools come out to an additional $1,200 per student — Dallas ISD spends $13,194 per pupil, more than the $12,187-per-pupil statewide average. The extra ACE funding lasts for the three years that the school is considered to be in turnaround mode, meaning that facilities are being improved, extra staff is on campus, and effective teachers are receiving their initial signing bonuses. That makes the ACE model expensive for most districts.
However, Bernal said, that Dallas ISD has been able to come up with a number at all is a huge step in the right direction. A lot of Texas's hand-wringing over school finance comes down to fears that districts want a blank check from the state. But district officials in Dallas now know how much it costs to change the trajectory for not just one or two students but for an entire school.
"Dallas has certainly given us a North Star," he said.
Bernal is currently working on a bill for the 2019 Legislature, based on the ACE model. Not every district will be able to replicate Dallas's experience exactly. Some rural or very small districts will have to modify the program, Bernal said, "but I think you can take the general principle, pillars, and guardrails and set them up."
Because the ACE model also acknowledges the need to measure teacher effectiveness and gives principals freedom to make their own hiring choices, the bill could win some friends among the reform-minded members of the Texas Legislature, in spite of its inherent cost.
Without access to some kind of funding stream, the program and the teacher incentive system that it is built on are draining funds from Dallas ISD, Hinojosa said when testifying to the Texas Governor's Commission on Public School Finance in February.
"We have to cut other things to fund this," Hinojosa said. "But it's important to us, so we fund it."
He didn't say that the ACE program itself was in jeopardy, but he painted a grim picture of district finances overall.
"We've put all our money into teachers, and [now] we don't have any," Hinojosa said. The district got some good news in November when nearly 60 percent of voters approved a 13-cent increase in the tax rate. Hinojosa hopes that higher performance and more options in the district will win back students — and state revenue that goes with them — lost to charters and surrounding districts.
The earliest ACE schools are now technically out of the ACE program. The expectation is that virtuous cycles have begun to take effect, making the signing bonuses and extra personnel unnecessary. The culture of the school has changed; now it needs to maintain that progress.
At the root, though, Maria Diaz-Lopez said, the cultural shift is what makes the biggest difference anyway.
"Just because we have that extra personnel, teachers still need to have that passion and empathy for the students."
Get stories like these delivered straight to your inbox. Sign up for The 74 Newsletter