Cynthia Tucker Haynes: America Needs TFA's Talented Young Teachers Now More Than Ever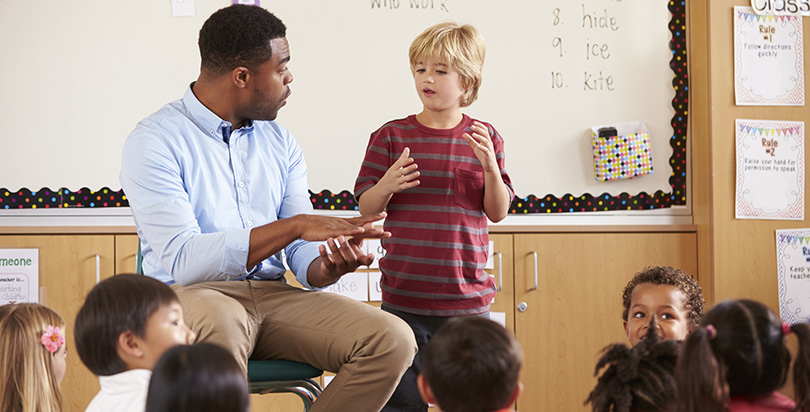 Jasmine Sanders spent two years teaching language arts at Atlanta's Crim High School, a nontraditional public school serving students from disadvantaged backgrounds. "Two months in," she recalls, "I thought I had the most brilliant and amazing students. … Those kids changed my life way more than I changed theirs."
That is the sort of enthusiasm and dedication that public school classrooms should welcome — especially now, when the nation is facing a teacher shortage. According to a report from the Learning Policy Institute, an education think tank, "annual teacher shortages could increase to as much as 112,000 teachers by 2018, and remain close to that level thereafter."
But it's not likely that Sanders's teaching stint, from 2009–11, would have been celebrated by the pillars of the education establishment: She came to Crim by way of Teach for America, which has been the subject of an unrelenting assault from defenders of traditional public schools.
Rather than welcome TFA's young recruits, school reform opponents such as Diane Ravitch have blamed the organization for everything from weakening teachers unions to replacing highly qualified teachers with poorly trained résumé-builders. They have also castigated TFA as a bastion of Ivy Leaguers — privileged and mostly white college graduates who cannot relate to the poor children of color they are often assigned to teach.
Evidence shows critics' accusations are false
Yet Sanders, a black graduate of Atlanta's Spelman College, doesn't fit that narrative. She and many TFA recruits like her have a very different story to tell. So is it possible that TFA's vehement critics have been wrong in their assessments?
In fact, much of their criticism is misplaced.
For the 2016–17 academic year, half of TFA's corps of recruits identify as people of color, according to Elisa Villanueva Beard, TFA's chief executive officer. That's a higher percentage of minority teachers than is found in the overall ranks of public school teachers. About 80 percent of the nation's public school teachers are white, according to federal government data.
Of the 3,400 new teachers TFA brought in this year, one in two received Pell Grants for college and one in three are the first in their family to graduate from college. Ninety of them are military veterans or their spouses, according to a letter Beard released to TFA alumni.
When TFA's early corps was overwhelmingly white, the organization responded to criticism of its homogeneity with an all-out effort to promote diversity in its ranks. That's why, after her teaching stint, Sanders joined TFA's headquarters in 2011 as a member of the recruitment team for historically black colleges and universities.
"In my classroom and at my school, I realized the impact amazing teachers have on students. I also recognized the additional impact that is possible if those teachers share the various backgrounds of their students — racial and ethnic, socioeconomic, religious, sexual orientation, etc.," she wrote in an email.
Given Sanders's devotion to her students, it's surprising that she resisted going into the classroom at first — despite (or because of) the fact that her mother is a retired elementary school teacher.
When Sanders began college, she planned to pursue a career in broadcast journalism. But the 2009 shooting death of an unarmed black man in Oakland, California — Oscar Grant, whose death was the basis for the film Fruitvale Station — led her to reconsider.
"That led to conversations [with friends] about what we do as a community, and the foundation would always come back to education — that we have to do a better job of educating our community," she said.
Sanders doesn't plan to go back to a high school classroom — she hopes to teach at the college level — but many TFA corps members end up choosing K-12 education as a career beyond their two-year commitment. According to a 2014 study commissioned by the organization, 11,000 of its approximately 37,000 alumni were teaching.
But the need for teachers is very real
And, contrary to the nonsensical charge that TFA is part of a nefarious scheme to replace experienced teachers with ambitious résumé-builders with no real affinity for the classroom, there is very little danger that any corps members will be replacing qualified teachers. Though there have been a few well-publicized incidents of superintendents laying off veteran teachers but keeping their TFA recruits, the larger dynamic was of school systems shedding veterans during the Great Recession as a matter of economics.
Now, as school districts rebuild their ranks, teachers are in short supply. That's especially true in the poorer communities that TFA targets.
Some veteran teachers remain incensed that TFA sends its members into schools without the typical education pedigree, which includes a months-long internship. But the simple truth is that there is nothing magical about the traditional teacher-prep routine: Students taught by TFA's young recruits perform on standardized tests as well as, or better than, those whose teachers come through traditional education training programs.
That doesn't mean TFA's novices are any more prepared for the challenges of teaching kids from impoverished backgrounds than are other inexperienced teachers. They are often taken aback by the demands of teaching, especially in schools with thin resources and in communities beset by poverty, violence and instability.
Sanders certainly struggled with that.
"We could give 125 percent inside the classroom. But I couldn't do anything about what went on outside the classroom, and that's what kept me up at night. I had kids in abusive homes. I had kids working three jobs to make ends meet," she said.
That experience led her to pursue a master's degree at Columbia University, where she is studying sociology and education, focusing on social mobility. She wants to look for solutions to the ills that plagued so many of her students at Crim.
Let's hope TFA continues to bring committed young idealists into the classroom. Our public education system needs them.
Support The 74's year-end campaign. Make a tax-exempt donation now.