Curriculum Case Study: How Grade-Level Literacy Doubled in Just 2 Months in a Rural Tennessee District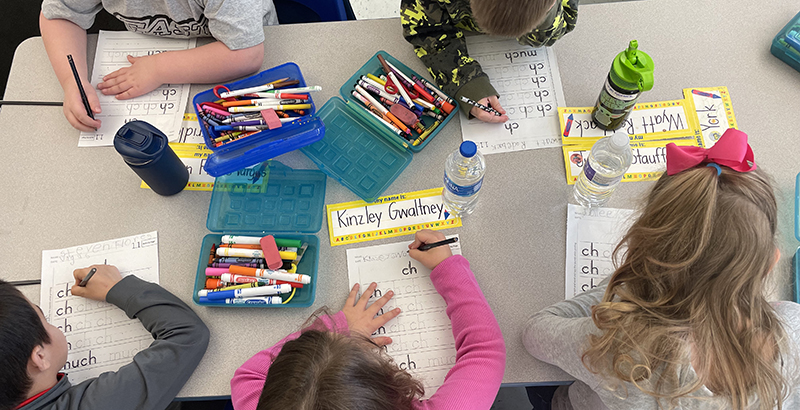 Support The 74's year-end campaign. Make a tax-exempt donation now.
This is the first in a series of three articles from a Knowledge Matters Campaign tour of school districts in Tennessee spotlighting the impact of the state's investment in training all teachers in the science of reading. The rural district of Elizabethton City Schools was designated a "Reading 360 Model District" after implementing the Tennessee Foundational Skills Curriculum Supplement just halfway through the 2021-22 school year. In this piece, instructional coaches Rachel Darnell, Shannon Barnett and Jennifer Rickert share how they were able to successfully go from balanced literacy to high-quality foundational skills instruction in less than one year. Follow the rest of our series and previous curriculum case studies here.
"I can actually read this!" kindergartner Easton Malone exclaimed while reading a book during Dr. Seuss Week this spring.
Every teacher in primary grades longs to hear those words from their students. If you step foot in any of the classrooms from pre-K through second grade in Elizabethton City Schools, you are met with a palpable buzz of excitement and purpose as our youngest readers embrace a new reading approach. This enthusiasm has not always been present: getting to this point has been a journey.
Elizabethton City Schools is a small, rural district nestled in the hills of East Tennessee where we spent years building a literacy model rooted in balanced literacy. Unfortunately, while we were meeting the needs of some of our students, we were not doing what was best for all students. Learning to read is one of the most empowering gifts we can foster for students in the early years, but how do we empower educators to teach reading confidently and effectively?
In the summer of 2021, every pre-K through fifth-grade teacher and administrator participated in a two-week Early Reading Training provided by the Tennessee Department of Education. Over two weeks of professional learning, both virtually and in-person, our teachers were being challenged to consider new practices based on the science of reading. The content was rigorous, deep in knowledge and led to excellent discussions. Our teachers and leaders intentionally placed students at the heart of every conversation. The training was met with curiosity, some skepticism and a lot of questions. Armed with new knowledge, yet no concrete plan for change, our school year began.
Behind the scenes, administrators and coaches were working on a concrete plan: one that included both long-term and short-term goals. We knew effectively combining new, high-quality foundational skills instructional materials with the district's current curriculum would not be easy. To succeed would require a team effort. Our teachers needed to feel safe and supported as they took risks with their literacy instructional practice. As a team of administrators, instructional coaches and teachers, we would work together to move in a direction toward reading proficiency for all students.
Due to the major shift this represented for teachers, we agreed to a "year of grace." Teachers would not be required to fully implement the new foundational skills materials with fidelity until the 2022-23 school year. Teachers were presented with a clear message from coaches: "Not only are the resources available for you to use in your own time, but we will meet you where you are and we will give you what you need. You are not alone."
The district started with small changes, beginning with the adoptive practice of teaching "sounds first" using the Tennessee Foundational Skills Curriculum Supplement. By implementing this daily, systematic phonemic awareness curriculum, teachers began the shift from traditional balanced literacy to instruction rooted in the science of reading.
It didn't take long before teachers started to feel the impact "sounds first" had on their students. This 10-minute, advanced phonological awareness block was the spark that ignited change. Students were engaged and teachers were seeing immediate results from all students. This one step opened the door for further collaboration. Teachers began to ask, "With such a huge impact on our students in only 10 minutes, how might students begin to grow when we use all pieces of the TNFSCS?"
We knew we had lit a fire when a teacher grabbed their principal from the hallway and exclaimed, "You have got to come see what my kids can do!"
Curiosity was piqued. As coaches worked closely with teachers, an atmosphere of trust, respect and grace was established like never before. Teachers felt comfortable being open, honest and vulnerable. As teachers asked questions and communicated their needs, coaches and administrators were responsive. After a few weeks of implementing sounds first, we were shocked and delighted to learn that more than half of the Pre-K-2 teachers wanted to fully implement the systematic foundational skills instruction mid-year. As a second-grade teacher said, "If it's best for our kids, what do we have to lose?"
Implementing a new curriculum mid-year is no easy task. Even with the support of coaches, our teachers had to put in a lot of effort. They had to study the content, collaborate with one another and intentionally reflect on their practice. Just like during the summer training, our teachers kept what was best for students at the center of every decision.
"We were blown away with how well the children did with it," reflected Whitney Birchfield, a kindergarten teacher who implemented the full program mid-year. "To us, it was so different from the way we were teaching children to read. We expected them to struggle the same way we did but they picked up things so quickly and so easily. It came so naturally for them."
For our teachers who were hesitant, providing an avenue to meet with colleagues was so valuable. The proof of success was very powerful coming from educators who were doing the work and reporting it to others. The process was slow but meaningful as teachers took ownership and were supported by one another. The buy-in continued to strengthen as teachers began selling to other, more apprehensive teachers. They couldn't contain their excitement as they continued to see unprecedented rates of reading growth with their students.
In the fall, just seven of Hannah Bowers' first-graders were on grade level, based on an analysis by the district's universal screener. Just two months into the new curriculum, that figure more than doubled to 15, and Bowers believes the number will continue to go up as students continue to receive high-quality instruction with high-quality materials.
Parents have seen the impact of this curriculum shift, too. One first-grade parent, who asked to remain unnamed for her child's privacy, said that her daughter went from "really behind" in intervention at the beginning of the year to now writing her own stories and books. They're even reading chapter books together.
"In these last few months, I have seen a complete about-face," the parent said."I have seen her completely change — she loves to read now. I'm amazed because I've sat at my kitchen table and seen her change."
Using these high-quality instructional materials and the approaches supported by the evidence-based science of reading has been a great equalizer for teachers and students alike. Intervention group sizes have dwindled as explicit and systematic reading instruction has been made accessible to all students. By the end of the 2021-22 school year, all Pre-K through second-grade teachers will be fully implementing the materials, well before the anticipated start date of August 2022.
"Empowered." That's how one first-grade teacher described how she feels after implementing instruction backed by the science of reading. Empowered teachers empower readers. We can't wait to hear more of the sweet chorus of, "I can actually read this!" in the years to come.
Rachel Darnell, Shannon Barnett and Jennifer Rickert are instructional coaches for Elizabethton City Schools in Tennessee.
Support The 74's year-end campaign. Make a tax-exempt donation now.