Curriculum Case Study: How a More Rigorous Curriculum Got Students in a Rural Tennessee District to Stop Skipping School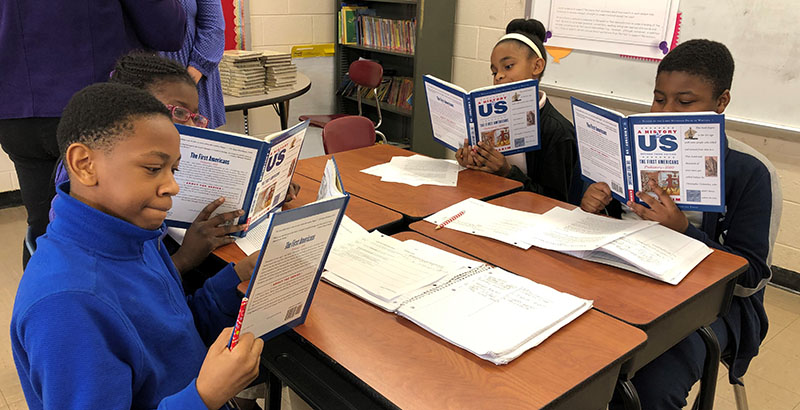 This is the fourth in a series of pieces from a Knowledge Matters Campaign tour of school districts in Tennessee. Sixty-five miles northeast of Memphis, in rural Haywood County, a Tennessee district is newly implementing a high-quality, knowledge-building English language arts curriculum — actually two curricula, in this district's case: EL Language Arts (formerly Expeditionary Learning) for grades K-2 and Louisiana Guidebooks for grades 3-12. Haywood is just getting underway; its initial pilot was only two years ago this spring. Still, as documented here, the instructional leadership team is already seeing some important changes taking place. Read an introduction of this series here and the remainder of the pieces in this series here.
In the plains of West Tennessee, between Jackson and Memphis, lies the quaint community of Brownsville. We are the home of "Nutbush City Limits" and its famous singer Tina Turner, NBA player Tony Delk and NBA champion Jarvis Varnado. Our community is of low socioeconomic status; 71 percent of students qualify for free or reduced-price lunch. Haywood County Schools has about 3,000 students, 66 percent of whom are black and 6 percent of whom are Hispanic. Although we're small in size, there is nothing small about what's going on in Haywood County Schools.
Our journey to high-quality instructional materials began when district leaders realized there was a lack of equity in our classrooms. Teachers were working extremely hard and students were doing what was asked of them, but the level of rigor and text complexity in our English language arts classrooms varied substantially, even within the same grade level.
Our teachers took seriously their responsibility for knowing the standards and did their best to pull resources and materials to teach them. But, sadly — and unintentionally — many of our students were being served a daily diet of low expectations and a resulting "curriculum" that did not meet the rigor of Tennessee Academic Standards. In fact, across grades 3-5, only 19 percent of our students were proficient in reading.
In the fall of 2018, Haywood County Superintendent Joey Hassell shared with district administrators a newly released report by TNTP titled The Opportunity Myth. This report documents the way in which across the country, students, particularly low-income students, are being denied grade-appropriate assignments, rich instruction and opportunities for deep engagement in their coursework. Our team read the report and discussed it together as a group. We realized it was describing us. As Associate Superintendent Yvette Blue said, "You could've dropped Haywood County right in the middle of that [report]."
Given that we were in the early stages of deciding what we wanted to do about adopting high-quality instruction materials, The Opportunity Myth really struck a chord. One of the important themes it highlights is expectations. We realized we needed a curriculum that set high expectations for all students — and that showed us, as educators, how to move the needle of achievement for our students.
We used information provided by EdReports, the nonprofit organization that rates curriculum for its alignment with college- and career-ready standards, and worked with an external partner, Instruction Partners. From there, Haywood County Schools decided that EL Language Arts for grades K-2 and Louisiana Guidebooks for grades 3-12 (both of which we access through publishing partner LearnZillion) would provide our students the most equitable opportunity to succeed and would offer our teachers the support they needed for implementation.
"Before we had LearnZillion [Louisiana Guidebooks], we did our own thing," third-grade teacher Pamla Reagan said. "I see things now that I know I didn't teach right. This curriculum takes it so much deeper; I was just on the surface [before]."
"My life before LearnZillion was stressful," another teacher said. "I operated in panic mode, trying to cover as many skills as I could in one lesson."
And when asked how much time she spent developing lessons, another said, "Having a bunch of different groups to plan for made it hard, too — I'm thinking 20 hours a week. It was all day on Sunday. After church, it was all day lesson planning."
By far the most impactful part of our visit with the Knowledge Matters team was the opportunity to truly hear the voices of the students engaging with these curricula every day:
When first- through third-grade students were asked how they felt about discussing books, most said that they enjoy talking about books they're reading in class as much as they like to go outside for recess!
When asked if they preferred the new way they're learning ELA now or the old way, eighth-grade student Cordero responded, "The new style is better because all kids get the same opportunity, and we as kids can help each other."
Carson, who is in sixth grade, answered the same question with, "It's more interesting to learn about stuff that matters."
Cordero then went on to share, "I feel like, with Guidebooks, we're more engaged because we're interacting. There's a kid I'm very cool with. He had stopped coming to school. With the new curriculum, he's liking school more."
And, in an answer to a question about what they think about doing away with reading groups, since the new curriculum has all students working with the same grade-level text, Austin said, "If I get stuck in a middle-level group, how will I ever know if I can read higher levels?"
We were astounded hearing these students speak, for they had just summarized The Opportunity Myth!
"When you know your 'why,' your 'what' becomes more clear and impactful," comedian Michael Jr. once said. The story we are writing in Haywood County anchors itself in knowing our "why."
Our students are our "why." We had not been providing them with an equitable opportunity to succeed, and now we are. As a result, they are actively engaged in learning, talking about texts and writing about things that matter.
Every single student in Haywood County deserves the very best we have to offer. The investments we've made in the implementation of EL Language Arts and Louisiana Guidebooks have been great, but the impact we're having on our students and community is immeasurably greater.
Sarah Aitken is director of elementary (pre-K-3) education for Haywood County Schools. Drayton Hawkins is director of middle school (grades 4-8) education for Haywood County Schools. Brittany Higgins Pittman is instructional coach for Haywood Elementary School.
Support The 74's year-end campaign. Make a tax-exempt donation now.