Curriculum Case Study: How Implementing a New Language Arts Program Accelerated English Learners' Reading By a Year — in Just One Month's Time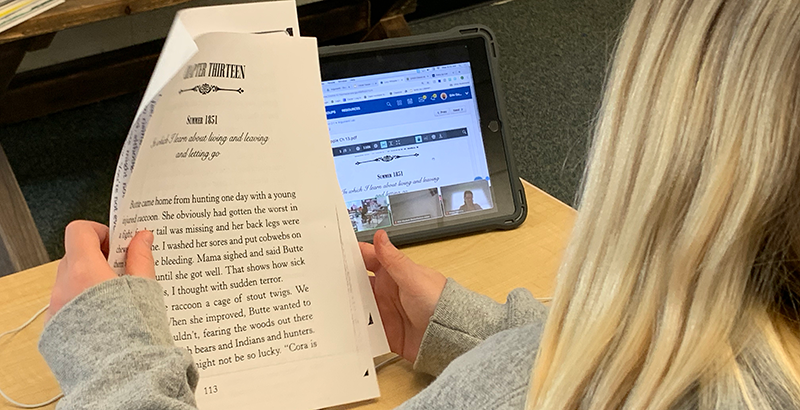 This is the second of four pieces from a Knowledge Matters tour of school districts in Delaware, in recognition of the state's new initiative – called DE Delivers – to encourage adoption of high quality instructional materials in its 19 districts. In this piece, Richard Shields Elementary School Principal Kimberly Corbidge and Reading Specialist Angela Shaeffer share their district's five-year journey implementing American Reading Company's English language arts curriculum, ARC Core. Located in the beach community of Lewes, Delaware, which touts itself as "the first town in the first state," Cape Henlopen School District has 5,500 students. Minority enrollment is 30 percent. Follow the rest of our series and previous curriculum case studies here.
"Maybe you don't know about Sitting Bull", fourth-grader Ellen told us. "When he was our age, he killed a buffalo with his bare hands."
Ellen, a student at Richard Shields Elementary School in Lewes, Delaware, is part of a panel of seven students who came together to tell visitors from the Knowledge Matters School Tour and leaders from other districts what's different about their literacy instruction.
Unlike other places the School Tour visits, however, these students couldn't contrast their knowledge-rich literacy experience with the skills-focused one that is more typical of so many other young people's English language arts lessons. Ellen and her peers know nothing else; we've been using ARC Core by American Reading Company since she was a kindergartener. Still, it was rewarding for us to hear these students share how much they like to research new topics, which is staple to their ELA time and the ARC curriculum.
Ellen and her classmates' familiarity with the curriculum and its routines paid big dividends for us this past year when we had to shift to remote learning. Not only did our teachers have a roadmap that no pandemic was going to disrupt, but the kids knew what was expected of them. All they had to adjust to was the technology.
And we had a great partner. Working with a publisher who puts student learning at the core of its mission, who jumped in and created tools and resources to support the shift, made all the difference to us here in Cape Henlopen School District as we were thrust into remote learning and now operate on a hybrid model.
Our district made the decision to adopt ARC Core in 2016, but we engaged in a three-year rollout to fully implement, each year focusing on a new core feature of the curriculum. ARC lent itself nicely to this strategy. Every step of the way included ARC-provided professional development for teachers. It happened over the summer, during the school year, at district-wide professional development days, and our own professional learning community time. District goals and building goals for student growth were created and tackled through "Plan," "Do," "Study" and "Act" cycles. All PD focused on these goals but was differentiated to meet the needs of the students at each school. We continue to receive professional development from ARC five years into our journey.
The success we have seen at Richard Shields Elementary is inspiring. One example particularly impressed our visitors: As part of a newly introduced cadence of "data huddles," we met weekly for less than 20 minutes with a fourth-grade classroom teacher and the EL teacher to discuss student progress and obstacles they felt were preventing EL students from showing more growth. It turns out the classroom teacher didn't know how to use the phonics toolkit at a first-grade level, which is where the EL students were reading. The huddle team decided we would have her sit in with a first-grade teacher during targeted small group time where she used that toolkit. After seeing it modeled and implementing what the first-grade teacher had used into her own small group work, five of the six students had at least a year's growth in reading — in just one month's time.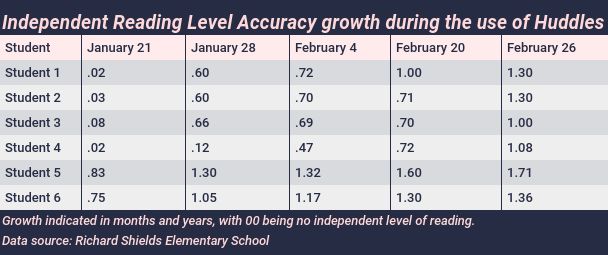 One of the things our staff tells us is so powerful about the journey they've been on for the past five years is how they've grown as teacher leaders. I think our coaches, specialists and administrators can say the same.
The unique training that reading specialists have received has allowed them to serve as a main line of support to teachers. Working with ARC, reading specialists have built their own expertise in coaching, which has resulted in stronger relationships and rapport between them and the teaching staff. That has in turn improved everyone's understanding of data, instruction and learning cycles.
Our students are showing growth in all areas as a result of this environment of aligned instructional support. Just as teachers, coaches and administrators now have a common language and shared vision of high-quality English language arts instruction, our students also display evidence of better relationships with their teachers. We attribute this to the engaging discussions the knowledge-rich texts enable and the one-on-one or small group skills conferencing that is a key feature of ARC Core. Teachers know their students not only as readers and writers but also as individuals. In the words of Aristotle, "Educating the mind without educating the heart is no education at all." In Cape Henlopen, Delaware, our team genuinely believes we're educating hearts. And I don't think we would feel that way if we didn't have a curriculum that helped us do it.
Kimberly Corbidge is principal of Richard Shields Elementary School in Lewes, Delaware.
Angela Shaeffer is Richard Shields Elementary School's reading specialist.
Get stories like these delivered straight to your inbox. Sign up for The 74 Newsletter