Cross the Picket Line? Stay Home From School? Anxious Parents Quietly Face a Multitude of Fears in Ongoing L.A. Teacher Strike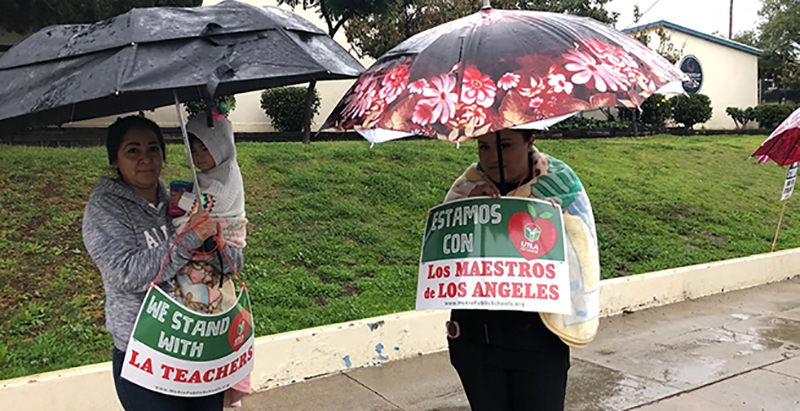 On the first day of the Los Angeles teacher strike, the sights and sounds were loud and flashy: Teachers with picket signs at a thousand schools. Car horns honking their support. At least 20,000 people shouting and marching downtown. Reports on every newscast.
Under the radar were the parents of 140,000 students who crossed the picket lines to take their children to class — because they said they had no choice, because they thought their kids might be better off at school, might be safer, might be able to keep from falling behind in their schoolwork.
'I'm not sure if I'm doing the right thing'
At Sunrise Elementary in East Los Angeles, some of the parents of the 120 students who attended school Monday kept their heads down to avoid eye contact with their teachers as they arrived. They protected their children from the rain, but also from a situation that some did not fully understand.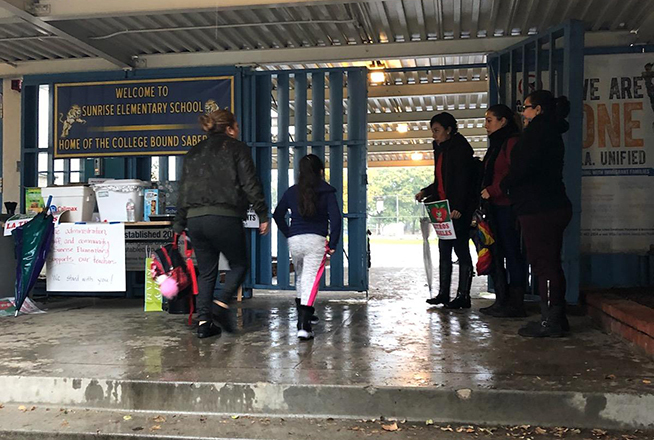 "I don't know what to think," said Josefina Gil, mother of a third-grader at Sunrise. "I don't want to talk because I'm not sure if I'm doing the right thing. I want to support my daughter's teacher, but I have to go to work and she's better here in school. I have no choice," Gil said in Spanish, her voice shaky.
She lingered, looking toward the campus for support. One staff member had to assure her that her daughter would be fine. "We will walk her to the classroom, don't worry," the woman told her.
Another parent tried to be on both sides of the picket line. Mariana, who didn't want to give her last name, said she was in support of the teachers but had to take her daughter to school.
After dropping off her daughter, she picked up a poster in one hand, balancing her baby girl and an umbrella in the other. She stood next to a woman who said she didn't want to talk. Mariana was also hesitant to speak but explained that she's just trying to do her best to help the teachers. "But apparently I'm not doing what I was supposed to do," because she had brought her daughter to school.
"I know I wasn't supposed to take her, but I know she will be better in school. I don't want her to have absences. But on the other hand, I want a nurse in the school and I want smaller class sizes, so I want to support the teachers in their demands," Mariana said in Spanish. "I will be here with them for a little while."
For Juan Garcia, the strike was totally unexpected despite all the news coverage leading up to the teachers walking off the job.
"I didn't know anything about it. He is my girlfriend's son. She asked me to take him to school, so I'm just dropping him off. I didn't know about the strike," he said.
Sunrise's enrollment this year is 340 students, and school officials said about a third attended Monday. That was roughly the same percentage reported district-wide for the first day of the strike. Attendance rose to 163,384 students on the second day of the strike, the district said, up from 143,993 students on Monday. Total enrollment is about 480,000 in traditional K-12 schools.
'Mami, let's go back home'
Cesia Cedillo said Tuesday that she felt bad for her fourth-grade son when they crossed the picket line at Roscoe Elementary in Sun Valley, in the east San Fernando Valley. "When he heard his teacher asking for support, he got sad and said, 'Mami, let's go back home.' I had to explain he had to stay at least yesterday."
Cedillo said she is in full support of the teachers — "They do good things for our kids" — but she's also afraid about the consequences of parents not taking their children to school during the strike.
"I'm worried that as a result of too many kids being absent from the programs after and before school, they may terminate them because there won't be enough funds. I need the before-school program because it helps me get to my work on time because I can leave my son 10 to 15 minutes before school starts."
Cedillo was also concerned for other parents, like single moms at her school who rely on those programs. "It's not just me, but many other moms who will be affected if we lose those programs."
On Tuesday, the second day of the strike, she said she will go day by day. "Today, I decided to keep him home, and tomorrow too, but I have a job, I won't be able to keep up at this pace. I really hope they get to an agreement soon."
'I'm confused. I'm divided. I don't know what I should do'
Parents at charter schools that share the same school campus with district schools had been warned they may face disruption and hostility, though on the first day, none was reported.
Crown Preparatory Academy and 24th Street Elementary share the same entrance, where two school police officers were stationed Monday.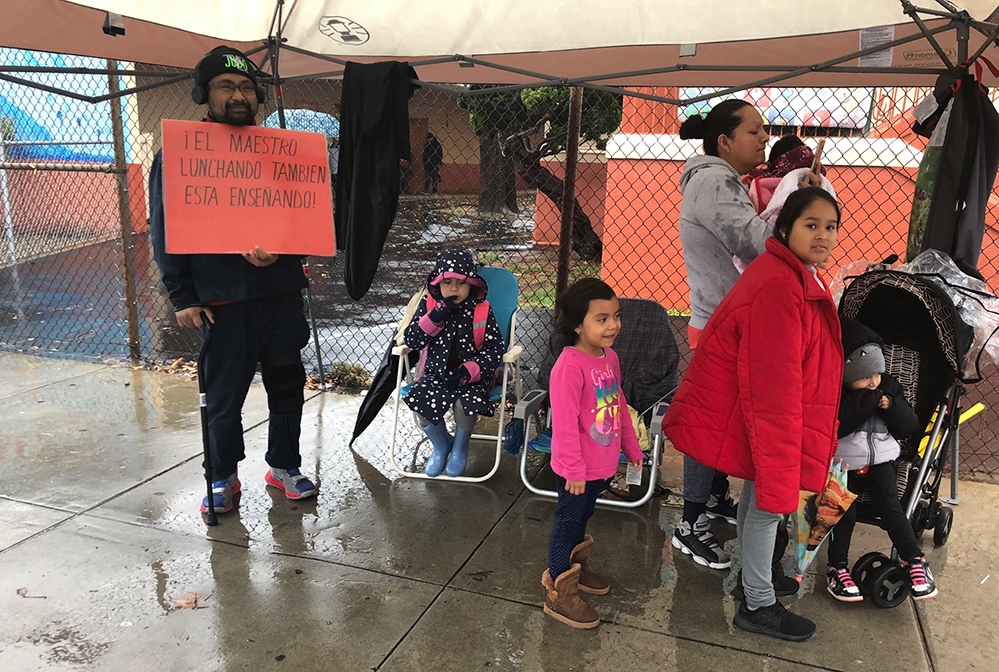 A parent who didn't want to give her name said she was afraid to talk. She looked visibly uncomfortable, looking down and trying to hide under her umbrella as she chose to wait behind the line of teachers picketing rather than cross it to pick up her daughter after school.
Then one of the teachers told her, "Talk to the reporter, tell her how you feel."
So she said, "I don't want to talk because I'm confused. I'm divided. I don't know what I should do. Teachers tell me one thing, the school staff tell me another thing, I hear other things in the media, I don't know who I should believe. I am sad because of what's happening. I hope this is over soon."
Juventino Vargas was waiting for his seventh-grader outside Crown Prep. "Now everything looks calm, but I'm not sure if it would start affecting us." Then he paused. "Well, it's already affecting us. We are here, standing far away from the entrance waiting for our kids because we don't feel confident to get closer. We don't want to get in the way of the teachers' demonstration. We don't want to get in trouble."
'If it goes beyond three days, a week, I will be worried'
Sandra Sanchez's son attends Bryson Avenue Elementary in South Gate in Southeast L.A. She said she debated all last week about what she should do. Over the weekend she was still undecided, but on Monday after learning that the students would be supervised by just a few people in the school's auditorium or cafeteria, she decided that "having my mom watch him was the best option."
"I will go day by day, depending on how things are developing and based on what I can hear from other parents' experiences," Sanchez said. "I'm concerned. If it goes beyond three days, a week, I will be worried."
Sanchez said she believes the teachers are fighting for better conditions in schools for students and she appreciates that. "I will try to go to support them on the picket line after school."
The downside of the strike for Sanchez is that her son will miss school for the first time this year.
"He was having perfect attendance this year, so he's losing that. But in the end, I think it is for a good cause." She added, "What I'm really grateful about is that my son's teacher gave her students homework to be working on during the strike. He's been busy working on it."
Parents' fears about attendance
Attendance has been one of the main concerns among parents.
L.A. Unified's Chief Academic Officer Frances Gipson, who taught several classes at El Sereno Middle School on Monday, said that seniors' absences during the strike wouldn't keep them from graduating. "We are making clear for our families that we will be very flexible. It won't be a challenge for graduation."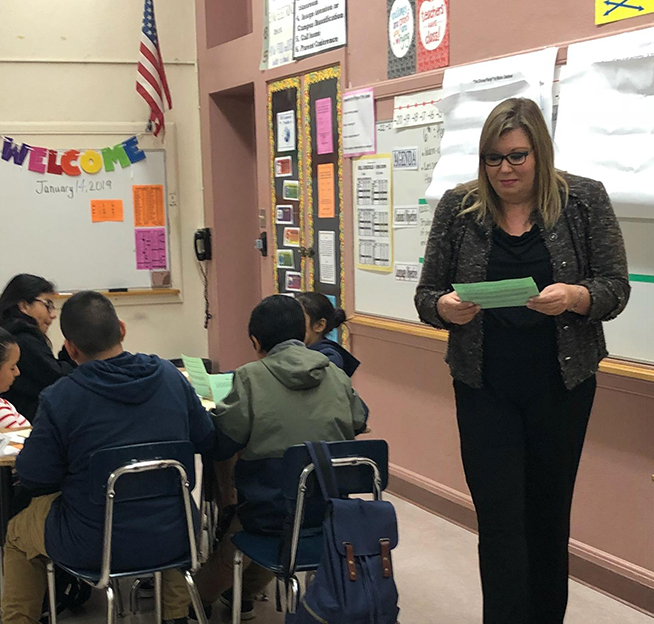 Schools remain open during the strike, and district officials have instructed all students to attend regularly. Any absences are to be marked as unexcused. But a district spokesperson said that any consequences for missed classes would be at the discretion of the principal. According to California law, a student who has more than three unexcused absences is considered truant, and further corrective actions may be taken by the school district, including mailing truant notifications and requesting documentation to justify the absence.
In response to parents' questions about absences, the district stated late Tuesday, "While state law does not excuse absences in case of a strike and students are expected to attend class, principals will work with students and families on attendance. At the moment, schools will not be notifying parents of absences, but will continue to monitor student attendance and provide support to students on an individual basis."
Pia Escudero, the district's executive director of student health and human services, told Univision on Wednesday that absences during the strike will not affect students with perfect attendance and that they will still receive their recognitions once classes resume.
Virginia Justice, a parent in the San Fernando Valley, said her fourth-grade son's safety was her primary concern, more than facing consequences for his absences. He attends Stonehurst Elementary, an L.A. Unified magnet school in Sun Valley.
She decided not to send her son to school because she said he wouldn't be learning anything — and because "it wouldn't be safe for him to be in a school while only a few people will be watching dozens of students."
She had two children of neighbors and friends at home with her as well.
"I committed to taking care of them for the whole week if the strike continues. My husband and I both work from home, so we thought we could support other parents that must go out to work by taking care of their children," Justice said. "I decided to keep my son home because I am in full support of the teachers and I prefer to have him home than in an auditorium learning nothing."
 'I'm just disappointed'
Cecilia Posada's main concern during the strike was that her three children would miss out on instruction, so she said it was an easy decision for her to send them to school Monday. Two of them attend Roscoe Elementary, the other Stonehurst. She said Roscoe's principal told parents that the students would continue their regular classroom instruction and that they should be at school learning.
But Posada said that did not happen Monday. Her kids told her they just watched movies and did some physical activities. Now, she said she's worried they won't be learning and they will not be safe. So she kept two at home on Tuesday. But the other wanted to go to school.
"My son with special needs was mixed with other students, not only special ed students, and he needs special support. I cannot continue sending him to school if that's the case. I don't even know the people who are watching them. I have never seen them before. I'm just disappointed," Posada said.
"It is sad because he loves going to school. Today, he was crying because he wanted to be there. But I'm afraid he's not safe. Tomorrow, I will take him with me to the picket line to support the teachers," she said. "Teachers are on strike because they need more support to serve our kids better. I hope the district gives them what they ask and this can be over soon."
Get stories like these delivered straight to your inbox. Sign up for The 74 Newsletter